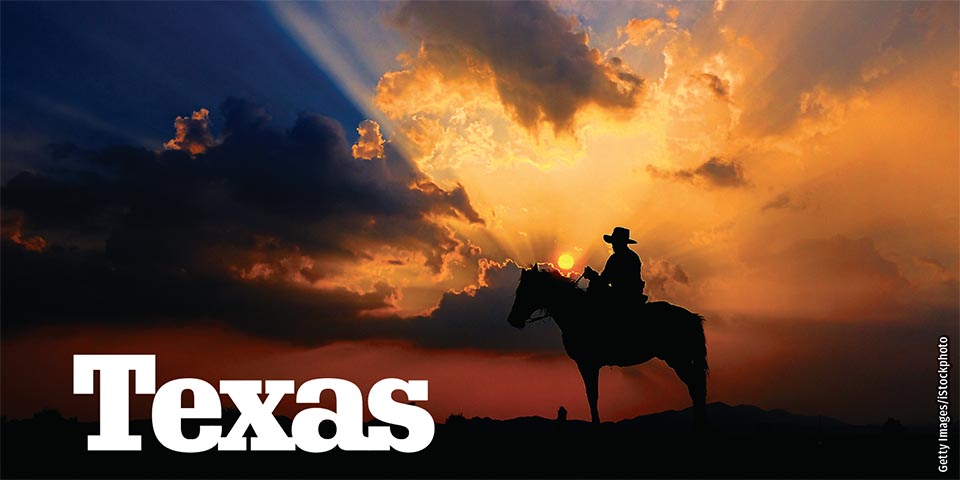 It would take a book the size of "War and Peace" to describe the diverse landscapes and cultures found in the great state of Texas. Luckily, you don't have to read about it, you can just get out there exploring the wide-open spaces.
Mix of Metro Areas
Take your pick from a smorgasbord of great cities in Texas. Wanting some culture with a side of barbeque? Texas's largest city, Houston, should be your pick. Seeking something quirky with some food truck fare? Head to the state's capital, Austin. Feeling a little Old West and seeking a savory steak? Dallas is your place. Wanting a unique cityscape with a Tex-Mex meal? Don't miss San Antonio.
Red Rock Wonderland
Palo Duro Canyon State Park serves up a landscape that is definitively Texas, while also being uniquely unlike anywhere else in the state. The second largest behind the Grand Canyon, this 60-mile canyon reaches depths of 800 feet. Red rock walls and hoodoos contrast the blue skies. Over 30 miles of trails allow you to explore the park by foot, on wheels, or on horseback.
---
Regional Dish
Texas Chili Con Carne
Chow down on a bowl of Texas chili con carne. Unlike other chili recipes, this spicy stew has no beans and is prepared with tender chunks of beef, fresh dried chilies and not much else. You can find this iconic dish at Tex-Mex restaurants and tailgating parties across the region.
---
Hit the Current
The San Marcos River is a Texas treasure, with gem-colored, crystal-clear waters creating a lush landscape in the beautiful Hill Country region. Grab a tube and hit the cool waters for a true treat. Texas has 367 miles of shoreline along the Gulf of Mexico, providing prime places to play in the waves. Padre Island National Seashore, Port Aransas and Mustang Island State Park are popular picks.
Everything's Bigger in Texas
Imagine gazing up at inky skies full of stars. Imagine hiking to a perch up in the mountains for views of the surrounding desert lands. Imagine watching unimaginable varieties of colorful birds stop for a rest in the waters of the Rio Grande. These experiences and more can be found in Big Bend National Park. Located in the Chihuahuan Desert of west Texas along the Mexico border, this massive park offers scenic drives, hot spring pools and 150 miles of hiking trails.
Cool off on a Hot Day
Take a break from the Texas heat with a dip in Krause Springs, located west of Austin in Spicewood. The 115-acre recreation site is privately owned but open to the public, as it has been since 1955. Explore the 32 springs, many of which feed a manmade pool, or stroll through the butterfly gardens. Of course, Austin, the capital city of the Lone Star State, shouldn't be missed. The home of the University of Texas, this metropolis is renowned for its music, great food and overall freewheeling culture. To the southwest lies Bandera, and if you listen closely, you might hear the faint jingle of spurs in the so-called Cowboy Capital of the World.
Texas Tunes
Music legends live on in Luckenbach, the tiny town where "everybody's somebody" and where a trading post was established in 1849. Country music icon Willie Nelson brings thousands to Luckenbach for his Fourth of July Picnic every year.
Kick Up Fun
The yearly events calendar in Texas is packed with top-tier festivals and festivities. No matter where (or when) you find yourself setting up camp in the Lone Star State, fun festivals won't be far away. March brings South by Southwest, one of the largest events in the country, to Austin. Also known as SXSW, the festival serves up the latest and greatest from all walks of popular entertainment and culture — from music to TV. Other popular events around the state include BorderFest in Hidalgo, Texas Sandfest in Port Aransas, the Art Car Parade in Houston and the annual State Fair of Texas in Dallas.
Heritage
If you're a history buff on the sightseeing prowl in Texas, you'll find yourself flocking straight to San Antonio, and for good reason. Founded in 1718 by Spanish missionaries, this is one of the oldest cities in the country. It's packed with historic sites and old architecture, including a quintet of 18th-century missions. Two of the most popular are Mission San Jose (built in 1720) and the legendary Alamo (site of the Battle of the Alamo in 1836). Today, the city is home to the River Walk, a pedestrian thoroughfare that runs along the banks of the San Antonio River. Stores, cultural spots and shops line the walkway, giving visitors ample opportunity to shop and dine. Boat tours are available on the river.
Seeing the Stockyard
For a glimpse into Texas's frontier past, you can head to the Fort Worth Stockyards National Historic District. This 98-acre district was once a booming livestock market in the 1860s. Today, it's home to original brick walkways, wooden corrals, a working rodeo and an old opry. Buy an authentic pair of leather boots here or simply watch all the cowboy action.