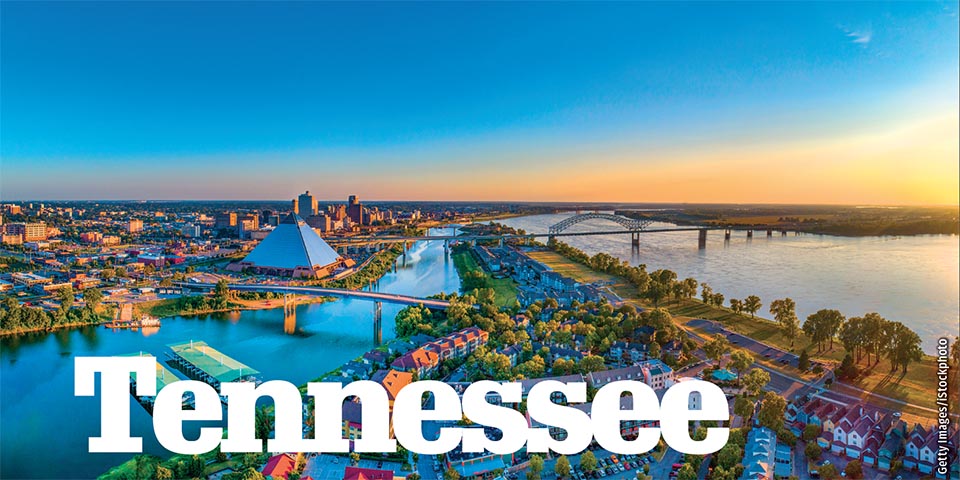 Tennessee's beauty extends from the Smoky Mountains to its small towns. Explore cities rich with musical history and hear sounds from hit makers of the past and future. Experience Appalachian and Southern cultures.
Chart-Topping Towns
Take a romp through music history with visits to Tennessee's largest cities, Nashville and Memphis. Nashville swings with a country twang, which is showcased at the Grand Ole Opry and the historic Ryman Auditorium. Many live-music venues that feature rising stars in more intimate settings. Memphis, on the old hand, rolls to a soulful melody. Explore the roots of rhythm and blues and rock n' roll with a stroll along Beale Street, where music still fills the streets, and a visit to Elvis's beloved home, Graceland.
America's Most-Visited National Park
Find scenery and adventure in the Great Smoky Mountains National Park. Take a scenic drive for views of the endless mist-filled peaks, hike along one of the many trails to catch the rush of a waterfall taking a plunge, or watch for wildlife in verdant woodlands and rolling fields. Over 800 miles of trails can be explored throughout the park, as well as a number of spectacular waterways, offering prime locals for fishing, swimming, tubing, and paddling.
Make a Splash
Tennessee is home to the Eastern U.S.'s only native species of trout, the Southern Appalachian brook trout. Anglers can find this elusive fish in tiny mountain creeks in the Great Smokies. Take a hike away from the beaten path for prime opportunities. This landlocked state offers plenty of waterside fun at its many lakes and reservoirs. With 800 miles of shoreline, Norris Lake's turquoise waters entice boaters.
Tantalizing Trails
Bicyclists have the opportunity to hit the Cades Code Loop in Great Smoky Mountains National Park before this popular roadway opens to vehicles two mornings a week during specified months. Take in views of mountains and meadows, while watching for roaming bears and deer. Of course, hiking is a popular activity in a state as rollicking as Tennessee. Many renowned trails, including the Appalachian Trail, are found in the Great Smokies. Travelers can also find adventures in popular spots such as Fall Creek Falls, Rock Island, and Cumberland Mountain State Parks.
Mountain of Views
Just six miles from Chattanooga, along Tennessee's southern border, Lookout Mountain provides the backdrop for some of the city's most beloved attractions: the historic Incline Railway, Ruby Falls and Rock City Gardens. In addition to its family-friendly activities, this scenic area ripples with American Civil War and Native American historical touchstones. It was at Lookout Mountain that the Last Battle of the Cherokee was fought in 1794 during the Nickajack Expedition (the long-running battle between American frontiersmen and the Chickamauga Cherokee), as well as the 1863 Battle of Lookout Mountain during the Civil War.
Riding Steep Rails
In operation since 1895, the Lookout Mountain Incline Railway is the self-proclaimed "steepest passenger railway in the world." A rite of passage for locals and visitors, a trip on "America's Most Amazing Mile" affords sweeping views (on a clear day) of Chattanooga and the Great Smoky Mountains 100 miles away. Train tickets also include a visit to the atmospheric machine room of this mechanical engineering marvel.
---
Regional Dish
Tennessee Hot Chicken
Legend has it the famous Nashville hot chicken came about in the 1930s when a scorned lover wanted to seek revenge on Thornton Prince by lighting his taste buds on fire. She added a crazy amount of pepper to his chicken, so much that it turned a fiery red color. It turns out her partner loved the dish and opened a restaurant so everyone could enjoy it.
---
See Ruby Falls
When it comes to tourist brochure spin, there's no shortage of hyperbole attached to Ruby Falls. Considered one of the most incredible falls on the Earth, the 145-foot waterfall (located 1,100 feet inside Lookout Mountain) ranks as the nation's largest underground waterfall and deepest commercial caves. The iconic falls have been etched in the popular consciousness since the mid-20th century, when seemingly every barn roof in the South was emblazoned with the advertising slogan, "See Ruby Falls." The slogan wasn't lost on Johnny Cash and Roy Orbison, who wrote the popular hit, "See Ruby Falls," in 1969 after the friends and their wives visited the falls on a day trip to Chattanooga.
Rocking Out
With its stellar views of seven states (if the weather cooperates), Rock City completes Lookout Mountain's triumvirate of attractions. A captivating 4,100-foot walking trail traverses the mountain's lofty sandstone formations, surreal caves and kaleidoscopic gardens, which brim with more than 400 native plant species. A series of ancient rock displays based on classic fairy tales enchant young children.
Bluff View
Perched high atop a bluff overlooking the Tennessee River, an easy stroll from downtown Chattanooga, the historic Bluff View Art District is a crucible for the town's artistic creativity. Experience experimental gastronomy, acclaimed performance art, and innovative arts and crafts.