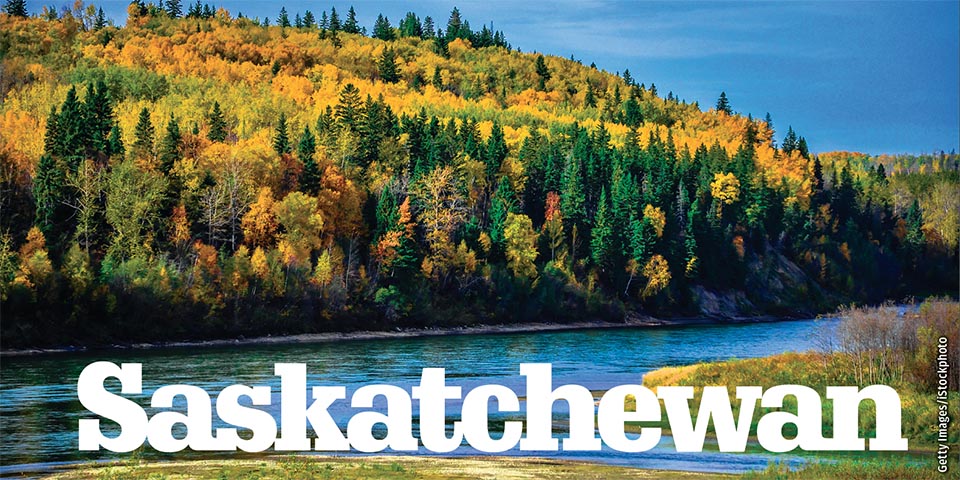 In Saskatchewan, visitors can explore Canada's sprawling plains in all their majesty. Home to 100,000-plus lakes and rivers, endless prairies and untouched parkland, Saskatchewan is a doorway to untamed prairie.
Canada's Compelling Past
The city of Regina showcases some of the most dramatic chapters in Canada's history. Swing by the RCMP Heritage Centre to see Mounties in training and hear the story of how the national police force came to be. The Royal Saskatchewan Museum goes even further back in time by unveiling the province's rich First Nations history and its dinosaur-filled past. You can also experience indigenous culture firsthand in Saskatoon's Wanuskewin Heritage Park. Tour Castle Butte in the badlands of the Big Muddy Valley in the south.
---
Regional Dish
Saskatchewan Berry Pie
Help yourself to a generous portion of Saskatoon berry pie. The native berries inside this beloved dessert look like blueberries but are actually closer to the apple family. Sweet and nutty in flavor, the fruit was a staple for Indigenous peoples and early settlers. Today, locals love going out and picking the wild berries every summer.
---
Iconic Parks
Although Prince Albert National Park often flies under the radar, it has been named by National Geographic as one of the country's "50 Places of a Lifetime." Scenic drives offer glimpses of wild bison; ziplines let you soar across boreal forest; and tranquil backcountry lakes provide the ultimate escape from real life. Grasslands National Park is worth a visit just for a prairie safari, which brings you close to bison, antelope and eagles.
Water Wonders
Ready to go rafting? Head to the Churchill River for high-speed rafting action on churning whitewater. It's also an excellent spot for catching walleye and northern pike. If you're set on trophy fish, make your way to the remote Milton Lake Lodge. Located in northern Saskatchewan, this renowned angling destination is where you go to battle gigantic trout and northern pike. Afterward, relax in salty Little Manitou Lake, known as the Dead Sea of Canada.