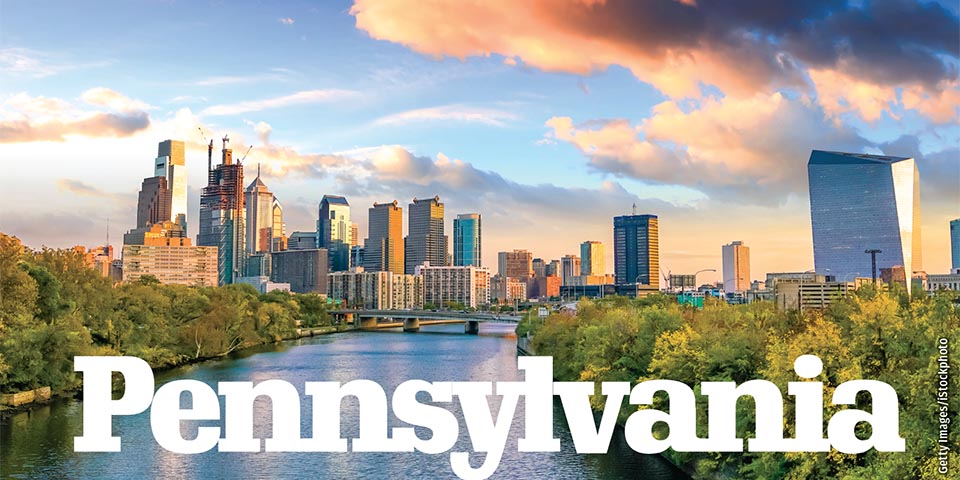 Pennsylvania has room for everyone within its borders. On its 46,000-square-mile territory, you can encounter both Amish communities and modern cities. You'll discover relaxing waterways and NASCAR racetracks.
Lush Landscapes
Get some gardening inspiration at one of the nation's finest displays of horticulture. The Longwood Gardens in Kennett Square will impress with their conservatory and 40 gardens planted and designed in traditional English, French and Italian styles. In the Valley Forge region, the Morris Arboretum houses over 12,000 plants from around the world, with many rare species on display.
---
Regional Dish
Pennsylvania Philly Cheesesteak
When hunger strikes, grab a Philly cheesesteak. Stuffed with thinly chopped ribeye and slathered with Cheez Whiz or melted provolone, this hefty sandwich is sure to hit the spot. Add grilled onions for extra flavor or spice it up a notch by adding hot peppers. From delis and food trucks to steak joints and pizzerias, you'll find cheesesteaks readily available wherever you go.
---
Where the Past Meets Present
Democracy took root in Philadelphia, and the world took notice of America's political innovations. It eventually became the country's first UNESCO World Heritage City. Inside Independence National Historical Park, visit sites like the Liberty Bell, Independence Hall and the National Constitution Center.
Out-of-the-Box Pittsburgh
Pittsburgh embraces forward-looking art and culture. The Andy Warhol Museum and Carnegie Museums house world-class treasures. You'll also uncover Chihuly glass sculptures scattered throughout the Phipps Conservatory and Botanical Gardens. Head east for a delicious visit to Hershey, home to the world-famous chocolate company of the same name. See how the sweet stuff is made at Hershey's Chocolate World.
Access to the Appalachian Trail
Hike the 229-mile segment of the Appalachian Trail that runs through the southwest corner of Pennsylvania. Seasoned hikers can sample the iconic trail from several trailheads, including those found at Boiling Springs, Duncannon and the Greater Waynesboro Area.