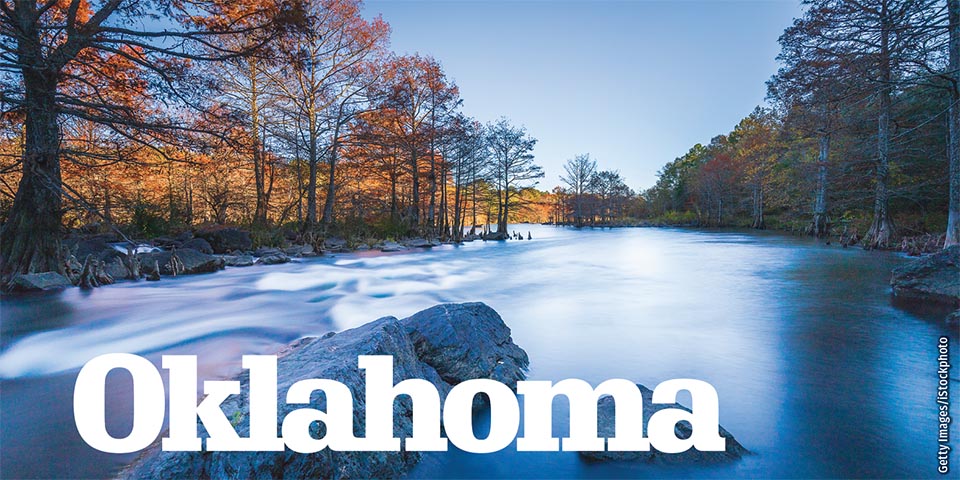 Cowboy culture, Native American history and wholesome hospitality coalesce nicely in the Sooner State. Oklahoma's geographical traits are just as varied, with its golden prairies, rugged mountains and cypress swamps.
Cowboy Culture
Oklahoma City, in the heart of the state, is home to cattle auctions at the Historic Stockyards City and a wide-ranging array of National Cowboy & Western Heritage Museum. About 100 miles to the northeast, Tulsa invites you to see a stunning array of Native American and Western art at the Gilcrease Museum. Nearby, there's also the Philbrook Museum of Art, an Italian Renaissance-styled villa teeming with art from all over the globe. Tour the town to see one of the finest collections of art deco building design in the nation.
---
Regional Dish
Oklahoma Chicken Fried Steak
You can get chicken fried steak throughout the South, but locals say it tastes best in Oklahoma. The classic comfort food is pounded down, breaded, deep-fried and then doused in mouth-watering sauces like pepper-cream gravy. Tuck into this hearty dish at a roadside diner and make sure to save room for pecan pie.
---
Roads to Discovery
Take an epic road trip through the eastern half of the state on the Talimena National Scenic Byway. Instead of eccentric roadside attractions, this 54-mile path takes you on a trip through rolling mountains and historic communities. Make a stop at one of the 22 scenic lookouts during autumn to see vibrant colors.
Ride the Mother Road
You'll find Route 66's longest driveable stretch in the Sooner State. Cruise this iconic road for the Oklahoma Route 66 Museum and the Route 66 Vintage Iron motorcycle museum.
Boater's Delight
Bring your boat and choose from more than 200 lakes for unforgettable adventure. Embark on a scenic sailing trip on Lake Hefner or charter a yacht in Lake Murray to visit charming communities on the water's edge. You can even rent a personal watercraft and race across Lake Murray if you're looking for a rush.