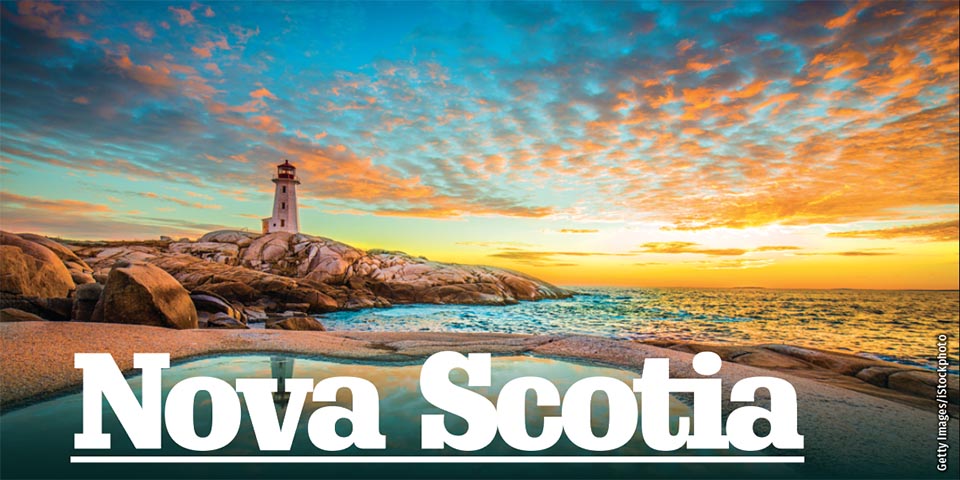 With bustling ports and rugged coastlines, Nova Scotia is one of Canada's most exciting windows on the Atlantic. The Bay of Fundy, the Gulf of St. Lawrence, the Gulf of Maine and the Atlantic surround the mainland peninsula.
Bustling Halifax
With connections to more than 150 global economies, Halifax pulses with culture and activity. A walk along the waterfront boardwalk of this bustling port town offers up the best of present-day Halifax. Grab a lobster roll and take a stroll while watching the boats in the harbor. The Halifax Public Gardens provide a tranquil retreat, boasting cascades of blooms and 240 varieties of trees.
---
Regional Dish
Nova Scotia Donair
Nova Scotia's lobsters are world-famous, but there's another dish that's the talk of the town: the Halifax donair. The popular late-night snack comes in a pita teeming with roasted shaved beef, tomatoes, onions and a signature garlic sauce. Every Maritimer has their favorite donair spot, but most will tell you to try the King of Donair.
---
Waterway Wonders
Few Canadian provinces dish out so many options for lovers of water sports. There are more than 4,350 miles of saltwater coastline, almost 7,000 lakes and 100 rivers. You can paddle or toss in a line without stopping. Brave the waves along the coast or meander down a trickling creek. Anglers can take their pick from saltwater and freshwater locales. Head to the Highlands for epic Atlantic salmon fishing in the Margaree River or hit the coast for the chance to reel in a Giant Bluefin Tuna (with the largest weighing over 1,000 pounds).
Pretty National Parks
For scenery and majesty, it's hard to beat Kejimkujik National Park. Located 101 miles southwest of Halifax, this expanse unfolds in two distinct areas. The main park takes visitors inland to woodlands and waterways proliferate. Here, enchanted old-growth forests and rippling creeks form a picturesque setting for outdoor recreation. At night, the show takes to the skies, with a dazzling array of stars. Kejimkujik Seaside is a separate park, located on the coast. Get an eyeful of scenic lagoons, beaches and marshes.