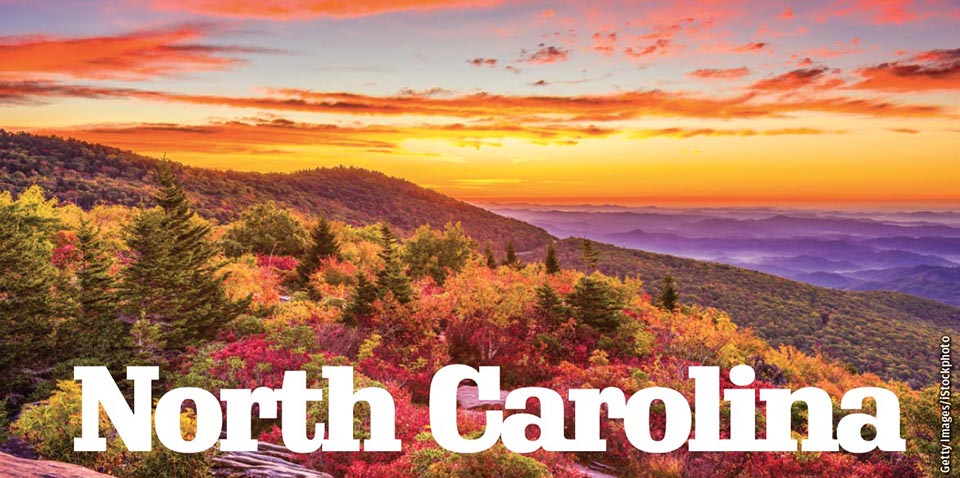 From barrier islands to Smoky Mountains peaks, North Carolina seems to specialize in contrasts. These backdrops attract travelers to the Tar Heel State, while effervescent towns and cities make visitors extend their stay.
High-Octane Charlotte
Charlotte blends beauty and high-speed excitement. Diverse generations can enjoy this generous city, the largest in the state, thanks to its museums, craft breweries, up-and-coming food establishments and proximity to the great outdoors. The heart of the NASCAR racing world beats here, with the NASCAR Hall of Fame and Charlotte Motor Speedway attracting throngs of racing fans. For a relaxed change of pace, head to Asheville, known for mountain views, a vibrant art scene and small-town friendliness. Stop at the Biltmore Estate, which wows visitors with opulent architecture and dazzling furniture.
---
Regional Dish
North Carolina Pulled Pork
The pulled pork in eastern North Carolina is unlike anything you've ever tasted. Whole-smoked and smothered in tangy vinegar, this regional specialty is an explosion of flavors that's usually served by the plate or on a bun. Satisfy your barbecue craving at a variety of roadside shacks or eat a whole hog with friends and family at a pig pickin'.
---
Nature on Display
Covering more than 500,000 acres, the Pisgah National Forest is a favorite Tar Heel State playground. A drive along one of the nation's most scenic roadways, the Blue Ridge Parkway, offers amazing beauty and recreation at every turnoff. Hike or bike along the hundreds of miles of trails, be dazzled by dozens of waterfalls and enjoy Mother Nature's waterpark at Sliding Rock. If you desire coastal views, head east to the Outer Banks, where scenic beaches stretch for miles and wild ponies roam the shores.
Smoky Mountain Sojourn
Great Smoky Mountains National Park occupies much of Western North Carolina, giving recreation seekers an opportunity to explore majestic peaks. Enjoy the rich history and scenic beauty of this vast wonderland while watching for wildlife. Black bears, elk, coyote and deer roam the woodlands and meadows.