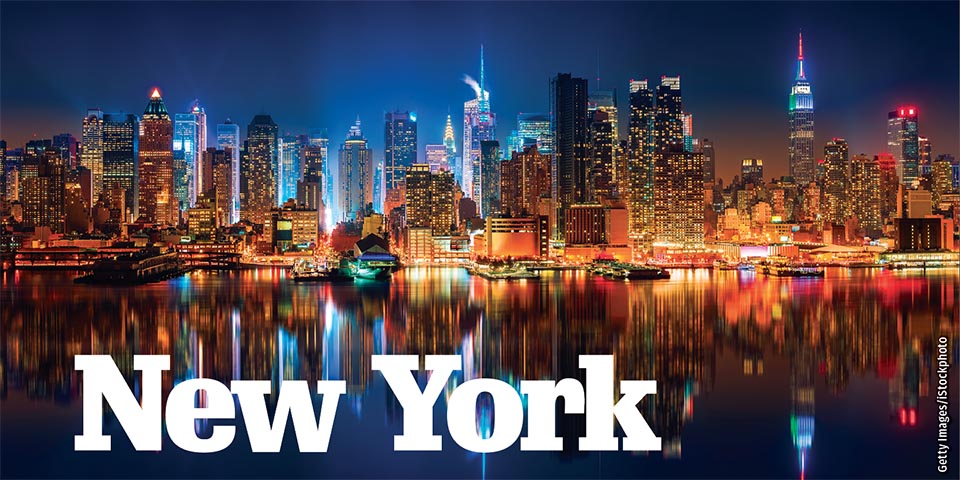 Big cities contrast with rugged getaways in the Empire State. Everybody knows about New York City, the nation's largest metropolis. Beyond the concrete canyons, the state's wide-open spaces entice nature lovers.
Go Past Gotham
From the lush expanse of Central Park to the observation deck of the Empire State Building, New York City never fails to dazzle. Study renowned artworks at the Museum of Modern Art and The Met, hear boisterous show tunes on Broadway, or sample tasty food on the go from a street vendor. In the middle of Manhattan, lush Central Park rolls out a welcoming green carpet.
---
Regional Dish
New York Bagels
Chewy and baked to perfection, the New York bagel is often touted as the best in the world. This pillowy piece of heaven made its way to the state when Jewish immigrants arrived in the late 1800s and has been a breakfast staple ever since. Start your day with a lox and cream cheese bagel or follow the locals by ordering a classic BEC (bacon, egg and cheese).
---
Walls of Water
Honeymooners and thrill seekers flock to Niagara Falls to witness nature's awesome power. The 2,600-foot-wide curtain of water plummets 167 into a misty pool, and visitors will find many ways to explore this spectacle. Niagara Falls State Park offers a number of vantage points to experience this iconic cascade from above and below. Ride on the Maid of the Mist at the foot of the falls, or walk the Cave of the Winds to feel the thunderous roar from behind the curtain. While Niagara Falls impresses with its sheer size and power, New York is actually home to over 2,000 waterfalls.
Water Wonders
The long, thin Finger Lakes are as fun as they are unusual. These 11 slender glacial lakes cut through picturesque rolling hills, providing a spot for angling, paddling and boating. Head to the Great Lakes for more fun. Fishing and boating counting as popular activities along the shores of Lake Erie and Lake Ontario. Across the state, anglers can choose from a number of epic waterways. Fly-fishing was born in the Catskill Mountains 100 miles north of NYC.