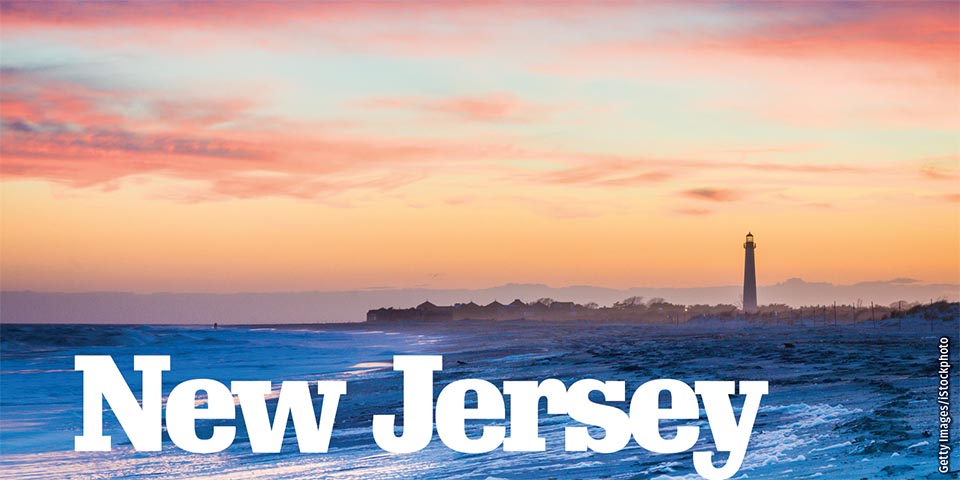 New Jersey serves up lots of surprises. Munch on cotton candy on the crowded Jersey Shore, then get lost a few miles away in the Pine Barrens. Hike scenic mountains in the north, then gaze at the Big Apple skyline.
The Shore and More
The Garden State's premier attraction is the fabled Jersey Shore, 141 miles of glorious Atlantic surf and sand. Experience the shore's pristine natural state at Island Beach State Park, where swimming and surf fishing abound. Inland, the Division of Fish and Wildlife helps anglers hit the jackpot by stocking many rivers and lakes with trout. Top picks include the state's largest lake, Lake Hopatcong in the north, and the Big Flat Brook, Rockaway River and Pequest River.
---
Regional Dish
New Jersey Salt Water Taffy
A time-honored summer tradition up and down the Jersey Shore, these melt-in-your-mouth treats come in more combinations than you can imagine. Molasses Mint? Frosty Root Beer Float? Lemon Meringue Pie? Whatever assortment you choose, your love for these Garden State goodies will stick around even longer than the taffy sticks to your teeth.
---
Two Natural Playgrounds
The Delaware Water Gap National Recreation Area on the northern border is a one-stop shop for the great outdoors, with hunting, fishing, boating, bicycling and more. Here, the pristine Middle Delaware National Scenic River meanders through wooded mountains, creating a 70,000-acre natural playground. Jutting into the Atlantic Ocean, the Sandy Hook unit of the Gateway National Recreation Area is another amazing option.
Surprising Serenity
New Jersey is home to 72 miles of the Appalachian Trail, and day hikers won't want to miss the section that runs through High Point State Park along the Kittatinny Mountain Ridge. Hike to the top of High Point Memorial, a striking granite obelisk, for seemingly infinite views of the surrounding Pocono and Catskill mountains. Visitors to New Jersey's tranquil Pine Barrens will discover a forested getaway. Cyclists can explore scenic woodlands, cranberry bogs and cascading waterways along the 42-mile Pine Barrens River Ramble.