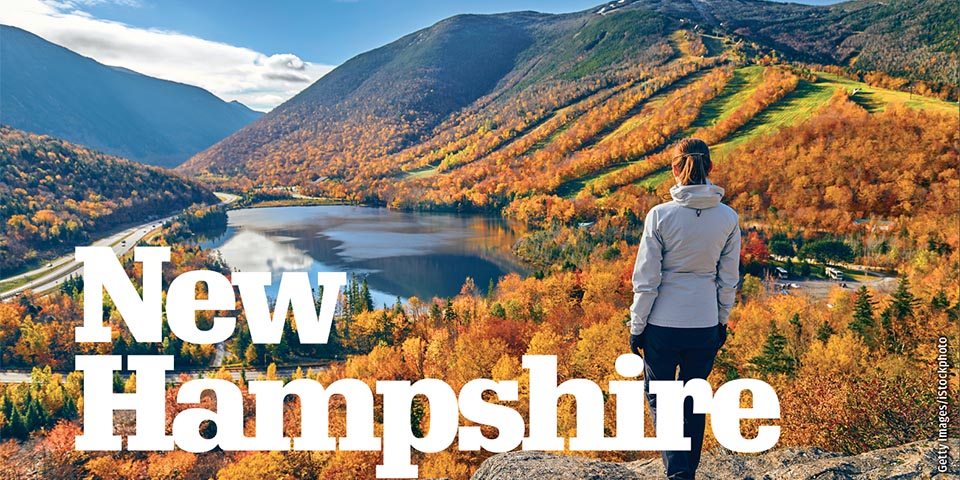 New Hampshire has long been associated with picturesque mountains, crystal lakes and pristine coastal beaches, but there's much more to the nation's fifth-smallest state than scenic beauty.
Small but Scenic Shore
Although New Hampshire has less than 20 miles of shoreline facing the Atlantic, its biggest coastal town, Portsmouth, enjoys major historical significance. In the 1600s, it was a key landing point for English settlers. Portsmouth is a classic New England seaport, with views of ships sailing in the harbor. Step into the town's past with a visit to the Strawbery Banke Museum, an outdoor living history museum depicting life on the waterfront in the 1600s and beyond. The downtown area is a cozy place to stroll with restaurants, galleries and shops.
---
Regional Dish
New Hampshire New England Boiled Dinner
This traditional one-pot dish transports diners back to the days of old New England, when the cold winters demanded heaping portions of comfort food. Made by boiling corned beef or ham alongside potatoes, carrots and onions, it's a simple yet hearty reminder that sometimes all a good dish needs is an empty stomach. Fill yours in the Granite State, where this classic combo has become a year-round staple.
---
White Mountain Wonders
A drive along the Kancamagus Highway will lead visitors to the stunning scenery of New Hampshire's White Mountains. Stop to explore the epic Sabbaday Falls, which cascades over a 45-foot drop, and the Rocky Gorge Scenic Area. Just off the byway, Franconia Notch State Park encompasses unbelievable beauty. The catwalks in the Flume Gorge take visitors through a verdant wonderland, past waterfalls and moss-covered cliffs. For dizzying views of the undulating hills, take a trip on the aerial tramway to the top of Cannon Mountain.
Placid Waters
Lake Winnipesaukee, the state's largest lake, may also be its most scenic body of water. Boating, fishing and watersports are popular pursuits. Paddlers and anglers can take their pick from Winnipesaukee and the other ample ponds and lakes that dot the state. With views of moose and virgin forests, the East Inlet is an especially picturesque spot.