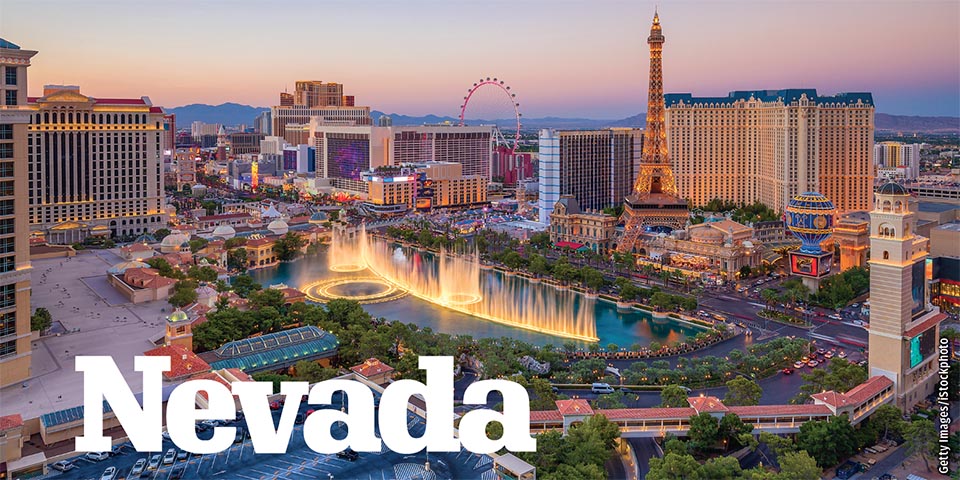 Vegas attracts legions of travelers for gambling and entertainment, but it's not the only game in the Silver State. The surrounding deserts, waterways and mountains are a sure bet for a great time.
Erie Landscapes
Great Basin National Park, on the state's eastern border, is known for rugged rocky landscapes. Throughout the park, guests can see gnarly bristlecone pines and one of the southernmost glaciers in North America. The alpine hills are home to superb recreational activities, including hiking and biking. A couple hours to the south, Cathedral Gorge State Park is an otherworldly landscape, with deep slot canyons and eye-popping spires formed from eroded volcanic ash.
---
Regional Dish
Nevada Shrimp Cocktail
The shrimp cocktail has been a casino staple for years and it's easy to see why. Fine diners and casual tourists alike gravitate to the crisp texture and rich flavor of juicy shrimp dipped into sweet and spicy cocktail sauce (usually a mixture of ketchup, Tabasco sauce, Worcestershire and lemon). Often served on ice, the shrimp cocktail is one dish that never loses its cool on the casino floor.
---
Supercharged Cities
Viva Las Vegas! The world's gambling capital is home to thrills and chills for grownups and kids alike. The simple casinos of decades past have been replaced by extravagant pleasure palaces, with dancing waters, gondola rides and roller coasters. A wealth of live entertainment options, shopping and restaurants mean that even non-gamblers will be pleased. In northern Nevada, Reno offers similar thrills, with the Sierra Nevada nearby.
Larger-than-Life Waterways
The creation of the Hoover Dam resulted in the formation of Lake Mead, 247 square miles of water that's perfect for boating, fishing and paddling. The state's red desert landscape gives way to green pines and turquoise waters at Lake Tahoe, one of the most stunning spots in the nation. North America's largest alpine lake offers fabulous boating and fishing, with ample populations of trout and kokanee salmon. Running between Lake Tahoe and Pyramid Lake, the Truckee River entices paddlers and anglers, with amazing mountain views on the horizon.