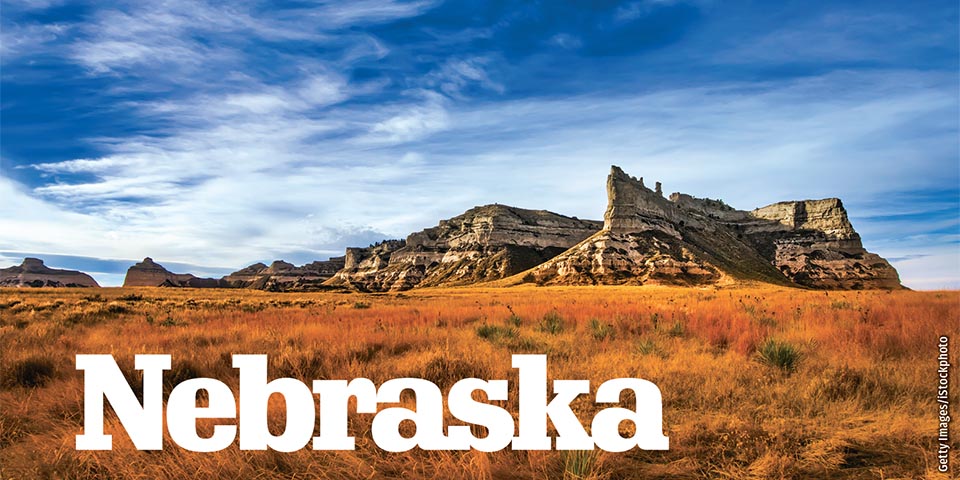 Nebraska defies the stereotype of being a "fly-over" state. Just about everyone who scratches the surface of the Cornhusker State can find ample fun-filled diversions. Find everything from rollicking sports to gracious cities.
Omaha Magic
As Nebraska's biggest metropolis, Omaha blends big-city energy with distinctly Midwestern diversions. Omaha is located on the banks of the Missouri River in eastern Nebraska. Walk on the wild side with a visit to the Henry Doorly Zoo and Aquarium, considered one of the best in the nation. Feel the heat of the desert, listen to birds calling in the rainforest and walk among the lemurs. With a farmers market, shops, galleries and restaurants, Omaha's Old Market is a favorite spot to relax. Tons of outdoor spaces and family-friendly attractions round out the offerings.
Walk Among Giants
Walk among (bronze) giants at Spirit of Nebraska's Wilderness and Pioneer Courage Park. More than 100 sculptures that weigh anywhere between 400 pounds and six tons are scattered over six blocks of downtown Omaha, telling the story of the pioneer journey out west.
American Royalty
Explore a symbol of American "royalty" on a visit to Joslyn Castle, which is now part of the Nebraska Statewide Arboretum. The Omaha landmark was built by one of the state's wealthiest families in the early 20th century. The Scottish baronial home is four stories tall and has 35 rooms, including a music room, a ballroom and a gold drawing room.
---
Regional Dish
Nebraska Runza
This beef, sauerkraut, and onion-filled bread pocket is about as iconic as it gets. Created by German immigrants as a home-cooked dish, the sandwich is now easily available at the Runza fast food chain, which first opened its doors in 1949. For a feast on the fly, it's hard to beat this ready-made classic.
---
Fantastic Fountain
Scheduled to reopen soon, Heartland of America Park and Fountain will give visitors another reason to explore Omaha. High points will include a 320-foot water jet and light show. There also will be Lewis & Clark Interpretive exhibits, WWII and Airborne Memorial Sculptures and a pedestrian bridge connecting to the Lewis & Clark Landing.
Prairies, Sandhills and Wagons
As pioneers crossed the prairies heading to Oregon and California in covered wagons, they noted the many distinctive landmarks that guided their way. With not much else on the horizon, the dramatic sight of Scotts Bluff rising 800 feet over the river below made it an important landmark. Today, history and natural beauty can be explored at this national monument. Roam the unique landscape of the Sandhills with a drive along the Sandhills Journey Scenic Byway in central Nebraska.
Rad River
Follow Nebraska's Niobrara River through prairies and forests, past waterfalls and dramatic bluffs. Over 70 miles of this waterway has been designated as a National Scenic River, making it one of the state's most popular spots for paddling. White-sand beaches are an unexpected find in the Midwest, but that's what you'll find along the shores of Nebraska's massive Lake McConaughy. Boating, fishing and paddling are popular ways to enjoy this gorgeous lake. North America's longest river, the Missouri, flows for 400 miles along Nebraska's eastern border, providing prime fishing.
Adventure in the Husker State
Where can you view more than 80 percent of the world's sandhill crane population at once? Right here in the heart of Buffalo County. Tucked away in the Platte River Valley, easygoing Kearney hosts one of nature's most awe-inspiring wonders every spring. Come watch the crane migration and stay a little longer for the cultural museums, historical sites and family-friendly activities.
Lazy Lake Days
Fort Kearny State Recreation Area invites you to take life at a slower pace. Flick your rod from its wheelchair-accessible fishing pier and dip your paddle in sandpit lakes. Less than 20 miles away is War Axe State Recreation Area. The park is home to a 16-acre lake making it a good destination for boating and fishing. More lakes await in nearby Windmill State Recreation Area. Get on the water and spot the restored windmills that used to pump water for steam locomotives.
Amazing Museums and Sites
Kearney's rich heritage can be discovered in its museums and historical sites. Learn about the Western settlers who traversed this area at the Archway Museum, which spans Interstate 80 in a stunning feat of engineering. Inside, explore a reconstructed blacksmith shop at Fort Kearny State Historical Park, the first fort dedicated to protecting Oregon Trail pioneers. Round out your experience by tracing the evolution of the automobile at the Classic Car Collection and viewing works by regional artists at the Museum of Nebraska Art.
Window to the Past
In Grand Island in the southeast, the Stuhr Museum is 200-acres of living history featuring over 100 structures that tell the story of the pioneers who settled the first communities in Nebraska. Through interpretation, artifacts and more, visitors to the Stuhr Museum will understand the challenges, triumphs and circumstances of those who called Nebraska home in the late 1800s.
Relics of the Frontier
You have to see the Stuhr exhibits to believe them. Railroad Town is a full pioneer town featuring over 50 structures, including historic homes, businesses, a rail depot, blacksmith shop and more. The Stuhr Building, designed by world-renowned architect Edward Durell Stone, features rotating art exhibits and historic artifacts. The Fonner Rotunda houses Native American and cowboy artifacts, and the Antique Farm Machinery building featuring autos and tractors spanning more than a century. The beautiful Hornady Family Arbor and Fonda Rose Garden cultivates lush plants that thrive on the Great Plains.
Rugged Rocks
While much of Nebraska is covered in gently rolling plains, outdoor adventure in the Cornhusker State also involves exquisite and geologically unique landscapes. There's Indian Cave State Park, tucked in the southeastern corner of the state, just south of Omaha. The park sprawls across 3,052 acres astride the mighty Missouri River, and is home to a massive sandstone cavern from which it gets its name.
Toadstools of Stone
In northwestern Nebraska, a visit to Toadstool Geologic Park puts you in the middle of moonlike badlands. You can hike the park's interpretive trail and point your camera at some of the most uniquely spectacular geography in the country.