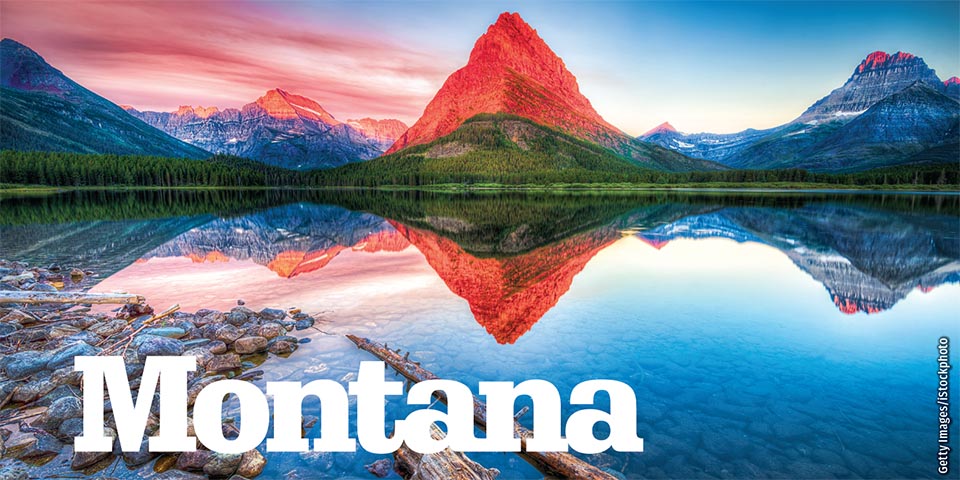 Picture a place where the blue skies stretch as far as the eye can see, with no obstructions on the horizon. Picture rivers where fat trout leap. Picture snowcapped mountains framed by crystal lakes. The place is Montana.
Gateways to Greatness
While Billings is Montana's largest town, many visitors will come to know the state through the "Gateway Cities" that welcome guests to Glacier and Yellowstone National Parks. Be spellbound by a stay in Kalispell, gateway to Glacier National Park, where the mountains rise and the rivers run. Refuel for all of your outdoor adventures. Bordered by mountains and public lands, Bozeman is a gorgeous retreat and one of the largest towns near Yellowstone, while smaller towns like West Yellowstone and Gardiner are literally at the doorstep of this enthralling park.
---
Regional Dish
Montana Huckleberry Ice Cream
Equal parts tart and sweet, huckleberries are the perfect base for pies and pastries, but it's in ice cream that their flavor really shines. Iconic snacks like Wilcoxson's ice cream bars are sold in shops across the state, but homemade cups and cones are found wherever huckleberries grow. For peak flavor, try the mom-and-pop eateries around Glacier National Park, where huckleberries flourish.
---
Gorgeous Glacier
Since only three percent of Yellowstone National Park lies in Montana, Glacier National Park truly is the state's pride and joy. A mesmerizing mixture of mountains and surreal-colored lakes would be enough to make this park beautiful, but what truly sets it apart is the glaciers. These ice behemoths are accessible here. Take a trail or boat and prepare to be amazed. Going-to-the-Sun Road snakes through the park, with picturesque views around each curve. Truly experience the scenery by hiking, biking, fishing or paddling through it.
A Fly-fishing Paradise
It's no surprise why so many anglers put Montana at the top of their fishing bucket lists. As one of the nation's legendary fly-fishing regions, Montana's cold, clean rivers are teeming with trout. Places like the Missouri, Madison and Gallatin Rivers not only offer epic fishing, the scenery is absolutely captivating. Boaters and anglers alike will enjoy Flathead Lake, the largest natural lake west of the Mississippi. Just brace yourself if you jump in since these cold waters are literally breathtaking.
A Surprising Find
While many of Montana's landscapes are well known, a rain forest is likely an unexpected find. Head to Kootenai National Forest for a unique experience. Walk amid ancient Western Red Cedars in the Ross Creek Scenic Area. These towering beasts reach 175 feet tall and have massive trunks topping eight feet in diameter.