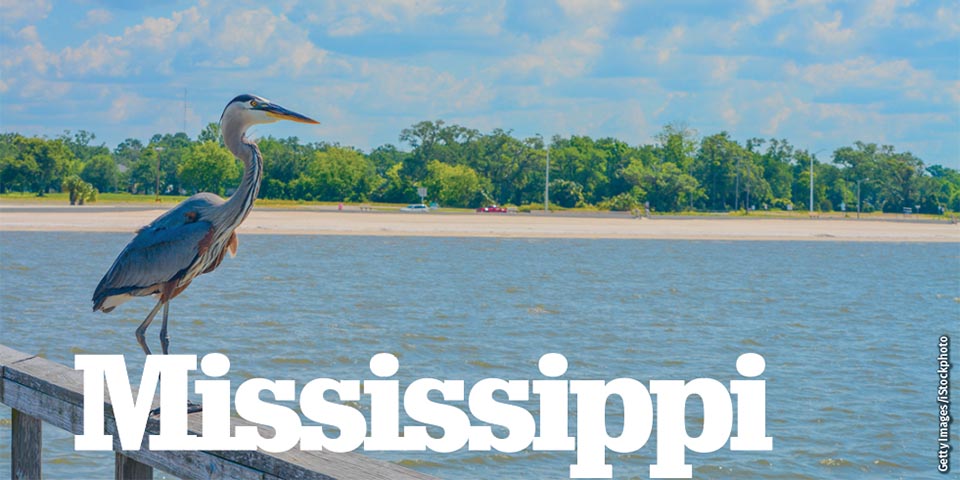 Mississippi welcomes you with Southern hospitality as sweet as the smell of a magnolia. Time slows down here, and a number of historic sites let you look at pages from the past. Mississippi also has modern cities standing tall.
Cities with Character
For a true taste of Mississippi history and culture, make a stop in Natchez. Time seems to have stopped in this town, located high on a bluff overlooking the Mississippi River. Hundreds of well-preserved antebellum mansions line the streets, many offering tours. If you're looking for a more energetic pace, head to Jackson. Known as the "Birthplace of American Music," Jackson is where great blues and soul music began.
---
Regional Dish
Mississippi Biscuit
Billed as the "Biscuit Capitol of the World," it's hard to beat the Magnolia State when it comes to the soft, flaky goodness of a buttermilk biscuit. Served with gravy for breakfast or as a side any time of day, these buttery treats are found across the state, but for the best of the best, head to the bluesy town of Natchez, where chefs like Regina Charboneau have been perfecting their recipe for decades.
---
An Exquisite Escape
Gulf Islands National Seashore protects the barrier islands along Mississippi's coast. Whispery white sands and grass-spotted dunes are contrasted by endless blue skies and seas. Explore a historic fort, watch for the 300 species of birds that visit, or take a boating tour of several scenic spots. On land, you can enjoy biking and hiking, while the sea offers swimming, snorkeling and diving.
Waterside Wonderlands
You don't have to visit one of Mississippi's casinos to feel like you've hit the jackpot. Walk one of the state's many beaches found along the small stretch of the Gulf Coast. Biloxi Beach and Gulf Port take the prize for family. Anglers can also find many ways to get lucky in the state, with crappie waters found in Granada Lake, Enid Lake and Lake Washington.
Take a Stroll Through Time
The ultimate way to tour Mississippi is with a drive along the Natchez Trace Parkway. Once a Native American footpath, this 444-mile scenic drive starts in Natchez, Mississippi.