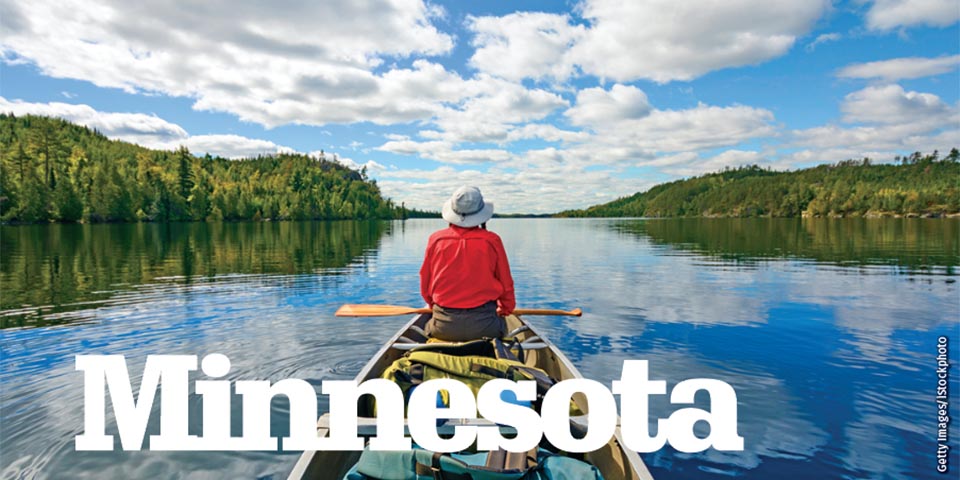 Where can you find America's northernmost point, aside from Alaska? You might be surprised to know this honor goes to Minnesota. The notch of territory known as the Northwest Angle sticks out above the 49th parallel.
Double the Fun
Why visit one city when you can easily visit two and double your fun? The Twin Cities of Minneapolis and St. Paul offer everything from boundless brews and big buildings to cool culture and cuisine. Whether you prefer to tour an art museum or take in a sporting event, you can do it in the Twin Cities. The nearby Mall of America beckons to shoppers with more than 500 stores. Even Mother Nature is spectacularly grand, with scenic Minnehaha Falls Regional Park perched in the middle of the two towns.
---
Regional Dish
Minnesota Hot Dish
The uninitiated might call it a casserole, but this comfort food staple has earned a reputation all its own in the Gopher State. A fixture at family reunions, church functions and potluck dinners, hot dish is packed with ground beef or chicken, veggies and condensed mushroom soup, and then baked and topped with tater tots. Add in a little home-cooking nostalgia and you've got the perfect family recipe.
---
Plentiful Parks
With many stunning state and national park options, you could spend your summer park hopping and never be bored in Minnesota. Head north toward the Canadian border to paddle the "water highways" of Voyageurs National Park or take a hike to enjoy the verdant scenery. Located along the rocky shores of Lake Superior, Gooseberry Falls State Park is a Minnesota treasure. Named for the spectacular waterfalls along the Gooseberry River, this North Shore park offers 20 miles of scenic trails along the waters and through the woodlands.
The Lakes Don't Disappoint
If you want a beach vacation without the worries of sharks or jellyfish, Minnesota's lakes are perfect. You'll find cool, clear waters, sandy shores, and plenty of summertime sunshine, which is everything you need for a beach retreat. Paddlers won't want to miss the Boundary Waters Canoe Area Wilderness, which offers 1,200 miles of water trails set amid a million acres of serene woodlands.