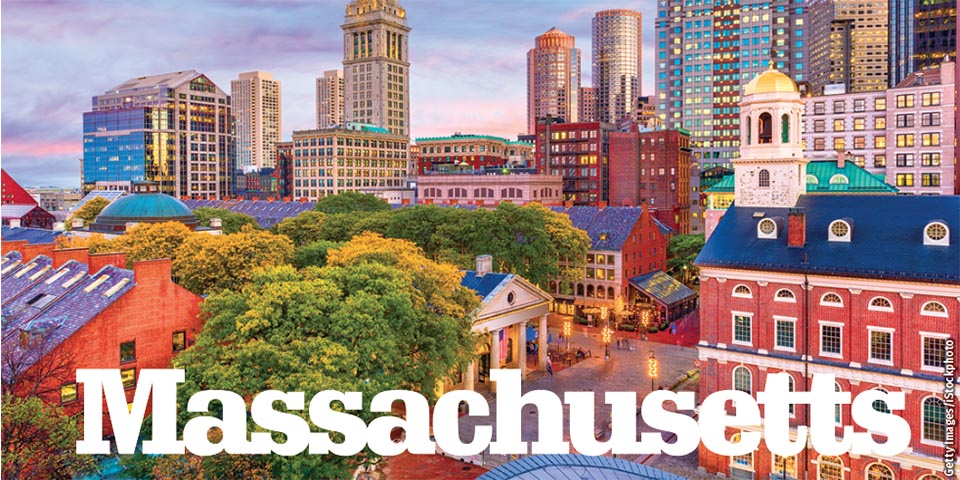 Bursting with historic monuments and quaint charm in equal measure, Massachusetts is a dynamic destination. Explore the history of one of the nation's oldest states in places like New England's most populous city, Boston.
The Cradle of Liberty
As a hub of American colonialism, independence and intellectualism, Boston shaped the nation from its earliest days. The 2.5-mile Freedom Trail takes visitors to historic sites hidden amid the city's rising skyscrapers, telling the story of this city's grand past while showcasing its prospering present. Grabbing a meal in the Little Italy neighborhood is not to be missed, with upscale open-air restaurants lining the streets.
---
Regional Dish
Massachusetts Clam Chowder
Nearly every state on the east coast has their version of this thick and creamy soup, but Massachusetts alone has made it famous. The Bay State's version usually consists of clams, potatoes, onions and a base of cream or milk, served alongside a heaping bag of oyster crackers. Just be sure to order this classic with a New England accent — it's "chow-dah," not chowder.
---
Captivating Cape Cod
The exquisite landscapes of Cape Cod make this region one of the best places to experience the great outdoors in Massachusetts. This slender cape, extending into the Atlantic Ocean, is lined with ceaseless beaches and rolling sand dunes, providing epic backdrops for all forms of recreation. For a magical Cape Cod experience, hit the waters for a whale watching cruise.
Bay State Waterways
Known as the Bay State, Massachusetts has exciting waterways extending from the Atlantic shores to the Berkshire hills. Anglers can enjoy trout fishing in cool mountain creeks, bass fishing in the large ponds that dot the state, and deep-sea fishing along the coast.
Traverse the Trails
Ninety miles of the epic Appalachian Trail bisect the Bay State, giving hikers lots of opportunities to work up a sweat.Part of the trail passes through Mount Greylock State Reservation, home to Massachusetts's highest peak and over 50 miles of trails.