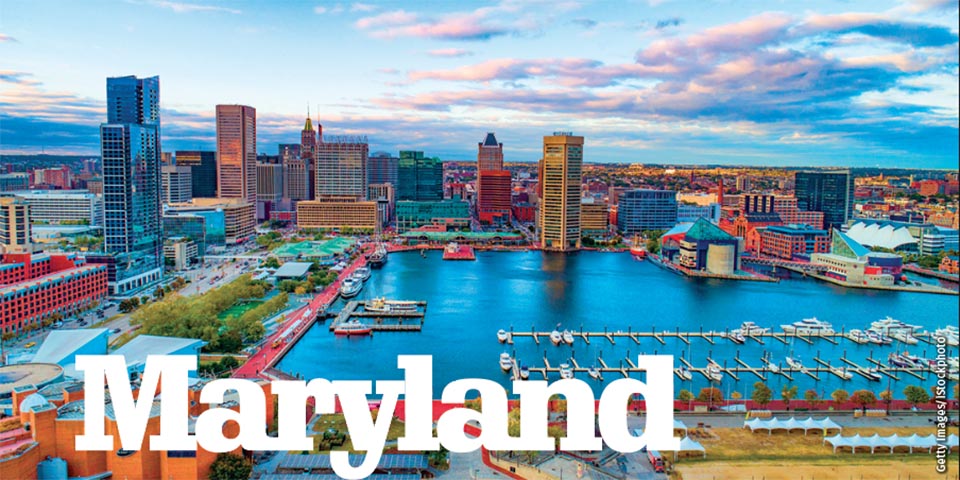 The question isn't what you can do in Maryland, it is what can't you do. Maryland prides itself as being "America in Miniature," boasting a diverse slate of landscapes and attractions from tall mountains to beautiful coasts.
Bustling Baltimore
Located on the Chesapeake Bay, Baltimore is a dynamic city. The Baltimore Harbor is the epicenter, with stores and restaurants set against a maritime backdrop. Nearby, Fells Point has a more historic feel, complete with cobblestone streets and colorful buildings. Down the Patapsco River, Fort McHenry showcases the region's birthplace of the national anthem. Dining on crab legs or crab soup is a must while in Maryland.
---
Regional Dish
Maryland Steamed Crabs
One of the most bountiful bodies of water in the country, the Chesapeake Bay is perhaps best known for its famous crabs. Feasting on these succulent crustaceans is a fun-filled event where everyone gets their hands dirty. Typically flavored with Old Bay seasoning, the sweet, white meat is an essential addition to summer in the Mid-Atlantic. Grab a bib and get crackin'!
---
Where Wild Herds Gallup
Where untamed horses roam free and Atlantic waves hit the sandy coast, you'll find Assateague Island National Seashore. A band of feral horses, possibly survivors from a long-ago shipwreck, are the top attraction, but there's so much more to explore. Hit the bike trails for seaside views, as you watch for ponies at play. Canoe or kayak along the coast, or try your hand at crabbing, clamming or surf fishing for a fresh taste of Maryland.
A Bevy of Beaches
Whether you want to hit the surf or sit in the sand, Maryland has a beach for you. Ocean City is the place to go to combine your time at the shore with a side of fun. Take a ride to the top of the Ferris wheel for a bird's eye view of the sapphire waters.
Scenic Swallow Falls
A jaunt to the northwest corner of Maryland is worth the ride for a visit to Swallow Falls State Park. Here, the Youghiogheny River plunges over a 53-foot drop, making it one of the state's most breathtaking sites.