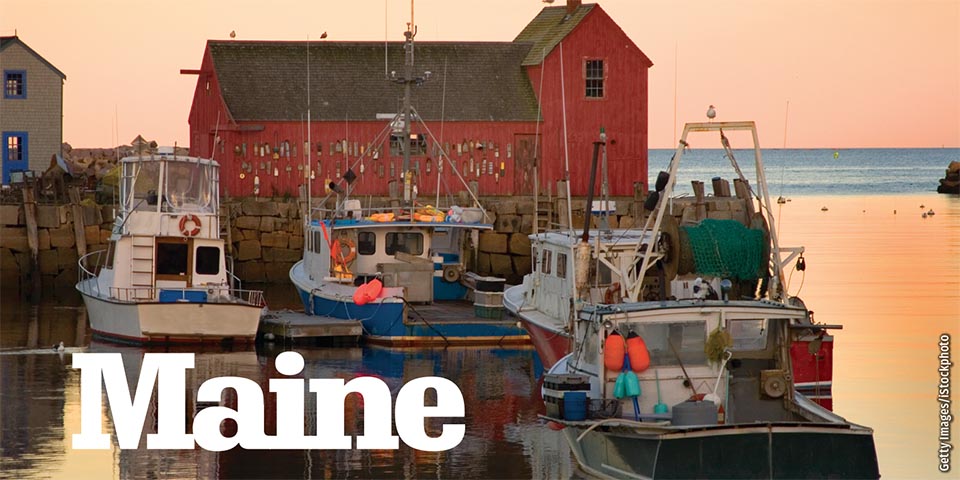 Occupying the farthest northeast corner of the United States, Maine is known for its beautiful western mountain ranges and the scenic, craggy shores. Visit charming seaside villages and rugged industrial towns.
Wonderful Waters
With a tidal shoreline that stretches for almost 3,500 miles and myriad rivers crossing the state, Maine entices lovers of water recreation. Relax in the sands along one of Maine's beautiful beaches, or board a boat to hit the seas. Running 375 miles along the Atlantic coast, the Maine Island Trail beckons to paddlers with over 200 wild islands and mainland sites to explore. Anglers can pluck a catch from the depths of the ocean or from babbling mountain creeks.
---
Regional Dish
Maine Lobster
Boasting the sweetest and most flavorful lobster on the planet, Maine is the perfect place to splurge on this buttery summer specialty. Served steamed or in a roll, the iconic crustacean is available just about everywhere up and down the coast. For the freshest version, head to the state's famous dockside eateries, where the local catch comes out of the water and straight onto your plate.
---
Towns of Plenty
While Maine's outdoor spaces beckon adventurers, the state towns offer plenty to explore. Bar Harbor is a great place to start. The quintessentially New England town is situated on Mount Desert Island, off the Atlantic coast just outside the entrance to Acadia National Park. The town just drips with charm, from the colorful village atmosphere of Main Street to the ships sailing in the harbor. Bar Harbor offers all the human comforts visitors will need after their adventures in the outdoors. Southeast along the coast, Maine's largest city, Portland, maintains a small-town feeling and offers all the natural beauty of the Pine Tree State.
Awesome Acadia
You won't find views of the Atlantic Ocean that surpass the sweeping vistas available at Acadia National Park. Wind-swept waves crash into rocky shores, and forests carpet the hills. Peer into tide pools to look for multitudes of marine life, or set your eyes on the endless seas while watching for whales.