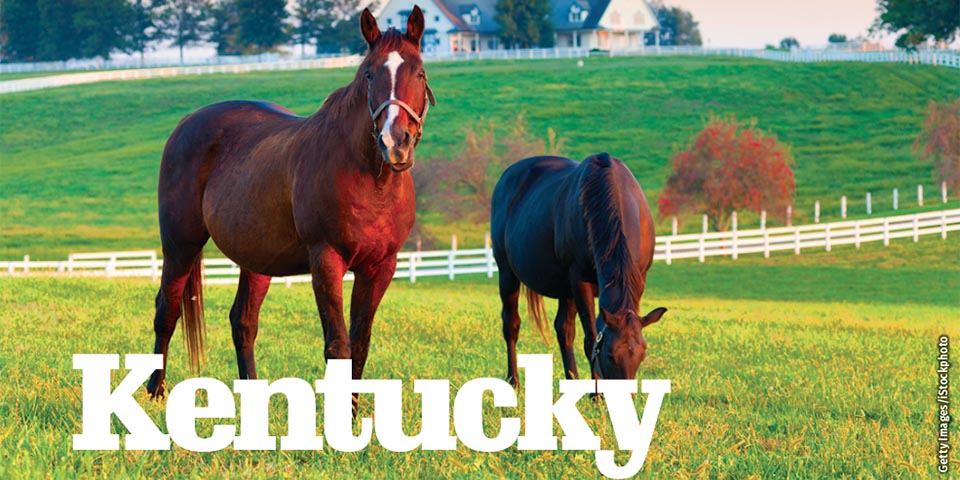 Kentucky is known for the bold flavors of its bourbon, the echoing thunder of thoroughbred horses on the track and the warm harmonies of bluegrass music. Bask in Southern culture mixed with a big Midwestern welcome.
---
Regional Dish
Kentucky Fried Chicken
You know the name from fast food signs, but for the real Kentucky fried chicken, you'll have to head to the heart of the Bluegrass State. Always extra crispy and seasoned to perfection, this belly-busting dish is a part of everyday life from Lexington to Louisville. For a family-friendly feast, it's truly hard to beat.
---
Loving Louisville
As Kentucky's largest and most dynamic city, Louisville bursts with possibilities for adventure, from Churchill Downs to the Louisville Slugger Museum & Factory to the Muhammad Ali Center. Head downtown to explore a hip foodie scene that's coming into its own. Lexington, meanwhile, just might be Kentucky's signature city. Known as the "Horse Capital of the World," Lexington has over 400 horse farms nestled in its scenic bluegrass hills. Beyond the big towns, hop on the Bourbon Trail to taste test your way through Kentucky's many distilleries.
Pivotal Parks
Nearby, the natural break in the Appalachian Mountains known as the Cumberland Gap gave passage to the pioneers who settled in the region. Sitting on the border of Tennessee, Kentucky and Virginia, the Cumberland Gap National Historical Park preserves the beauty of this gateway to the west. Over 80 miles of trails take hikers through woodlands and to scenic vistas. Nearby, the Cumberland Falls State Resort Park plays host to the occasional "moonbow," a nighttime phenomenon that appears over the waters of the "Niagara of the South."
Cool Catfish
The Land Between the Lakes National Recreation Area brings anglers and boaters out to play. The two lakes straddling this peninsula in western Kentucky allow recreation lovers to zip across a massive lake or to paddle a tiny creek. Catfish, bass and bluegill can be caught in the large lakes and small ponds.