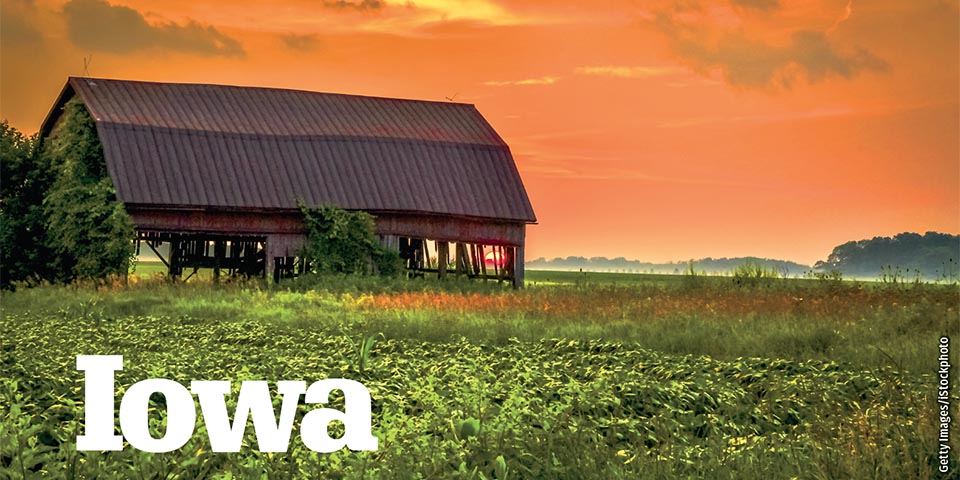 What do sprawling farm land, an iconic state fair and a pivotal presidential contest all have in common? They take place in Iowa. But there's so much more to this Midwestern gem. Take some time to scratch the surface.
Wholesome Cities
Home to one of our nation's most celebrated state fairs, Des Moines is a city rich with history, natural beauty and cultural impact. Visit the grand Capitol, with its golden dome, then interact with the quirky artworks of Pappajohn Sculpture Park. For wholesome food, gather homegrown produce at the weekly farmers market, or seek out trendy restaurants downtown. Located on the Mississippi River, the small town of Dubuque is a big getaway in eastern Iowa. Learn more about this national waterway's history, flora and fauna with a visit to the National Mississippi River Museum & Aquarium.
---
Regional Dish
Iowa Corn on the Cob
A timeless American classic, it's hard to beat the simple — and simply delicious — flavor of Iowa sweet corn. Whether it's grilled or boiled, this iconic snack is almost always served slathered in butter and salt, so don't forget a napkin. For the best of the bushel, head to one of the Hawkeye State's famed harvest fests, where corn producers cook up some of the highest-quality corn in the country.
---
Great Outdoors
Western Iowa's Loess Hills are a sight to behold. Here, the flatlands and farmlands give way to rippling hills. Take a drive along the Loess Hills National Scenic Byway, hike through Loess Hills State Forest, or enjoy a variety of outdoor activities at Stone State Park. Head underground at Maquoketa Caves State Park to experience an amazing cavern.
Fun on Water
For beautiful views, paddlers will want to head to the Upper Iowa River, known for its massive limestone bluffs, or the Maquoketa River Water Trail. Those chasing thrills can find them at the many whitewater parks sprinkled across the state. Northeast Iowa is the place to go for rippling trout streams. Boaters and anglers should check out the Iowa Great Lakes, a chain of natural glacial lakes renowned for their exceptionally clear, blue, fish-rich waters.