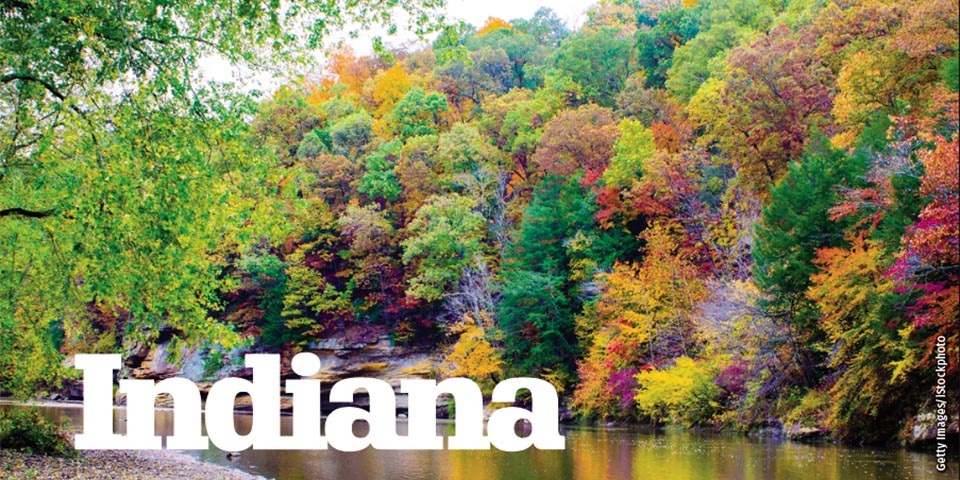 Indiana sits at a historic crossroads. Some of the nation's pivotal events occurred here, and it celebrates this legacy with well-preserved towns and traditions. Travelers motoring in the Midwest stay a while in the Hoosier State.
Perfect Parks
The state's capital city of Indianapolis entices lovers of big towns, while its sprawling parks preserve natural attractions. Check out White River State Park, right in the heart of town. Take a gondola ride down the tranquil river for epic views of the skyscrapers, then hop off to explore the museums, green spaces and art pieces connected by this urban park. Sports fanatics and families will find much to do in this beckoning city.
---
Regional Dish
Indiana Sugar Cream Pie
A regional specialty first created by Amish and Shaker communities, sugar cream pie is an understated but sweetly filling dessert. Combining sugar, butter and cream into a custard-like texture, and paired with a buttery crust dusted with cinnamon and nutmeg, locals and tourists alike rave about this simple yet satisfying treat. It's like having your own little slice of heaven.
---
Go to the Great Lakes
Looking for a great view of Lake Michigan? Ascend to Mount Tom in northwest Indiana, where visitors can look out over the blue waters of Lake Michigan, with the Chicago skyline rising above the horizon. Mount Tom isn't a traditional mountain; instead, it is the tallest of the sand dunes found at the Indiana Dunes National Lakeshore, rising upward of 190 feet above the water. Considered one of Indiana's greatest natural wonders, the massive dunes running along Lake Michigan extend into the adjacent Indiana Dunes State Park.
Magical Monroe
Recreation is a way of life along Lake Michigan. Boating, paddling and fishing are popular activities on the coast. Indiana's largest reservoir, Lake Monroe, just south of Indianapolis, is another great choice for boating and reeling in the big one. The crystal-clear waters are perfect for watersports, with many no-wake zones providing calm coves for quiet pursuits. Trophy-sized bass thrive in these waters. In the town of Corydon, Caverns take explorers into a deep cave system.