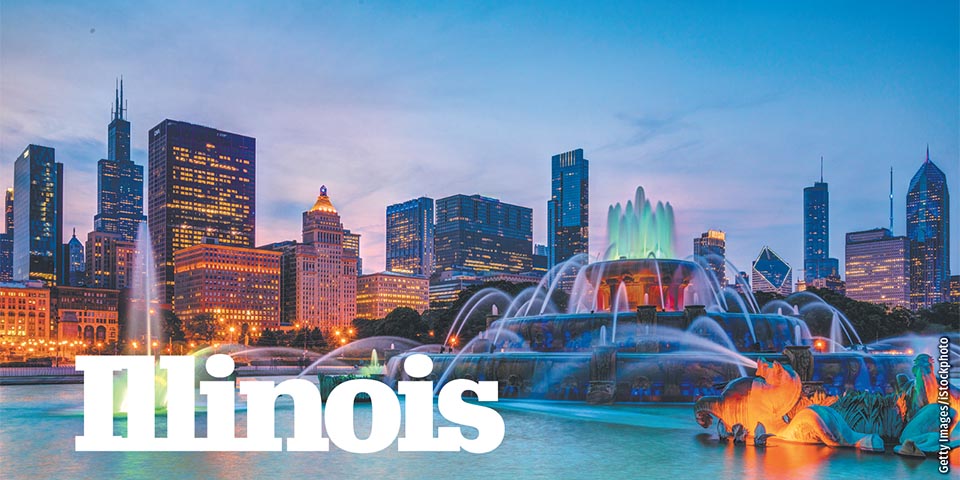 Illinois evolved from its agrarian roots to a robust hub of commerce. This Midwestern state is home to the city of Chicago, with its iconic skyline rising above the waters of Lake Michigan. It's also a place of wide-open spaces.
Far-Reaching Forests
While Illinois is known for big cities, it's no slouch when it comes to sprawling woodlands. Covering 280,000 acres, the Shawnee National Forest invites adventurers to explore its trails. Hiking, biking, paddling, horseback riding and more can all be enjoyed in the diverse landscapes, ranging from prairies to woodlands. Unique rock formations seem to rise from nowhere in an area known as the Garden of the Gods. Look out at expansive views of the rolling Shawnee Hills and follow the interpretive signs explaining the area's geology.
---
Regional Dish
Illinois Chicago Dog
While deep-dish pizza is Chicago's most famous food, true Illinois locals will tell you that hot dogs are their go-to staple. Just make sure you don't ask for ketchup. The best restaurants pile on unique and exciting toppings like sport peppers, pickle spears and celery salt. These delicious dogs are also good news for your wallet, so there's no reason not to pig out.
---
Chi-town
For visitors approaching Chicago, the city's dramatic skyline appears on the horizon like an immense mirage. But the silhouettes of skyscrapers rising in the distance are all too real. The nation's third largest city is the cultural capital of the Midwest, boasting world-class theater and music, major museums and high-end shopping along the Magnificent Mile. Aside from its urban appeal, Chicago is known for the natural beauty of Lake Michigan, a popular spot for city dwellers seeking cool breezes. Don't forget to take a photo of the reflective Cloud Gate, the smooth, gleaming sculpture affectionately known as "The Bean."
Escape From the City
Travel 100 miles southwest of Chicago to swap towering skyscrapers with tall rocks. At Starved Rock State Park in Oglesby, the Illinois River has carved canyons of sandstone bluffs. Waterfalls tumble from above, and the river cascades below.