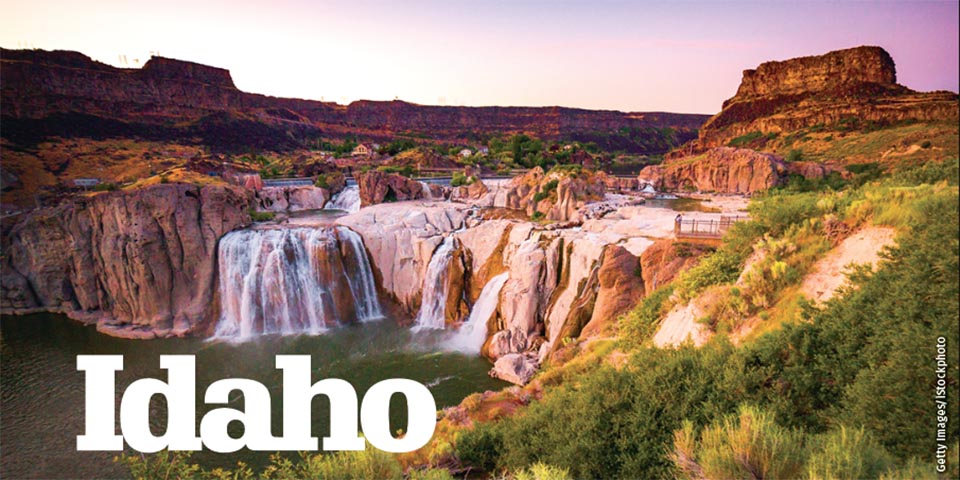 In Idaho, fishing, rafting and hiking are never far away. Larger-than-life Idaho will keep you busy. Raft the whitecapped rapids, ski down endless slopes, catch a bounty of fish from the waterways or take a stroll and absorb it all.
Big Boise
Idaho's biggest city, Boise, wonderfully juxtaposes an elegant skyline against a mountain backdrop. Although outdoor recreation beckons just beyond, there's plenty to do within the city as well. Tour the many museums and art galleries, dine in chic restaurants, partake in the microbrewery culture or enjoy the scenery along the Boise River Greenbelt. To the east, small cities like Pocatello and Idaho Falls provide welcoming base camps for adventures in the nearby mountains and rivers. In North Idaho, the city of Coeur d'Alene is bejeweled by more than 55 glacial lakes.
---
Regional Dish
Idaho Baked Potato
Idaho baked potatoes are about as American as apple pie, but a lot more flexible when it comes to flavor. Restaurateurs across the Gem State have been perfecting this comforting classic for over a hundred years, so you can dig in knowing you're in good hands. Whether you like yours fully loaded with cheddar, bacon and onion, or simply prepared with sour cream and dill, you'll be hard-pressed to find a more filling favorite.
---
Slice of Yellowstone
Got geysers? One percent of Yellowstone National Park lies within Idaho's eastern border, but the Gem State serves as a welcoming gateway to this legendary park. Within the state, Shoshone Falls is an epic natural wonder, known as the "Niagara Falls of the West." These roaring waters tumble 212 feet. After taking in the views, enjoy the surrounding park. An otherworldly landscape greets visitors at the Craters of the Moon National Monument & Preserve, where visitors can explore a 600-square-mile lava field.
Slithering River
The famed Snake River winds along Idaho's western border and across its southern half, giving anglers lots of spots to catch the fish that make the waterway home. For epic views, hike the 10-mile trail that runs along the south bank. Spanning the river in a graceful arc, the Perrine Bridge in Twin Falls is a site to behold.