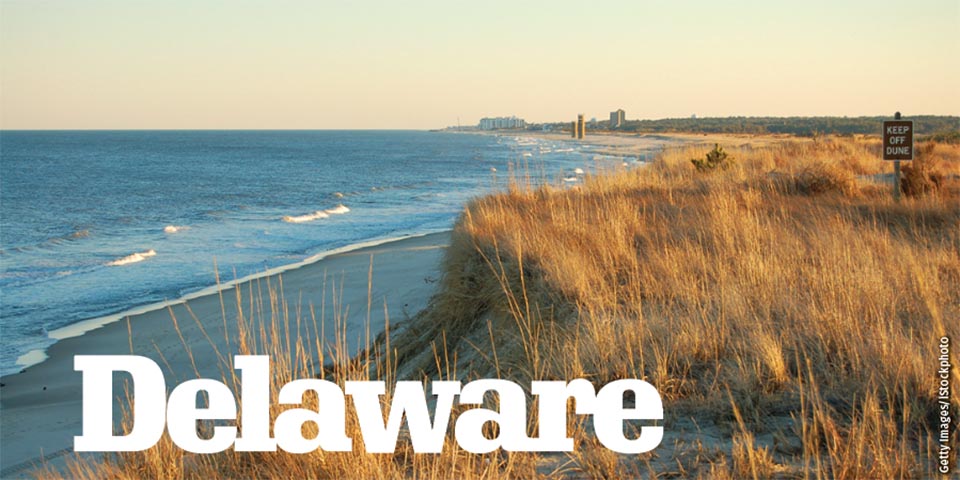 For a small state, Delaware packs a surprising amount of coastline. Explore the banks of the Delaware Bay and River, which extend the waterside fun deep into the state. From forests to beaches, Delaware is sure to delight.
The Capital of Summertime Fun
Looking for the quintessential beach getaway? Head to Rehoboth Beach. This coastal resort town has a classic boardwalk. Colorful carnival rides spin and undulate through the air, as game barkers call out for your chance to win the big prize. All of that contrasts the serenity found in a sunset stroll along the beach. Shopping malls, craft breweries, upscale restaurants, and plenty of nature trails ensure you'll stay busy in "The Nation's Summer Capital."
---
Regional Dish
Delaware Fries & Vinegar
A boardwalk classic for 90 years, a bucket of double-fried potatoes from Thrasher's is synonymous with summer on the Delaware coast. The catch? There's no ketchup in sight. Instead, the iconic institution offers only salt and apple cider vinegar as condiments. It might sound like an odd combination to the uninitiated, but the malty, salty flavor is the perfect companion to an afternoon in the sand and sun.
---
The Beautiful Brandywine
If you head away from the coast, Delaware's Brandywine Valley is a rustic retreat. Once a farm owned by the renowned du Pont family, Brandywine Creek State Park offers charm in spades. Stone walls dating to the 1800s give the park an otherworldly European feel. Get lost in the woods of the old-growth Tulip Poplar forest or hit one of the 14 miles of trails. Two creeks snake through the park, providing anglers a chance to catch trout, bass and bluegill.
Hit the Beach
Delaware is a hot summer vacation destination for urban dwellers on the East Coast, thanks to its many miles of beaches. Since 1682, the lands of Cape Henlopen State Park have been preserved for public use. Today's visitors come to see the scenic historic lighthouse and to enjoy recreational opportunities in surrounding waters. Seaside Trails
Explore a slice of Delaware coast by biking or walking the Junction Breakwater Trail, running five miles between Rehoboth Beach and Lewes. This pathway passes by marshlands and through woodlands.