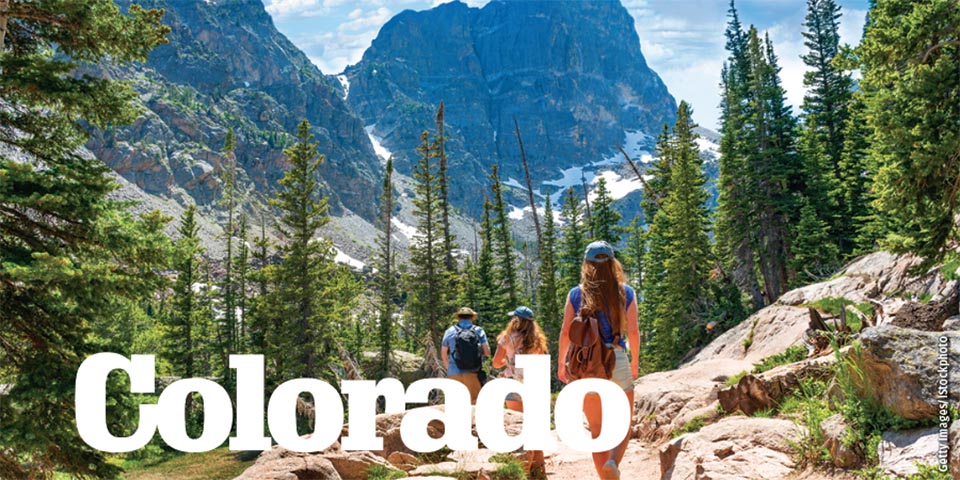 Peak experiences await visitors in Colorado. This outdoor playground is home to world-class skiing, stellar mountain biking and glorious fishing. Historic mining towns and big, vibrant cities are equally at home here.
---
Regional Dish
Colorado Lamb Chops
Grown on sustainable farms with meat — not wool — in mind, Colorado lamb has won the world over for it's luscious flavor and incredible tenderness. Restaurants from coast to coast have started importing the state's top-notch chops, but nothing beats the original, especially in classic Colorado style with an herb blend or a cheesy sauce on the side. It's a Rocky Mountain high for your taste buds.
---
Rad Rockies
In the heart of the state, the skyline is dominated by mountain peaks. In Rocky Mountain National Park, northwest of Denver, colorful flowers dot the alpine meadows and mountain peaks reflect in turquoise ponds. In Great Sand Dunes National Park and Preserve, an astonishing sea of sand serves up epic adventures. Wilderness areas offer scenic spots for ATVing, horseback riding, rock climbing and mountain biking. Across the state, hot springs bubble and steam, furnishing comforting spots for relaxation after a day of adventuring.
Rivers and Lakes
Hook loads of trout in Centennial State rivers and lakes. Eleven rivers and three lakes have earned the distinction of being named Gold Medal Waters. Not only do these offer the best chance to snag trout, most are scenic spots. With over 150 miles of rapids, the Arkansas River is one of the top picks in the U.S. for whitewater rafting. With calmer waters for paddling or boating, glacial Grand Lake offers abundant scenery.
Lofty Cities
Where can you hike away your day and spend your evening at gourmet eateries? Denver checks off both boxes. Whether you want to browse a cutting-edge museum or take a day trip into Rocky Mountain National Park, the Mile High City is sure to delight. About 70 miles to the south on Interstate 25, Colorado Springs beckons with the stunning rocks of Garden of the Gods, along with the beauty of Pikes Peak, whose summit is accessible by car.