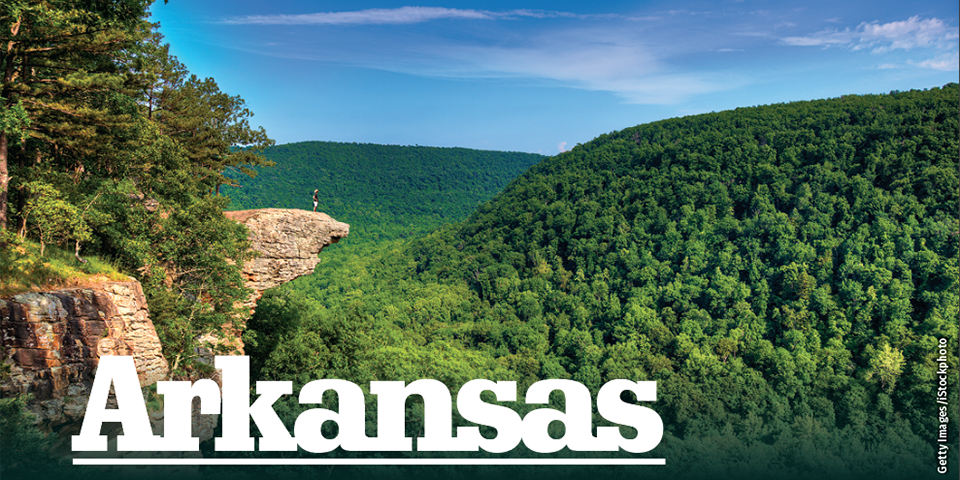 Arkansas pulses with the spirit of pioneers who never back down from a challenge. Fiddlers play their tunes at community gatherings and time-honored, homespun recipes grace the tables of cozy restaurants.
Compelling Towns
In the heart of the state, the town of Little Rock serves up the food and fun that has put Arkansas on the map. A revitalized area along the Arkansas River connects several historic sites, family-friendly attractions, green spaces and recreational trails, including the nation's longest pedestrian bridge. Another wonderful place to explore is the town of Hot Springs, an hour southwest of Little Rock. Hot Springs National Park preserves the history of the grand Bathhouse Row, which sprang up along the town's namesake mineral water springs in the 1800s. In the northwest, the town of Bentonville is home to the Walmart Museum.
---
Regional Dish
Arkansas Fried Pickles
Fried pickles made their first appearance in 1963 at an Arkansas drive-in and they've been the state's iconic dish ever since. Served on their own as an appetizer or as an accompaniment to other dishes, no serving would be complete without a side of ranch dressing to complement the greasy goodness.
---
Sparkling Discoveries
With 52 state parks within its borders, Arkansas preserves myriad natural environments. You'll hit the trifecta with a visit to Mount Magazine, Mount Nebo and Petit Jean State Parks. Each offers unforgettable views from some of Arkansas' highest points. In Central Arkansas, Crater of Diamonds State Park is the only spot in the world where visitors can dig for diamonds. Unearth gems in the 37 acres of exposed surface.
Awestruck in the Ozarks
Head to Northwest Arkansas for some of the state's best hiking trails. Hawksbill Crag, a large rock formation, provides a natural platform with views of the rolling Ozark hills receding into the distance. Those with a fear of heights will find friendlier trails nearby. Bicyclists can also find their paradise in Northwest Arkansas. The 36-mile Razorback Regional Greenway connects several small towns.