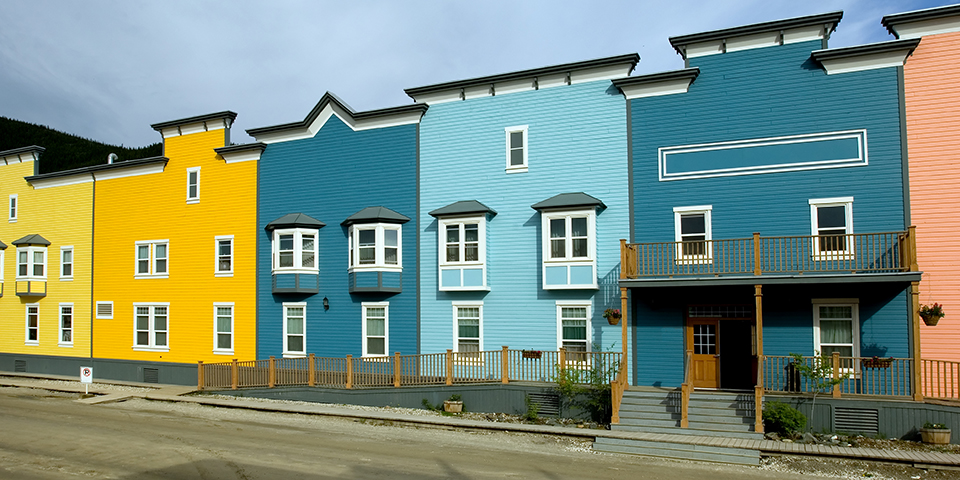 YUKON
The Yukon's towns were established during the Klondike Gold Rush of the late 1800s, and the province has never lost its freewheeling spirit. Feel the frontier vibe as your head north into a fabled region known for saloons, riverboats and rugged landscapes that yielded treasure.
Dawson City
Preserved as a National Historic Site, Dawson City's dirt streets and ramshackle boardwalks still ooze gold rush-era charm. For a brief time in the 1800s, Dawson City was second only to San Francisco for the title of the West Coast's largest city. Walking tours, conducted by Parks Canada, provide entry to 26 restored buildings and National Historic Sites, including a gold dredge, the Jack London cabin, poet Robert Service's house, saloons and quirky boutiques.
Music and Nightlife
During the summer, locals compensate for the long, brutal winters and take every advantage of the midnight sun. Most saloons, lounge bars and pubs in town feature fine live music. As the final frontier before civilization gives way to wilderness, Dawson City entertains travelers and eccentrics at local restaurants, bars and cafés.
Watson Lake
This city of around 1,500 residents just north of the British Columbia border is more than just Mile 635 on the Alaska Highway: it's a vibrant community.
---
Regional Recipe
Dutch Oven Scalloped Potatoes
The simple potato sustained miners during the Gold Rush of the 1800s. Recipe by the Good Sam Team.
Ingredients:
6 potatoes, pared and sliced
2 eggs
Salt and pepper
2 cups milk
1 cup grated cheese
¼ teaspoon nutmeg
4 tbsp butter or margarine
Directions:
Season potatoes with salt and pepper and layer in cold Dutch oven, alternating with cheese. Dot each layer with butter. Beat eggs into milk, add nutmeg.
---
Signs of the Times
One of the most popular points of interest in town is the Sign Post Forest, a collection of 72,000 signs from around the world mounted on posts. The forest has its origins in directional signs set up by U.S. Army engineers to orient military drivers. One day, U.S. Army Private Carl K. Lindley felt homesick and posted a sign to his hometown of Danville, Illinois. Lindley unknowingly set off a trend, and to this day, visitors regularly add their own contributions to the array of signs.
City of Lights
Check out the Northern Lights Space and Science center, which educates visitors about this phenomenon with state-of-the art full dome video and 100 seats. Don't miss a matinee showing of "Yukon's Northern Lights," which simulates the shimmering lights during the summer season.
Whitehorse
The town of Whitehorse may be considered a breath of fresh air — literally. It holds a Guinness World Record title for being the city with the least polluted air. Named for roaring rapids in the Yukon River that resembled a white horse's mane, Whitehorse, like Dawson City, grew to prominence during the Klondike Gold Rush. The Klondike and Alaska Highways bring travelers to the town, which serves as the capital of Yukon.
For More Information
Department of Tourism Yukon
800-661-0494
Dawson City
867-993-5566
Watson Lake
867-536-8000
Whitehorse