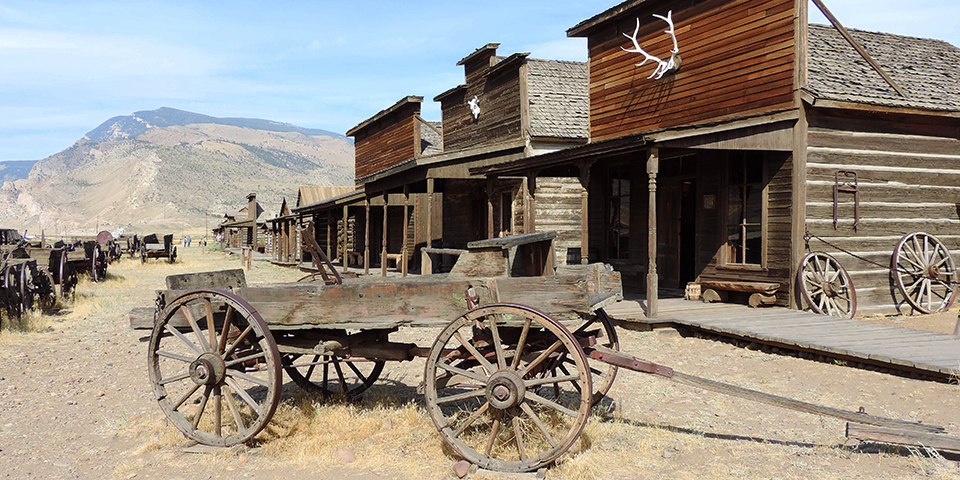 WYOMING
No one can doubt that Wyoming has earned its "Cowboy State" nickname. From its storied outlaw past — Butch Cassidy's infamous Hold in the Wall Hideout was located near Buffalo — to the rodeos held during Cheyenne Frontier Days, this big state lives up to its cowboy cred.
Buffalo
Go a little wild in the historic Old West town of Buffalo. Resting in the foothills of the Big Horn Mountains, Buffalo is a popular destination for hunters, wilderness enthusiasts and aficionados of the cowboy way. From here, visitors can make day trips to a variety of destinations certain to quench the thirsts of adventure seekers of all ages.
The Sporting Life
If you like to ski, boat, fish or hike, Buffalo serves as your gateway to a sportsman's paradise. Take a watercraft out on Lake DeSmet just north of the town and take advantage of clear, cool days on the water. Jet skis and water skis are permitted on this popular lake, as is fishing.
Casper
Embracing the Wild West spirit comes naturally in Casper. Spend your days retracing the journeys of western pioneers and savor the tranquility of Wyoming's wide-open spaces. In town, you're welcome to admire Western art and let loose at action-packed rodeos.
Pioneer tales
In the 19th century, half a million people passed through Wyoming as they made their way westward along the California, Oregon, Mormon and Pony Express trails. Hear their stories at the National Historic Trails Interpretive Center.
Fish the Miracle Mile
Blue ribbon trout are yours to catch in the North Platte River. Cast a line in the Miracle Mile or Grey Reef sections of the river to hook a big one. You can also reel in brown, rainbow and cutthroat trout from the Pathfinder Reservoir and Alcova Reservoir.
Cody
Cody has so many museums that showcase Western history that a visitor can get a good workout just wandering around them for a day. The most popular attraction here is the Buffalo Bill Historical Center, an amalgamation of five museums covering over 300,000 square feet. Included in the center is the Buffalo Bill Museum, the Whitney Gallery of Western Art and more. Take a walk along Cody's Old West Trail Town, where streets are lined with 25 preserved buildings from the 1800s. Check out original cabins used by Old West outlaws Butch Cassidy and the Sundance Kid.
---
Regional Recipe
Blackberry Jam Cake
Blackberry Jam Cake is an old-fashioned dessert. It's a delicious finishing touch to a hearty meal. Recipe adapted from Woodall's Campsite Cookbook.
Ingredients:
1 cup raisins
1 8 oz can crushed pineapple
1 cup butter
1 cup sugar
5 eggs
1 cup blackberry jam
2½ cups sifted flour
1 tsp baking soda
1 tsp cinnamon
1 tsp nutmeg
½ teaspoon cloves
⅔ cup buttermilk
1 cup chopped pecans
Confectioners' sugar
Directions:
Soak raisins with pineapple in juice for several hours. Cream butter and sugar until light and fluffy. Add eggs, one at a time, beating after each addition. Stir in jam. In large bowl, sift together dry ingredients with spices. Add alternately to creamed mixture with
buttermilk.
---
For More Information
Wyoming Travel & Tourism
800-225-5996,
Discover Historic Buffalo
800-227-5122
Visit Casper
800-852-1889
Cody Yellowstone
307-586-1574