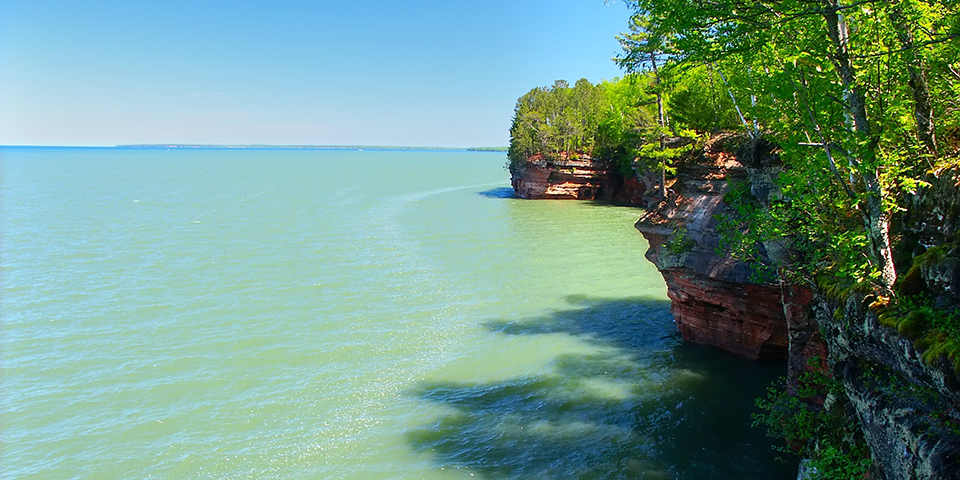 WISCONSIN
Wisconsin defies its stereotype as the land of cheese. Beyond its dairy prowess, the state bursts with recreation possibilities, from slipping around the water park capital of the world to exploring shipwrecks on a rugged coast.
Apostle Islands
The Badger State is home to 47 state parks, 13 state forests, five national wildlife refuges and a pair of national parks. In short, you'll find no shortage of places to lace up your hiking boots, paddle your canoe, cast your fishing lure or pitch your tent.
Islands of Awe
Among the most popular destinations in the state is the Apostle Islands National Lakeshore in northern Wisconsin. The Lake Superior park comprises 21 idyllic islands and 12 miles of mainland shore, making this a great spot for kayaking, canoeing, boating and swimming. The islands and the mainland are also home to more than 50 miles of official hiking trails, linking together a smattering of old lighthouses, logging camps and farm sites.
Door County
Door County opens new possibilities in laid-back fun. Flanked by Lake Michigan on three sides and Green Bay to the west, this bucolic peninsula lets you experience the good life in its cherry orchards, five state parks and 300 miles of pristine shoreline.
Midwest's Version of Cape Cod
For stunning views and charming lighthouses, take a spin down 66-mile Coastal Byway along Lake Michigan. Look out the window for spectacular views of the lake and take some time to explore Newport State Park in Ellison Bay, a 2,373-acre expanse at the tip of Door County Peninsula. The Door County Trolley offers 11 different tours around the region in case you just want to sit back and relax. Join the lighthouse tour to discover hidden bays and coves.
Shipwrecks Await
See underwater wrecks above or below the water. You can explore 25 of the sunken ships by scuba diving, snorkeling or kayaking. Shallow wrecks that can be easily reached include the Grape Shot schooner, located just off Plum Island, and the Australasia cargo ship that lies 15 feet from the shores of Whitefish Dunes State Park. One of the most popular for visitors is the site of the schooner Fleetwing, a lumber cargo vessel that ran aground in Door County in September of 1888. Today, the broken hull of the Fleetwing lies on the lake bottom close to shore, little more than 10 feet below the surface, making it easily accessible for divers, snorkelers and kayak enthusiasts.
---
Regional Recipe
Raw Cranberry Salad
Wisconsin is the nation's leading producer of cranberries, so it only makes sense to take advantage of the delicious fruit while visiting the Badger State. Recipe by Robert and Marlene Ruh, Wisconsin Good Sam state directors.
Ingredients:
2 lb cranberries
1 lb apples
1 orange with peeling — remove seeds
4 cups sugar
2 3-oz pckgs of orange or cherry jello
2 cups hot water
1 pckg plain gelatin
Directions:
Grind together the cranberries, apples and orange. Add sugar. Let stand a few hours, stirring often. In a separate bowl, mix the orange and cherry Jello with 2 cups of hot water. Refrigerate until it starts to set. Add fruit and one pkg.of plain gelatin dissolved in ¼ cup cold water. Put in bowl and mix. This can be frozen. Makes 12 cups.
---
Shipping Through History
Those who would like to learn more about the nautical history around Door County without getting wet can visit the Door County Maritime Museum. The museum features a detailed rundown of the region's shipbuilding history, as well as a larger ship model collection, a collection of classic boats and a restored steamship pilothouse.
Fishing the Lake
Fishing is exceptional here, with Sturgeon Bay awarded best bass fishing spot in the U.S. Also, prepare to hook trout, salmon, whitefish, walleye, northern pike and perch. Arrange a charter trip to take you deep out into Green Bay or Lake Michigan.
Trails with Tantalizing Views
A sprawling network of trails snake through five state parks, giving visitors superlative views to natural wonders. In Peninsula State Park, hike past steep cliffs and scenic overlooks along Eagle Trail or cycle through Weborg Marsh on the Sunset Path. Dense woods and sand dunes are yours to explore on the Yellow Trail in Whitefish Dunes State Park. You can also walk along a sandy beach on Newport State Park's Hotz Trail and visit Wisconsin's first lighthouse in Rock Island State Park.
Get Stuffed on Seafood
No visit to the region is complete without enjoying a fishbowl, an experience that is uniquely Door County. This culinary delight is cooked over an open fire and made with fresh whitefish, onions and red potatoes. Locals say White Gull Inn, Pelletier's Restaurant and Rowleys Bay Restaurant do the dish the best. Make sure to leave some room for a slice of cherry pie.
Bring Your Thirst for Beer
At the end of a busy day, there often is nothing better than a nice adult beverage, and Door County has offerings for you. If beer is your thing, make sure to check out Door County Brewing Company. The Baileys Harbor brewer, established in 2012, has made a tremendous reputation for itself as a maker of distinctive beers. The taproom serves up a number of selections for the sophisticated beer sampler, including farmhouse ale, a pale ale, a smoked imperial stout and a witbier.
Wander the Wine Trail
However, if it's the smashed grapes you are about, there are many that are worth your attention, including Simon Creek Vineyard & Winery, Orchard Country Winery & Market and Red Oak Winery. Take the winery tour to savor the flavors of the Door County Wine Trail. The trail is dotted with eight wine estates including the award-winning Door 44 Winery and Orchard Country Winery.
Cherry on Top
Don't leave Door County without taking in the fruit of choice in the region: the cherry. Because of the region's distinctive geography, climate and soil, cherry trees grow in abundance. As a result, Door County features over 2,500 acres of blossoming cherry orchards, and visitors flock each year to pick the harvest. If you are visiting during the summer, make sure you make this Door County tradition part of your itinerary at a destination such as Choice Orchards or the aforementioned Orchard Country Winery & Market.
Wisconsin Dells
Slip and slide to this popular Badger State attraction. Dubbed the "Water Park Capital of the World," Wisconsin Dells has more indoor and outdoor water parks per capita than anywhere else on Earth. Pair that with quirky museums, zipline tracks and three state parks, and you've got a recipe for the ultimate family vacation.
Water Park Wonderland
More than 200 water slides deliver high-speed thrills in this watery Mecca. Speed down the Scorpion's Tail and Black Anaconda at Noah's Ark, the largest water park in America with three miles of water slides. The Wilderness Resort is the size of 12 football fields, with four indoor and four outdoor water parks. Raft rides, bumper boats and extreme plunge slides are sure to keep the adrenaline going all day long. When you're ready to relax, head to the Polynesian Water Park Resort to lounge in saunas, hot tubs and lazy rivers. Other noteworthy water parks in the area include Kalahari Resort, Chula Vista and Mt. Olympus Water and Theme Park. Mini-golf also is big here. Pirate Cove has five different courses, each with a delightfully diabolical buccaneer theme.
Water, Water Everywhere
Paddling and fishing also occupy the menu here. Go kayaking along the Wisconsin River or try stand-up paddleboarding in Mirror Lake State Park. In Lake Delton, rent a boat from Dells Watersports, then set off in search of northern pike, bass and walleye. Trails lead hikers along the lake's banks.
The Lovely Lower River
Cast a line for panfish, muskie and white-striped bass on the Lower Wisconsin River. Just learning how to fish? Practice your skills at the B&H Trout Fishing and Bait Shop and at the ponds in Beaver Springs Fishing Park.
From a Devilish Lake to Beautiful Bluffs
Take in some dazzling eye candy. Check out the 500-foot quartzite bluffs in Devil's Lake State Park. The dramatic rock formations draw millions of visitors each year and can easily be reached by following popular routes like East Bluff, Balanced Rock and Devil's Doorway. There are about 30 miles of trails in total, with most showcasing long-range vistas and sandy beaches.
Time for Reflection
Mirror Lake State Park ranks as one of the most scenic destinations in the Badger State. Marked by stunning sandstone cliffs, this 2,000-acre expanse offers fantastic hiking, bird-watching and cross-country skiing opportunities. Less than 50 miles south is Cave of the Mounds, a National Natural Landmark brimming with colorful crystal formations. Join a guided tour to learn how the limestone cave was formed over millions of years.
Fun for the Whole Family
The Wisconsin Dells cater to family fun, offering wholesome diversions like bowling and laser tag in addition to the world-famous slides. Get your heart pumping as you fly between treetops at Dells Zipline Adventures or challenge your family to a race at Big Chief's Go-Karts.
Hands-on Fun
The city also has a variety of hands-on museums. Pan for gemstones and keep what you find at the Dells Mining Co., peek at an unusual collection of oddities at Ripley's Believe It or Not! and test the laws of physics at the Tommy Bartlett Exploratory. Be sure to carve out some time for Wizard Quest, an interactive fantasy game with secret passageways and riddles to solve.
Travel to Libation Nation
Take a drink of liquid fun at the Dells Rare Barrel Affair. Held every May at the Swan Barn Door, this festival lets you sample barrel-aged beer from local brewers. Thirsty for more? Check out Dells on Tap and the Dells Craft Beer Walk in October to sip the Midwest's finest seasonal microbrews. The Fall Wine Walk is held in the same month, giving you a chance to sample white and red varietals with delicious food pairings. You can also see over a thousand classic rides and mingle with fellow car enthusiasts at the Automotion Classic Car Show and enjoy a street carnival during Wo-Zha-Wa Days, a three-day festival kicking off the autumn season.
Getting in the Frame
Photographer Hamilton Bennett helped put the Wisconsin Dells on the map and cement the area's reputation for natural beauty. A former soldier, Bennett began capturing local landscapes when he returned home from the Civil War in 1865. Over the years, his pictures became successful marketing pieces and drew countless tourists to the area. The Dells probably wouldn't have become the vacation destination they are today without Bennett and his work. Stop by the H.H. Bennett Studio and Museum to tour his original studio and impressive photo gallery of surrounding landscapes. You can also pick up some of his prints in the gift shop.
For More Information
Wisconsin Department of Tourism
800-432-8747
Apostle Islands National Park
Door County Visitor Bureau
800-527-3529
Wisconsin Department of Tourism
800-432-8747