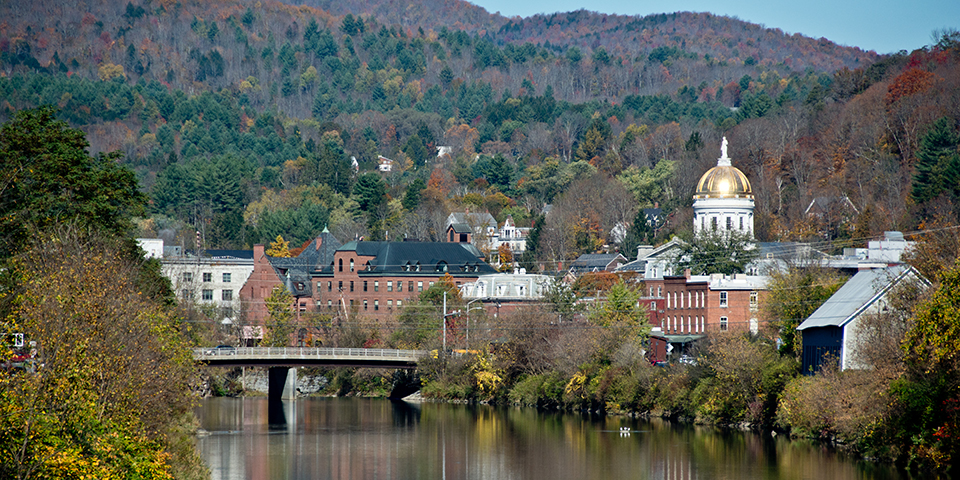 VERMONT
There's more to Vermont than tasty ice cream, picturesque church steeples and gorgeous lakes and mountains. Take a New England vacation with more variety than a Ben & Jerry's Ice Cream menu.
Burlington
The quaint charm of Burlington shows up just about everywhere you turn. Go where the locals go and spend the day in Church Street Marketplace. This open-air mall boasts a number of unique shops and eateries, as well as hosted events for everyone to enjoy.
Champlain Bubbles
Pack a picnic lunch and head to North Beach Park to bask in the warm Vermont sun and swim in the waters along Burlington's largest beach. Rent a kayak or canoe and glide across Lake Champlain, or let someone else do the navigating on a sunset schooner cruise. Explore some of the quaint islands that dot the lake.
Montpelier
Centrally located in Vermont, Montpelier serves as the Green Mountain State's quaint capital city. The golden dome of the capitol building rises high over the unassuming skyline of this classic New England town, with streets lined by friendly restaurants and independent shops. With a population of less than 8,000, Montpelier is the smallest state capital in the U.S., giving it a blend of vibrant civic purpose and small-town conviviality.
---
Regional Recipe
Peach Cobbler
Get a sweet taste of the Green Mountain State with this confection. Recipe adapted from Woodall's Favorite Recipes from America's Campgrounds.
Ingredients:
1 cup sugar
1 cup self-rising flour
1 egg
4 cups peaches
1 stick butter, cut into thin slices
1 cup water
Directions:
Mix sugar and flour. Add well-beaten egg until mixture forms into rough crumbs. Place peaches in 9×13-inch casserole dish, lightly sugar fruit and add water. Sprinkle flour mixture on top of peaches, and top with slices of butter. Bake at 350 degrees for one hour.
---
Majestic Mountains
Located between the Appalachian Mountains and the Green Mountains, Montpelier's surrounding landscape is noted for its verdant hillsides. Each fall, these knolls vibrate with the gold, orange and burgundy leaves that the Northeast is famous for. In the winter season, skiing is within easy reach.
Waterbury
The most popular thing to do in Waterbury is to take a tour of the Ben & Jerry's ice cream factory. See how ice cream is made and get a scoop of your favorite flavor at their full-service ice cream parlor. Just a few miles from Ben & Jerry's is the Cabot Creamery store. Here, you can indulge in a huge selection of Vermont artisanal cheeses.  After, stop by the Lake Champlain chocolate store and café to satisfy your sweet tooth with chocolate truffles and hand-whipped fudge. Or, get your caffeine fix and learn how coffee is produced at the Green Mountain Coffee Visitor Center and Café. Waterbury is home to an exploding craft beer scene too, so make sure to grab a pint at popular eateries like The Prohibition Pig, The Bluestone, The Reservoir, and Blackback Pub.
For More Information
Vermont Department of Tourism and Marketing
800-VERMONT
Burlington Vermont
877-686-5253
www.vermont.org/experiences/burlington
Montpelier Alive
802-223-9604
Discover Waterbury Vermont