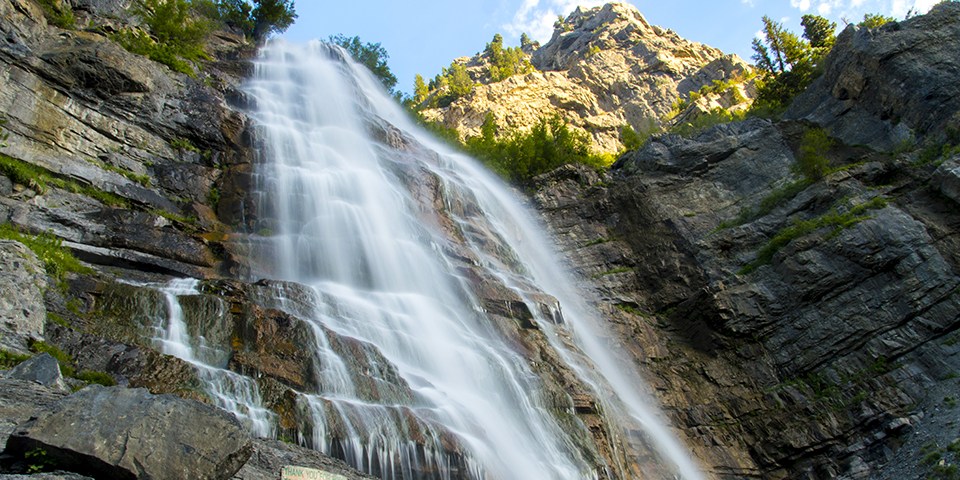 UTAH
Utah has gained renown for the gorgeous landscapes of national parks like Arches, Canyonlands and Bryce. But its small towns are worth visiting as well. Bring your hiking boots and fishing gear on a trip to spectacular canyons, mountains and waterways.
Logan
Free from the traffic and crowds of its big-city neighbors, Logan sports an easygoing attitude and endlessly welcoming locals. It's the perfect place to get away from it all. But that doesn't mean there isn't plenty to do. Nestled in a high mountain valley, there's hiking, biking and fishing galore, while the charming downtown hosts enough cultural attractions to fit a college town twice its size.
Hitting the Hills
Five minutes east of town, the Bear River Mountains are a combination of wildflower prairies and tall peaks surrounded by rugged cliffs. Home to moose, elk and deer, they constitute the perfect place for day hikes of all levels. Driving the Logan Canyon National Scenic Byway is a great way to explore the mountains by car, while still getting the chance to take in breathtaking summit and canyon views.
Utah Meets the Tropics
Continue east and the byway leads to Bear Lake State Park, which, because of its clear, turquoise water, has earned the title "The Caribbean of the Rockies." The lake is an ideal destination for families with boating, fishing, swimming and camping, as well as a surrounding forest home to over a hundred miles of trails to keep you busy throughout the day.
Logan on Display
History buffs should head straight to the American West Heritage Center in nearby Wellsville. A 160-acre outdoor living history museum, the center offers "historic daily adventures," where visitors step back in time to Native American encampments, mountain man camps and pioneer settlements, while costumed performers bring the history to life. The Logan Mormon Temple and Tabernacle in Logan's downtown are must-sees during your stay. The pioneer-era tabernacle puts on free performances throughout the summer and visitors are welcome to join one of the free tours of the grounds. The temple is one of only 11 in the state and, though interior is not open to non-Mormons, it offers exceptional views of the valley from the manicured grounds.
St. George
About 40 miles west of iconic Zion National Park, St. George has cemented its reputation as a charming town surrounded by picturesque red cliffs and endless opportunities for outdoor recreation. While many people simply pass through on their way to nearby Zion National Park, it's worth sticking around to experience the area's natural and historic attractions.
Wildlife Past and Present
St. George hosts a wealth of compelling attractions, including the Rosenbruch Wildlife Museum, which exhibits taxidermy specimens of some 300 animals. The St. George Dinosaur Discovery Site at Johnson Farm treats visitors to real dinosaur tracks, while lovers of more recent history can learn about the area's early Mormon pioneer history by visiting the Pioneer Memorial Museum. The Brigham Young Winter Home and Office was built in 1871 and now operates as a museum.
---
Regional Recipe
Peach Shortcake
Utah residents love their sweet treats, and this recipe promises to please even the most dedicated sugar fan. Recipe adapted from Woodall's Favorite Recipes from America's Campgrounds.
Ingredients:
1 can refrigerator biscuits
Cinnamon sugar
1 cup raspberries
1 tbsp cornstarch
¼ cup cold water
12 fresh peach halves
Directions:
Flatten biscuits until about ⅜ inch thick. Place on baking sheet and sprinkle with cinnamon sugar. Bake according to package directions. In saucepan, heat raspberries and corn starch, stirring constantly. Top biscuit with peach halves; cover with warm raspberry sauce.
---
Beehive State Bass
If you want to get out on the water, St. George serves up excellent bass fishing at the Gunlock Reservoir to the west of town. Sand Hollow Reservoir and Quail Creek State Park to the east also teem with fish. Sand Hollow is a popular spot for water sports, with plenty of opportunities to go water skiing, wakeboarding, inner tubing and swimming.
Zion's Pull
Zion National Park is the main attraction in the area, with its 148,000 acres of gorgeous forest, towering rock monoliths and surging waterways, all forming the perfect setting for hiking and mountain biking. But it's certainly not the only spot to get out and experience the great outdoors. There's also Snow Canyon State Park, a great place for hiking, horseback riding and rock climbing. Golfing opportunities also abound in the region.
Provo
Situated in the heart of Utah, between the Wasatch Front and Utah Lake, Provo is a compact, friendly town with a large population of students from local Brigham Young University.
Old World Fun
The area around Provo bustles with compelling attractions. North of the city sits Evermore Park, an immersive fantasy theme park designed like an imaginary European village. Here, guests will encounter costumed actors recreating fantasy worlds on beautifully rendered sets, many of which are full of antique items brought in from Europe, some dating back over 1,000 years.
Giving Thanks to Museums
If you're interested in history and the natural world, make your way northwest of town to Thanksgiving Point, a museum complex that delves into the past. Highlights include the Museum of Natural Curiosity, with over 400 family-friendly exhibits, as well as the Museum of Ancient Life, which houses around five dozen complete dinosaur skeletons.
Provo Paddling, Angling and Hiking
Provo and the surrounding area shimmers with waterways for fishing and water sports. The third-largest lake in the state, Utah Lake, is one of the biggest attractions in the area and is a popular spot for boating, water skiing, swimming and fishing, with plenty of bass, catfish and walleye plying its waters. While in Provo, take the hike to Bridal Veil Falls, accessible via a 1.4-mile trail from a parking lot. At 607 feet tall, Bridal Veil Falls is Utah's tallest waterfall. Caution is recommended for hikers walking on the slick rocks near the falls.
For More Information
Utah Office of Tourism
800-200-1160
Cache Valley Visitors Bureau (Logan)
435-755-1890
St. George Area Tourism Office
435-634-5747
Visit Provo
800-222-UTAH