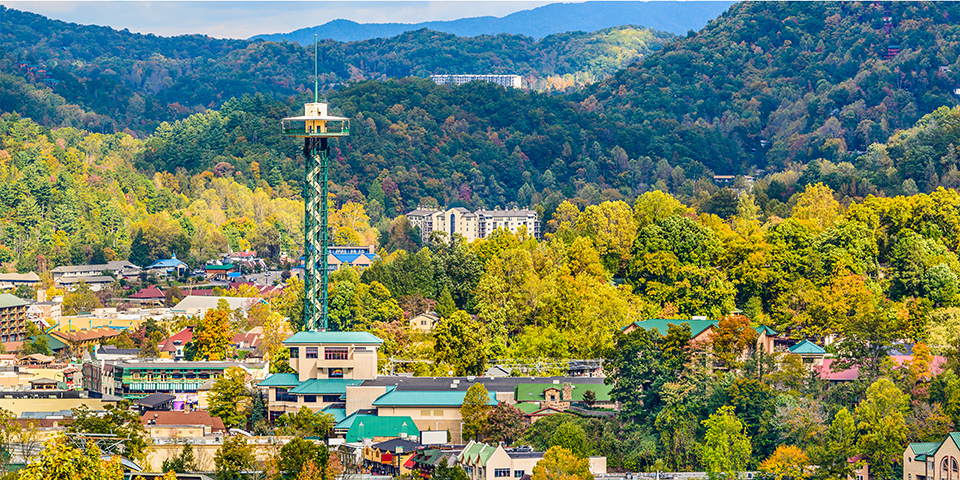 TENNESSEE
The Great Smoky Mountains and nearby towns enjoy stellar popularity. It's no coincidence. The gorgeous scenery of the towering peaks and the allure of nearby attractions are an irresistible one-two punch. Set your sights on a vacation to the Smokies.
Great Smoky Mountains National Park
Some 11 miles south of Pigeon Forge, Great Smoky Mountains National Park is one of the most visited national parks in the nation. Straddling the ridgeline of the Smokies, at the tail end of the Appalachian Mountains (the world's oldest mountain range), the park's 814 square miles of pristine forest were designated in 1936. Spanning Tennessee and North Carolina, the park's unfathomable scale encompasses more than 4,000 species of plants, some 2,000 black bears and over 30 different species of salamanders — mind-blowing diversity for an area of roughtly 800 square miles.
Beyond the Haze
Within 521,000 acres of preserved wilderness, recreational opportunities abound. Over 800 miles of hiking trails afford spectacular views across rolling mountains and deciduous forests bathed in milky haze; the "smoke" is plant respiration produced on a scale and range that would equal a rainforest. With over 2,100 miles of waterways throughout the park, the fishing here is excellent, and thrill-seekers can revel in the park's exhilarating whitewater rafting opportunities and an array of snow sports during the winter. A large number of family-friendly biking trails crisscross the park. One of the most popular biking trails, the Cades Cove Loop, orbits the park's eponymous 19th-century settlement and yields prime wildlife viewing.
On the Dome
If you want to escape the 9.4 million visitors that converge on the Smokies each year, head out to the northeast's backcountry, where the lofty peaks of Mount LeConte offer breathtaking hiking. Here, the observation point of Clingmans Dome, part of the Southern Appalachian range, forms the park's highest vantage point at 6,643 feet. Walk a 375-foot-long ramp to the observation tower.
---
Regional Recipe
Tennessee Bourbon Ribs
Make you next cookout special with bold Volunteer State flavors. Recipe by Peter Mercer.
Ingredients:
3 pounds pork baby back ribs
2 tbsp brown sugar
1 tbsp paprika
2 tsp garlic powder
1½ tsp black pepper
½ cup orange juice
1 cup BBQ sauce of choice
2 tbsp bourbon
Directions:
Heat grill to 450 degrees. In a small bowl, combine brown sugar, paprika, garlic powder and black pepper. Cut the pork slab in half. Rub each slab on all sides with sugar mixture. Place each slab on a long sheet of heavy-duty aluminum foil. Bring up foil sides; double fold top and one end to seal. Add ¼-cup orange juice to each packet through the open end. Double-fold remaining ends. Place on grill, close lid and cook for 50-60 minutes. Mix BBQ sauce and bourbon together. Remove ribs from foil and place on grill, brush with sauce mixture. Grill for about 15 minutes, turning occasionally and brushing with sauce.
---
Hike the Mount
Mount LeConte is also the setting for the only non-camping accommodations, LeConte Lodge. One of the most popular (and easiest) hikes, a 2.5-mile (round trip) paved path bisects a series of beautiful cascades before reaching its breathtaking climax at the 60-foot-high Laurel Falls, one of the many accessible waterfalls within the sprawling park.
Year-Round Fishing
With more than 2,000 miles of streams within the National Park, anglers have an abundance of fishing opportunities from the remote, headwater trout streams to large, cool water smallmouth bass streams. The Horseshoe at Cades Cove, Little River and LeConte Creek are local favorites for hooking pristine rainbow trout, while guides in town can help organize excursions to the area's secret spots. For family-friendly thrills, try battling the white water in the area's steep canyons. Pigeon River is your best bet, with everything from Class IV rapids fun to gentle float trips.
Gatlinburg
This mountain town in eastern Tennessee is known for its beautiful scenery, outdoor adventure, great shopping and colorful history. Nestled on the edge of the Great Smoky Mountains, the town sits at the doorstep of nearby natural wonders amid compelling human-made attractions. For four seasons of fun, few places rival the "Crown Jewel of the Smokies."
Spectacular Falls
Walk behind the cascading waterfall at Grotto Falls Trail and witness one of the most unique views in the Smokies. Another photogenic waterfall minutes from Gatlinburg is Rainbow Falls, which takes its name from the rainbow mist that this 80-foot high waterfall produces on sunny afternoons. Two stables in town can help intrepid adventurers organize a backcountry horseback ride.
Explore Ober
Experience a mountaintop of fun, excitement and beauty high above Gatlinburg, at this four-seasons amusement park and ski area. Slide down the Smokies at their alpine slide, descending down the beautiful forests of Mount Harrison. Or, take in the views of Mount LeConte and Douglas Lake, on one of the longest chairlift rides in the U.S.
Pigeon Forge
With abundant shopping, plentiful attractions, outdoor adventures for all ages, all set against the beautiful backdrop of the Smoky Mountains, Pigeon Forge is one of the top tourist destinations in the world. In town, you'll find an eclectic array of quirky attractions, dinner theaters and outlet malls. Fill your schedule with fun activities and add a few extra days to the itinerary—you're going to need them if you want to savor sweet country tunes and ride all the thrilling coasters at Dollywood.
Explore the Smokies
Pigeon Forge is a gateway to 500 thousand acres of Appalachian wilderness, making the perfect Smoky Mountain escape even easier. This mountain resort city is a year-round family vacation destination, with attractions ranging from Alpine mountain coasters to dinner theaters, making it the all American getaway. Welcoming more than 10 million visitors a year, the Smokies are America's most visited national park, and it's easy to see why. Home to dense old-growth forests, 730 miles of mountain streams and five historic areas, this park opens the doors to outdoor recreation.
Stunning Terrain
Lace up your hiking boots, because The Great Smoky Mountains National Park boast over 500,000 acres in the southern end of the Appalachian Mountains. With more than 850 miles of trails to explore, the Smokies are a feast of mountainous views, waterfalls, wildlife and wildflowers. Look around along the way and you might even catch a glimpse of white-tailed deer, elk and the American black bear. Wrap up your adventures with stellar views from Clingmans Dome, the state's highest point.
Big Waves & Big Drops
Whether you're looking for extreme whitewater, or a relaxing ride down the river, rafting is the perfect attraction for the whole family. Book a tour with an adventure company and prepare to smash through rapids on the Pigeon River. The Smoky Mountains also have tranquil lakes perfect for kayaking and canoeing. Those same lakes, along with loads of streams, are hotbeds for all sorts of fish, too. Go to streams at higher elevations like the upper part of Abrams Creek to bag rainbow and brook trout. Smallmouth bass is regularly caught a few miles from the west prong of the Little Pigeon River as well.
Choose Your Own Adventure
With such an abundance of world-class hiking, get ready for dazzling wildflowers or impressive mountain views. It's easy to immerse yourself in outstanding picture-worthy scenery in the Smokies. There are 850 miles of trails in the park, with some of the most popular routes being Laurel Falls, Rainbow Falls, Chimney Tops and Gregory Ridge. Cyclists don't even need to leave town to find great bike paths. The four-mile Riverwalk Greenway starts at Patriot Park right in Pigeon Forge and offers a scenic ride.
A Little Bit Country
Considered one of the world's premier theme parks, Dollywood is an Appalachian Southern fantasy founded by Dolly Parton that combines musical performances and roller coasters.  Scream your lungs out on rip-roaring rollercoasters like the Lightning Rod and Wild Eagle, then visit the Chasing Rainbows Museum to see gowns, awards and keepsakes from Dolly's personal collection. The theme park even celebrates the heritage of the Smokies with blacksmithing demonstrations and live country, gospel and rock 'n' roll acts. The music doesn't stop at Dollywood. Listen to talented artists belt out country hits at the state-of-the-art Smoky Mountain Opry or the Country Tonite Theatre. For even more fun, Dollywood's Splash Country Water Adventure Park dishes out the thrills with 35 acres of water attractions. Take a sightseeing ride on the Dollywood Express.
Sidewalk Entertainment
Tunes & Tales is a summer-long street performance festival that brings Appalachian culture to life with musical performers, storytellers and artisans. Dollywood knows how to throw a good party with the Barbecue and Bluegrass Festival and also hosts the Festival of Nations, an international music and dance showcase.
Essence of the Smokies
Dating back to before the Revolutionary War, Pigeon Forge was originally a hunting ground for the Cherokee in North Carolina. Now it's an all-American town with old-fashioned Southern hospitality. His son constructed a grist mill that still stands today on the same site. Resting on the lovely Little Pigeon River, the Old Mill is still in operation and continues to grind grains for the Old Mill Restaurant. Take a guided tour to learn more about this National Historic Site and capture photos of the waterwheel.
Uncovering the Past
Archeologists uncover many traces of past life in the Smokies, giving visitors insight into the rich culture and history of the area. Head to Elkmont to uncover a decaying resort town from the 1920s and wooden cabins dating back to the 1830s. You can also venture into Cades Cove to view preserved homes once inhabited by settlers and Revolutionary War veterans.
Titanic Attraction
Titanic Museum Attraction is a celebration of the ship, passengers and crew, remembering the world's most famous luxury liner. After receiving a replica boarding pass of a Titanic passenger or crew member, visitors embark on a self-guided tour that allows for appreciation of the Titanic's decorative crowd-pleasers, including the grand staircase, as well as interactive and educational features. Touch an iceberg, try to stand on sloped decks, dip your hand into 28-degree water and more.
For More Information
Tennessee Department of Tourist Development
615-741-2159
Gatlinburg CVB
800-588-1817
Great Smoky Mountain National Park
865-436-1200
Pigeon Forge Department of Tourism
800-251-9100