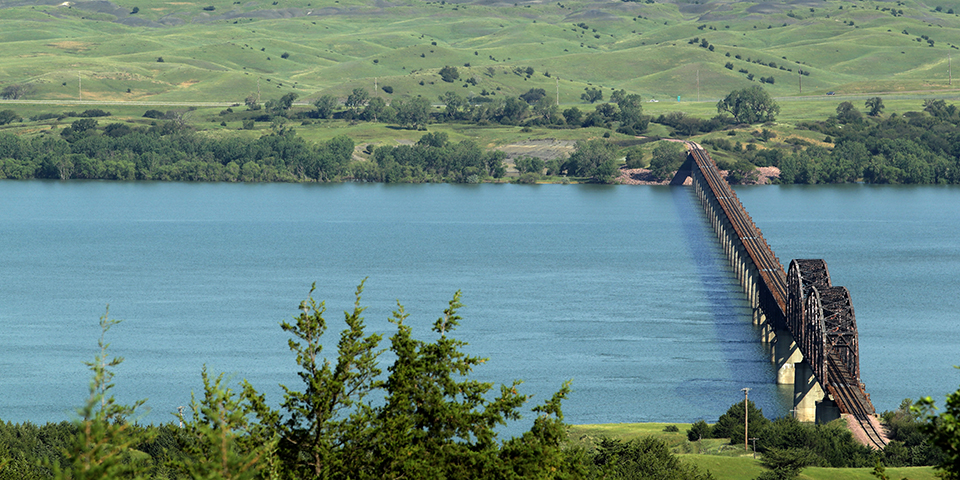 SOUTH DAKOTA
Do the Black Hills Beckon? Or would you rather drop a line in the Missouri River? Choose your adventure the Rushmore State. See the larger-than life rock carving of four presidents and cast a line in a fly-fishing paradise.
Chamberlain/Oacoma
If you've been looking for a camping excursion that has the perfect balance between fishing and hunting, antiques and scenic beauty, then look no further than the communities of Chamberlain and Oacoma. These twin towns, separated by the Mighty Missouri River, offer campers a peaceful haven with wandering wildlife, spectacular sunsets, galleries and showrooms, golfing, shopping and a 50-foot Native American sculpture named Dignity to welcome you to the area. Travel like Lewis and Clark, who camped here in 1804, and call the place home for a few days or weeks.
Diverse Landscapes & Culture
Start your visit with a lesson on a famous expedition that saw one of America's most important forays into the West. The Lewis and Clark Interpretive Center on Interstate 90, (at the Chamberlain rest area between exits 263 and 265) includes a replica of the 55-foot keelboat piloted by the explorers as they navigated the waterways across the continent during their famous journey, which lasted from 1803 to 1805. Visitors also will find interpretive panels that provide convenient history lessons. Learn how the explorers survived as they traversed the waterway. Travelers also can stretch their legs by following one of the trails overlooking the Missouri River.
Sweeping Statue
Also on the property, you will meet Dignity. Built in 2016 to celebrate the state's centennial, this stainless steel, 50-foot statue of a Native American woman represents the courage and wisdom of the Lakota people. The statue has earned the nickname, Colossus of Chamberlain, and her quilt is built with more than 100 blue diamond shapes that move with the wind. Deepen your knowledge of Native American heritage in Chamberlain with a visit to the Akta Lakota Museum and Cultural Center.
Go with the Flow
Outdoor activities are abundant along the wide Missouri River. Navigate the waters on your boat or rent a pontoon with the family. There is plenty of room to go fast and just as much room for those that don't like the speed. If you didn't bring your boat, you can rent canoes, kayaks, paddleboards and pontoons in town, or if you'd prefer to stay on land, throw a line in the water to tempt the walleye from the bank. If you seek help, you can even hire a fishing guide to make sure you take home a trophy. Sometimes it's nice to just watch the sunset over the river from the fishing piers. Take your lawn chair, sit back and relax as the day unfolds before your eyes.
---
Regional Recipe
Danish Pastry
Danish settlers brought this recipe from the home country. Recipe by Morris & Lynne Elcock, South Dakota Good Sam State Directors.
Ingredients:
Pastry
3 tbsp sugar
1 cup of shortening
4 cups flour
½ tsp salt
1 pkg. dry yeast dissolved in ¼ cup warm water
2 egg yolks, well beaten
1 cup warm milk
Prune Filling
2 tbsp flour
2 cups prunes – pitted & chopped
¼ tsp salt
1¼ cups of orange juice
1 cup sugar
Directions:
Cut together as for a pie crust the sugar, shortening, flour and salt. Add yeast, egg yolks and warm milk. Mix and chill at least 2 hours in refrigerator. Divide crust into 4 parts and roll out thin. Put on cookie sheet, spread with filling and fold 2 sides toward center. Let rise and bake at 400
degrees for 20–25 minutes. Simmer until thickened.
---
Explore the Outdoors
It's easy to enjoy the abundant picturesque natural scenery by bike or foot. Several hiking and biking trails surround the area. Prefer tech-related adventures? Turn on your GPS and go geocaching. A local community of geocaching enthusiasts have left many good finds in the area.
Golf the Mount Rushmore State
Arnold Palmer and Ed Seay's 1991 design at Dakota Dunes was a major draw for a decade, but don't miss swinging the club at Chamberlain Country Club — nine holes of pure fun. And if you're into bird-watching, then you're in luck, because locals report seeing everything from bald eagles to Canada geese. Over 400 species have been spotted here.
Shopping Bliss
From specialty shops, vintage items to tourist attractions and convenience stores, you'll find everything you want while enjoying the scenic beauty on the banks of the river. Every June, shoppers come from miles around to look, ogle and often purchase from the 90-mile-long Scavenger's Journey yard sale, which stretches from Kadoka to Mt. Vernon (Chamberlain-Oacoma sits about 58 miles east of Mt. Vernon). Need some java? Duck into Al's Oasis in Oacoma, famous for cheap cups of Joe, delicious pie and adjoining stores. It's one of the Midwest's favorite stops, welcoming travelers from across the U.S.
Dig This
Chamberlain has something else to pique visitor interest, something so interesting that paleontologists now flock to the area each year during the summer for an annual dig. Town officials record the discovery of the fossil remains of a 78-million-year-old sea lizard known as a "mosasaur" that was unearthed just east of downtown Chamberlain in 1992. This 16-foot long prehistoric find gave credence to the theory that this area of South Dakota was once a virtual "Jurassic Park."
Custer
Minutes away from iconic attractions like Mount Rushmore, Custer is also a convenient jumping-off point for the best climbs, trails and family fun in the Black Hills. Spanning over a million acres of wilderness, the park overflows with extraordinary vistas, stunning wildlife and historical treasures, many of which can be explored by foot, bike or from the comfort of your car. Check out the highest peak east of the Rockies to limestone caves that run for miles underground.
Where the Buffalo Roam
Famous for its bison herds, fishing lakes, scenic drives and historic sites, Custer State Park is a vibrant wilderness area that needs to be experienced. Billed as one of the "World's Top Ten Wildlife Destinations," the 18-mile Wildlife Loop Road is the best way to experience firsthand the massive herd of 1,300 bison that roam the landscape. Lucky visitors can also see antelope, bighorn sheep, coyotes, prairie dogs and more along the way. Keep snacks on hand for the "beggin' burros" who hound drivers for morsels.
Hiking the Land of Plenty
Needles Highway is rich with pine and spruce forest, with meadows surrounded by birch and aspen. Sylvan Lake is considered the "crown jewel" of Custer State Park and a must hike while visiting. Black Elk Peak is the tallest mountain east of the Rockies, nestled in a designated wilderness area, surrounded by the Black Hills National Forest. Try the three-mile Prairie Trail loop or the 1.5-mile Cathedral Spires Trail for stunning views and more wildlife viewing. Mountain bikers conquering a stretch of the 109-mile Mickelson Trail will be rewarded with converted railroad bridges, rolling hills and vast panoramas. For more, try famed Badlands National Park east of town. The rugged country contains one of the world's richest fossil beds.
Windy Cave
For a completely different perspective, take a half-hour ride south from Custer to visit Wind Cave National Park, one of the oldest —and longest—caves in the world. Tours of Wind Cave allow visitors to experience first-hand what early explorers first discovered—that the wind inside the cave literally changes direction based on the difference in atmospheric pressure between the cave and surface.
Cast a Line
A myriad of fishing opportunities awaits around the cool, clear waters of the Black Hills streams and lakes. Rapid Creek below the Pactola Reservoir offers excellent trout fishing, while the reservoir itself has 14 miles of available shoreline for fishing and swimming. Horsethief and Sheridan Lakes are top-notch hot spots for bass, pike and perch, while Sheridan Creek might be the most scenic locale in the entire region for rainbow trout. Adventurous anglers should head to the "Narrows" section of French Creek for some of the most beautiful and rugged fly-fishing in the country.
Hill City
Perfectly situated to be the hub of your Black Hills vacation, Hill City is rich in history, small in size and big on hospitality. The downtown core pulses with activity thanks to wineries, art galleries and Old West attractions. A short drive from town quickly reveals the most famous site in all of South Dakota: Mount Rushmore National Memorial.
Historic Hill City
The second-oldest town in the Black Hills has flourished as the central location to significant attractions. Hill City is a favorite destination and often referred to as the "Heart of the Black Hills." A great place to start is the Museum at Black Hills Institute in downtown Hill City, which features a mix of geological and archeological artifacts that tell the story of the area. The main highlight here is "Stan," a massive Tyrannosaurus Rex skeleton that towers over slack-jawed visitors. Continue your trip back in time at the South Dakota State Railroad Museum and Big Thunder Gold Mine. The former is devoted to the impact of railroads in the area.
Shrine of Democracy
Mount Rushmore National Memorial features the 60-foot faces of George Washington, Thomas Jefferson, Abraham Lincoln and Theodore Roosevelt which represents the birth, growth, development and preservation of the U.S. Get a close-up view of the colossal sculptures by walking along the Presidential Trail, offering awe-inspiring views of the 60-foot faces carved 500 feet up a stone mountain, and visit the Grand View Terrace to capture panoramic photos of the countryside.
Mountain Monument
Nearby, Crazy Horse Memorial has progressed through many changes since its 1948 dedication. Once complete, this tribute to the Lakota leader will be the largest mountain carving in South Dakota and the world. When it's finished, it will be 641 feet long and 563 feet high, making it the largest mountain carving in the world. The memorial pays tribute to the legendary 19th-century Lakota hero who strove to preserve the living heritage of his people. The Indian Museum of North America is also situated here, so stop by to view a compelling collection of indigenous art and artifacts.
History & Nostalgia on the Railroad
The 1880 Train is a two-hour 20-mile round trip between Hill City and Keystone. The Black Hills Central Railroad is the oldest continuously operating tour railroad in the nation. Step aboard the 1880 Train and enjoy a narrated trip between Hill City and Keystone on a century-old steam engine. Explore the railroad's history and watch a model train in action at the South Dakota State Railroad Museum. Tour historic buildings and see how fish are cultivated.
South Dakota's Petrified Forest
While you're in the area, get a glimpse of arboreal life from prehistory. At South Dakota's Petrified Forest of the Black Hills, a museum opened in 1929 near Rapid City, the earth has preserved a cypress swamp 120 million years old. This was the time of dinosaurs — when the Black Hills didn't exist and the entire area was a flat, tropical swamp (similar to the cypress swamps found now in America's southeastern states).
Frozen in Time
In Greek, the word "petra" means stone and "petrified" means to turn to stone. To view a petrified cypress forest up close, you can find this exhibit west of Rapid City just about one mile from Interstate 90 at Exit 46. This is an excellent "off-the-beaten-highway" side trip.
Trees Tell a Story
The cypress trees that fell here 120 million years ago became immersed in a swamp water. Subsequent geological upheaval sent them back to the surface, where they remain preserved for today's visitors.
South Dakota's Petrified Forest
Walk a mile loop to see and touch these ancient trees. The fiber of their wood is still visible in the petrified logs. A stack of "wood" made up of pieces gathered from other parts of the property truly resembles a cord of wood stacked for winter. In addition to the logs, the museum offers a compelling film on the history of geology in this area.  Note that what looks like wood as you walk the property is stone.
Spearfish
Spearfish gives you easy access to the adventures and beauty of the Northern Black Hills of South Dakota. This year-round playground for outdoor adventure puts you in the middle of rock climbing, hiking, magnificent canyon waterfalls within a micropolitan community. Cruise along the Spearfish Canyon Scenic Byway to experience the best of the northern Black Hills, or hang out at the craft breweries, art galleries and antique shops in town. Spearfish serves as a relaxing getaway as well as a jumping-off point for outdoor adventures. Spend a few days here to discover every facet of Spearfish.
Roaring waters of Spearfish Falls
Located in the heart of Spearfish Canyon near the Savoy area, this natural wonderland is home to breathtaking, multi-tiered waterfalls, lush forest and even ice displays — depending on the time of year. There are many pull-offs on the side of the road for great views.
Flowing Falls
Bridal Veil Falls is the most accessible waterfall in the canyon and the 60-foot cascade can be easily seen from the road. Hiking is not allowed here, but there is an observation platform that offers fantastic photo opportunities. If you do want to hike, continue on the byway until you reach the Savoy area. There you'll find a trail that takes you from the Latchstring Inn restaurant to the raging waters of Spearfish Falls. The last wonder on the circuit is Roughlock Falls, a multitiered waterfall resting along Little Spearfish Canyon. Picnic areas and walking paths make it the perfect spot for a relaxing break.
Freshwater Fishing
With the freestone river sitting in a gorgeous canyon and two of the largest streams in the region, Spearfish Canyon is a favorite among anglers. Cast a line in Spearfish Creek to snag wild brook, brown and rainbow trout. Next, head west to Iron Creek Lake for yellow perch and more rainbow trout. Located upstream from Cheyenne Crossing, Hanna Creeks and Little Spearfish are worth visiting too for their good numbers of brook trout. Crow Creek is the biggest stream in the Black Hills and another great spot for catching wild brown trout. Between catches, check out the D.C. Booth Historic National Fish Hatchery, one of the oldest fish hatcheries in the country.
Outdoor Adventure
Whether you love hiking or climbing, Spearfish is the destination for folks who love to explore on foot. Enjoy a leisurely or challenging trek to the top of Lookout Mountain, and create your own adventure on the Eagle Cliff Trails by following a combination of 21 intertwining loop and dead-end paths. You can also climb to the summit of Crow Peak if you're up for a challenge. The 1,600-foot ascent isn't easy, but the 360-degree views of Spearfish Valley and Eastern Wyoming are well worth it at the end.
Hunting Mecca
The Mount Rushmore State boasts prime hunting, allowing hunters to enjoy a big success rate every year. Perhaps the most sought-after animals in the Black Hills are elk. The area north of the town is prime hunting ground for antelope and mountain lions, while the Black Hills in the south support an abundance of deer and wild turkey. Small game available for the taking includes prairie dogs, coyotes and jackrabbits.
Bikes and Cars
Spearfish is a mecca for mountain biking, with hundreds of miles of rocky tracks as well as paved trails. Race against other cyclists at the Gold Rush Gravel Grinder in June, check out sweet rides at the Black Hills Corvette Classic each July and shop for everything from art to furniture at the annual Festival in the Park in July. For a fun-filled evening, attend the Downtown Friday Nights block party for live music, family-friendly activities and delicious food vendors all summer long.
Spearfish Suds
Spearfish is home to three craft breweries, serving hand-crafted brews. What better way to end a day of adventure in the Northern Hills than a local, cold beer? Head to Spearfish Brewing Company for a classic American lager and hefty burger. The taproom also produces craft ales and features a rotating lineup of locally made kombucha. Up the street is Sawyer, a brewery serving hoppy IPAs and wood-fired pizzas, with a beautiful creekside view. Crow Peak is right beside it and well known for its diverse lineup of lagers, ales and stouts. Get a tasting flight to start, or order local favorites the Pile O'Dirt Porter and Canyon Cream Ale.
Signature Spearfish
Culture is a cornerstone of life in this outdoor mecca. Every second Friday from June until Labor Day, Spearfish offers Downtown Friday Nights on Historic Main Street. Live music, food, vendors and entertainment especially for children are all part of the fun.
Spearfish Treasure
And yes, there really is gold in "them there hills." Jewelry made from gold mined right from the Black Hills is available all around Spearfish. This is but one example of the unique shopping experiences that visitors can discover. Art galleries and unique stores with locally made rugs, wines and gourmet foods make shopping in downtown Spearfish a stellar retail experience.
For More Information
South Dakota Department of Tourism
800-732-5682
Chamberlain Convention and Visitors Bureau
605-234-4416
Visit Custer
605-673-2244
Hill City Area Chamber of Commerce
800-888-1798
Visit Spearfish
800-344-6181
Petrified Forest of the Black Hills
605-787-4884
blackhillsbadlands.com/business/petrified-forest-black-hills
Good Earth State Park
605-223-7660