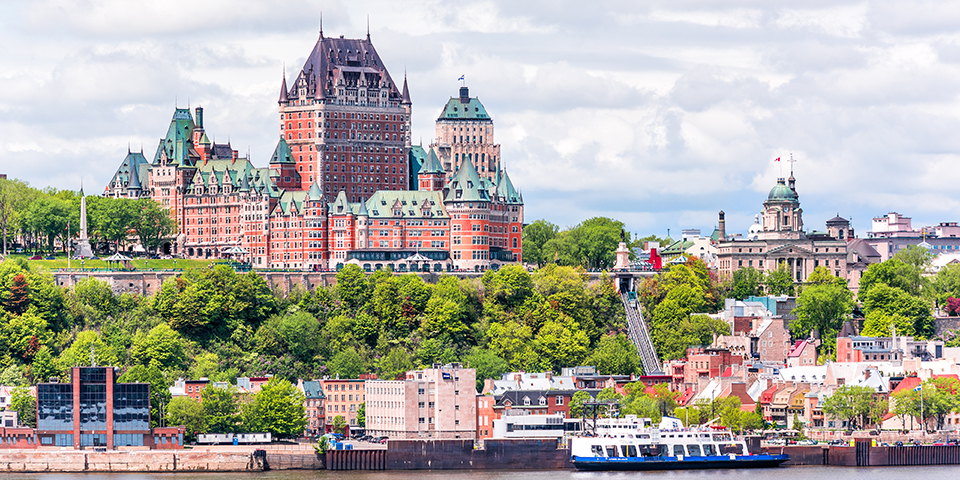 QUEBEC
Parlez vous Français? It's OK if English is your only language. With help from friendly locals and bilingual signage, English speakers can get by just fine in this French-speaking province. After all, everyone here is connected by the universal love of beautiful cities and superb outdoor recreation. Vive le Québec!
Montréal
Montréal is a fascinating mix of urban thrills and natural wonders, neatly contained in one pristine island setting on the Saint Lawrence River. Take, for example, the grand museums: the Montréal Museum of Fine Arts, the Musée d'art contemporain, the Pointe-à-Callière Museum of Archaeology and History and the Canadian Centre for Architecture regularly inspire with international-caliber exhibitions devoted to art, architecture and history.
Mount Royal
Proof that Montrealers are as passionate about nature as they are about their urban experiences is Mount Royal, the city's magnificent centerpiece. The mountain is everyone's favorite spot for sports and leisure, with Saint-Joseph's Oratory and two beautiful hillside cemeteries great for quiet contemplation. Step onto Old Montréal's cobblestone streets and feel time shift, as every turn reveals a cachet of history, like the breathtaking Notre-Dame Basilica and the silver-domed Bonsecours Market.
---
Regional Recipe
Camp Dutch Oven Spiced French Toast
Say "bon jour" to a delicious breakfast treat. Recipe by Kate Dunbar.
Ingredients:
½ loaf Texas Toast sliced bread, cubed
½ loaf brioche bread, cubed
8 large eggs
1 cup whole milk
¼ cup Quebec maple syrup
4 tbsp unsalted butter, cut into small pieces
2 teaspoons vanilla extract
1 tsp ground cinnamon
½ tsp ground ginger
¼ tsp ground nutmeg
Directions:
Slice bread and place in a large bowl to dry overnight. Using coals from wood fire, clear an area in the center of the fire ring twice as wide as your Dutch oven. In a medium-size bowl, whisk all the eggs until blended, then pour eggs through a fine-mesh strainer into another bowl. Add the milk, maple syrup, vanilla, cinnamon, ginger and nutmeg, whisk well. Pour the egg mixture over the bread in the large bowl, carefully toss the bread pieces and allow to sit for 15 minutes. Line your Dutch oven with foil or parchment paper, spray some non stick spray on the foil or parchment paper. Carefully, with a slotted spoon scoop the soaked bread into the Dutch oven. Lightly press the bread down. Take the butter pieces and sprinkle over the top of the bread, then pour any remaining egg mixture over the bread. Place the lid on the pot. Carefully place the Dutch oven in the center of the cleared coals. Shovel some hot coals on top of the lid with even or light covering.
---
Québec City
Today, Québec City is the capital of the Québec province. This historic city is divided in two by steep bluffs into Upper Town and Lower Town. The Château Frontenac Hotel, Plains of Abraham battlefield site and the Québec Parliament are attractions that lure visitors in Upper Town. Within the Château Frontenac area, you'll find horse-drawn carriages, street entertainers, singers and artists, particularly at Old Québec's own open-air art gallery, Rue du Tresor.
Trois-Rivières
On the northern shore of the Saint Lawrence river, Trois-Rivières (founded in 1634) makes for an agreeable stopover. Despite a fire that in 1908 leveled much of the historic kernel, the Old Town's restored and reconstructed buildings set the stage for vibrant café society, a robust and varied dining scene, boutique shopping and a lively festival calendar.
For More Information
Bonjour Québec
877-BONJOUR
Tourisme Montreal
877-BONJOUR
Quebec City Tourism
877-783-1608
Tourism Trois-Rivières