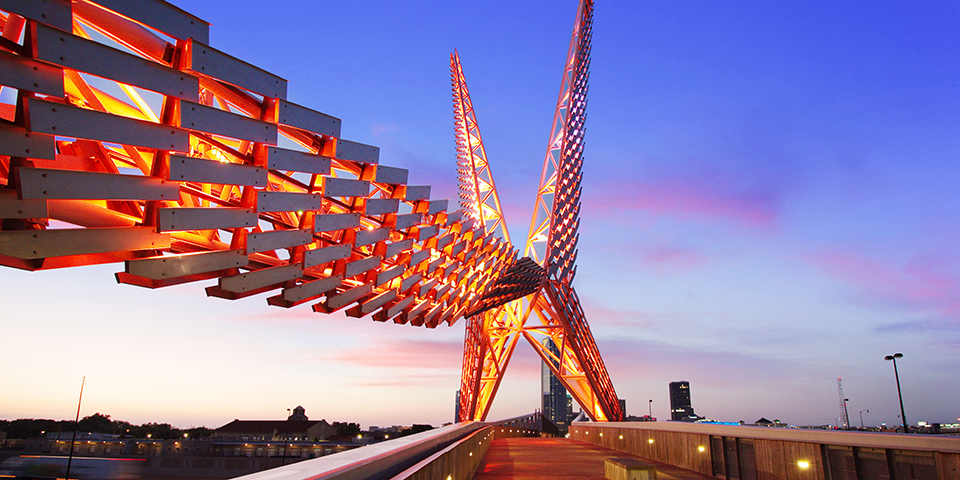 OKLAHOMA
Native American heritage and modern water recreation blend nicely in the Sooner State. Tour historic sites and reel in the big one. Delve into the state's Native America past or reel in the big one from a sprawling lake.
Chickasaw Nation
Since arriving in Oklahoma more than 150 years ago, the Chickasaw tribe has set down roots and flourished. Set amid a landscape brimming with rippling waters and rolling hills, the current-day Chickasaw Nation shares a cultural heritage that opens up a new reality. From stomp dances to sacred forests, don't skip out on this must-see corner of the Sooner State.
Premier Attractions
Learn about Native American traditions at the Chickasaw Cultural Center in the town of Sulphur. Occupying 184 acres, the center offers one of the most extensive tribal cultural experiences in the country, including a traditional village, stomp dances, reenactments, films, artifacts and immersive exhibits. A true testament to the creativity and resilience of the Chickasaw people, the center also hosts frequent events for the public and boasts a restaurant that serves up traditional dishes such as pashofa, a Chickasaw corn soup.
Native American Center
In Tishomingo, history comes alive at the Chickasaw National Capitol Building, which was built in 1898 and now serves as a museum focused on the tribe's fight for independence. Next door, the Council House Museum displays a one-of-a-kind collection of pottery, jewelry and more.
Loving Lake Murray
Lake Murray, southeast of Ardmore, features crystal-clear water and family-friendly beaches; it's no wonder that it's been billed the most beautiful lake in Oklahoma. Small but picturesque, it's the perfect place to spend the day boating, swimming or fishing and is renowned as one of the state's best lakes for landing small and largemouth bass. Anglers should also visit the Blue River, east of Tishomingo, for the chance to land the waters' world-famous trout. Home to a number of annual fishing derbies, as well as deer, turkey and hog hunting, the Blue is truly an outdoor lover's playground.
Trails Galore
Hit the more than 30 miles of trails at the Chickasaw National Recreation Area. There's also a nature center, educational tours and the Lake of the Arbuckles, a hot spot for fishing and water sports. Enjoy the soothing sight of the Little Niagara Falls or try a trail ride on horseback through the recreation area or one of the nearby ranches.
---
Regional Recipe
Mystery Pie
Solve the mystery of great flavor with this Sooner State favorite. Recipe by Larry Foster, Oklahoma Good Sam State Director
Ingredients:
20-25 Ritz crackers
½ cup chopped pecans
4 egg whites
1 cup sugar
½ tsp baking powder
Cool Whip
½ cup diced maraschino cherries
Directions:
In a ziplock bag, crush the Ritz crackers. Add chopped pecans and set aside for later. In a medium-size bowl, beat 4 egg whites stiff. Slowly add sugar and baking powder to egg whites. Pour in contents of the ziplock bag, blending well. Pour into a pie pan that has been sprayed with non-stick spray. Spread mixture, leaving a small well in the middle, and bake at 350° for 30 minutes, or until golden brown. Let pie cool to room temperature. Cover with a Cool Whip and top with diced maraschino cherries. Refrigerate and serve cold.
---
Grand Lake O' the Cherokees
Green Country encompasses much of the state's northeast corner and is chock-full of lush parks. Situated in the foothills of the Ozark Mountains, it's also home to Grand Lake O' the Cherokees — or simply "Grand Lake," according to locals — a popular and fun-filled waterfront destination with enough outdoor activities to keep you busy.
Wide Waters
Boasting more than 1,300 miles of shoreline, Grand Lake is a sportsman's paradise that draws nature lovers from across the state. Best known for its unrivaled bass fishing, the lake plays host to hundreds of annual fishing derbies, as well as plenty of opportunities to land the crappies, catfish and bluegill that also flourish in the bountiful waters home. There are numerous launches if you have your own boat, or you can head to one of the many marinas to charter fishing guides for an expert day on the water. The five state parks — including the popular Bernice and Cherokee Areas — that line the shores of the lake promise family-friendly recreation.
Boating Fun
Grand Lake follows a serpentine course from northeast to southwest, and the area frequently serves up a steady wind perfect for setting sail. Rentals are available in the waterfront towns of Grove and Bernice, as are lessons, sunset sails and other excursions. Parasailing, jet skiing and the more adventurous water sports are also on the menu, especially around the fun-loving areas of Snowdale and Monkey Island, while quiet paddles can be found north of the lake along the Neosho River.
Oklahoma City
Oklahoma City effortlessly blends big city thrills with a distinctly Western atmosphere. Oklahoma City is highly regarded as a center of beauty, art, outdoor recreation and family fun, but the locals haven't forgotten their cowboy past. Discover the best of both worlds.
Rolling on the River (and Lakes)
Launch a boat, stroll the banks or go waterskiing on Oklahoma's five beautiful lakes or on the Oklahoma River that lazily winds through the city. Maybe you have a taste for something a bit more upbeat. Try your hand, arms and feet at kite boarding, whitewater rafting or paddleboarding. Of course, you could just kayak up and down the river all day.
In the Center of It All
Walk across a bridge that has become one of Oklahoma City's signature attractions. The Skydance Bridge is a pedestrian span that allows foot traffic to cross Interstate 40, which runs through the heart of the city. This stunning architectural beauty is made to look like the scissor-tailed flycatcher, Oklahoma's state bird. It's a landmark you won't want to miss.
Just Plain Fun
Several lush golf courses can be found in and around the city, making OKC one of the most underrated golf destinations in the city. If you'd rather bike around the city to take in the sights but left your bike at home, you can find a kiosk around the city and rent a two-wheeler.
For More Information
Oklahoma Tourism and Recreation Department
800-652-6552
Chickasaw Nation
580-436-2603
Visit Grand Lake
866-LUV-GRAND
Oklahoma City
800-225-5652