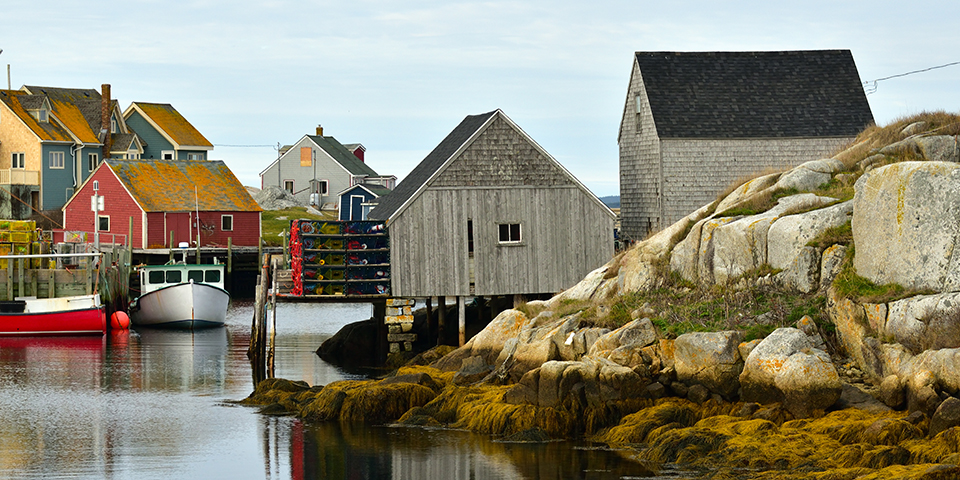 NOVA SCOTIA
This maritime province is renowned for its stunning views and bustling ports. Lift a glass at a pub in Halifax or go exploring on seaside villages where the daily catch is served up fresh and steaming. Villages like Peggy's Cove preserve the way of life of small fishing communities.
Digby
Nestled on the Annapolis Basin near the Bay of Fundy, the small community of Digby serves up a big menu of fun. During the day, travelers can go whale watching, golfing or hiking; in the evening, guests can savor a plate of scallops and other delicacies offloaded hours earlier from docking fishing boats. Although Digby has a population of only 2,152, the town buzzes with the energy of a bigger city, owing to the town's role as a hub for leisure boats and fishing trawlers.
Succulent Scallops
Over the years, the town became famous for the bountiful scallops harvested from its waters. The burgeoning fishing industry was soon accompanied by a brisk tourism trade, as New Englanders and Canadians flocked to the small town for its beautiful views and crisp sea air.
Halifax
Experience all the highlights of Eastern Canada in Halifax. From its cutting-edge culinary culture and exciting festival scene to its alluring waterfront views and stunning architecture, this historic yet hip metropolis is sure to captivate you. Hospitality is also taken to new heights here. Haligonians (Halifax locals) welcome visitors with open arms and are eager to share their home with you.
---
Regional Recipe
Nova Scotia Irish Soda Bread
Irish settlers pioneered this delicious bread. Recipe from the Good Sam Team.
Ingredients:
3 cups flour
⅔ cup sugar
1 tbsp baking powder
1 tsp baking soda
large dish salt
¼ tsp cream of tarter
2 tbsp melted butter
1¾ cup buttermilk
2 beaten eggs
1½ cup raisins
Directions:
Grease 9" loaf pan. Put together dry ingredients first and stir in raisins. Stir together eggs, melted butter, cream
of tarter and buttermilk in the same bowl. Add remaining ingredients
until well mixed. Bake at 350 degrees for 1 hour. Add butter or jam to delicious
Irish bread.
---
Nova Scotia Suds
Across the street from the waterfront is Alexander Keith's original 1820 brewery. Stop by to sip on crisp ales and enjoy an award-winning theatrical tour with costumed guides. Or explore the city's booming craft beer scene by visiting popular microbreweries, including North Brewing Company and Good Robot Brewing Company.
Scenic Side Trip
Less than an hour to the southwest,  the charming hamlet of Peggy's Cove is home to one of the region's most beloved landmarks. Standing at the entrance to St. Margaret's Bay, the town's red and white lighthouse was built in 1915 and rises over colossal granite boulders where the ocean crashes. A traditional fishing community, Peggy's Cove is like a postcard come to life of small houses nestled upon a small inlet.
Truro
An area steeped in native mysticism and historic charm, Truro was originally named "Wagobagitik" ("end of the water's flow") by local Mi'kmaq people in reference to the world's highest tides, which rise from the Bay of Fundy. Located at the mouth of the Salmon River, Truro's moniker, "Hub of Nova Scotia," speaks to its central location.
For More Information
Nova Scotia
800-565-0000
Digby
902-245-2121
Destination Halifax
877-422-9334
Town of Truro
902-895-4484