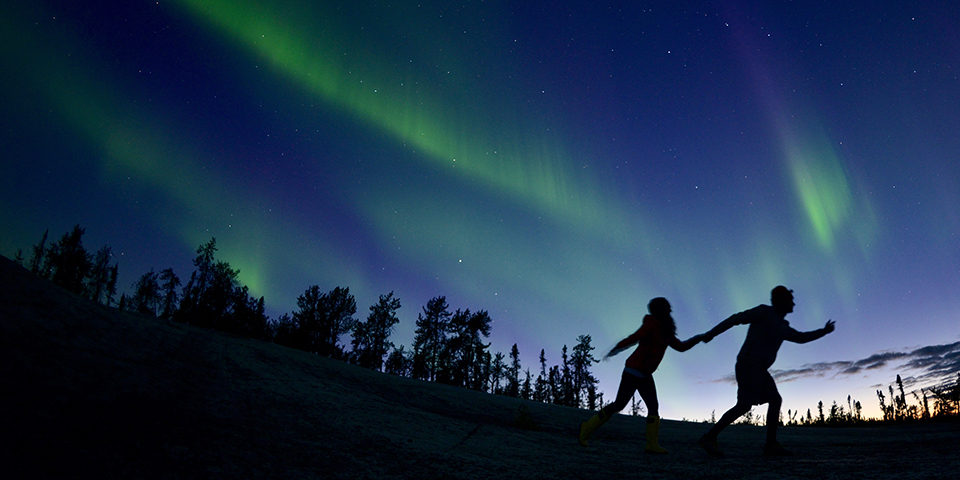 NORTHWEST TERRITORIES
The Northwest Territories occupy more than 442,000 square miles of untamed wilderness, laced with robust rivers and punctuated by a few small towns. This is your destination if you want to discover Canada's true wilderness — but take some time to explore its quirky and delightful cities.
Fort Smith
Fort Smith is the gateway to Wood Buffalo National Park. Covering 17,300 square miles of lush boreal forest and salt plains of both the Northwest Territories and Alberta, it's the largest national park in Canada and a UNESCO World Heritage Site. In the summer, visitors can embark on a wealth of outdoor adventures such as hiking, fishing, kayaking, camping and canoeing. The park overflows with diverse wildlife species. Keep your eyes open for moose, lynx, beavers, foxes, sandhill cranes and birds of prey. Home to 5,000 bison, the park has the world's largest free-roaming herd of these unique mammals.
Great Slave Lake
The Great Slave Lake stretches across the Northwest Territories like an inland ocean, an expanse of clear blue water that breaks up the rugged terrain of soft woods and vast tundra. Home to a wide variety of fish, mammals and birds, it's North America's fifth-largest lake, with 10,502 square miles of surface area and depths reaching more than 2,000 feet. Visitors take advantage of the lake's sheer size for uncrowded fishing and boating adventures during the summer; in the winter, the lake's frozen surface makes it a perfect setting for dogsledding and cross-country skiing adventures.
Fishing and Boating Fun
Another stop is Hay River, on the south shore of the lake and at the mouth of the river that shares its name. The town is a magnet for sports fishing, with arctic grayling, lake trout and northern pike enticing anglers from across the world. When your arms get tired from hauling in hefty catches, make a visit to nearby territorial parks. Just 30 miles south of Town, Louise Falls dazzles with its 66-foot tall curtain of water.
Yellowknife
Located 200 miles south of the Arctic Circle on the Canadian Shield, Yellowknife defies the stereotype of the isolated, lonely northern Canadian outpost. With a population close to 20,000, Yellowknife's streets bustle with hip art galleries, scintillating restaurants and a robust aboriginal culture that influences many aspects of the community. The aurora borealis shimmers brightly in the town's night skies, but the terrestrial festivals and celebrations pulse with an energy that is just as spectacular. Throughout the year, outdoor lovers use the town as a jumping-off point for boat trips, scenic hikes and hunting adventures.
---
Regional Recipe
Whitefish Baked in Foil
Fall is the best time for whitefish, which are prized for their delicate, sweet flavor. Recipe adapted from Woodall's Favorite Recipes from America's Campgrounds.
Ingredients:
3 lb Whitefish fillets
Salt & pepper to taste
Dash of red pepper
2 tbsp flour
4 tbsp salad oil dressing
2 cloves garlic
½ large green or red pepper
¼ lb mushrooms
½ cup onion diced
½ cup white wine
1 medium tomato, peeled & diced
1 tbsp lemon juice
1 tsp minced parsley
1 tsp tarragon
Directions:
Dredge fish in flour, salt and peppers. Heat oil in skillet and add garlic. Quickly brown fish on both sides. Place fish in center of large piece of foil. Sauté peppers, onions and mushrooms and place on top of fish. Add wine to remaining ingredients in pan and bring to boil. Pour mixture over fish. Seal foil edges tightly around the fish and place in shallow baking dish. Bake 20 minutes at 425 degrees. Makes 4 servings.
---
For More Information
Northwest Territories Tourism
800-661-0788
Town of Fort Smith
867-872-8400
Hay River Tourism
867-874-6522
Visit Yellowknife
867-873-4262