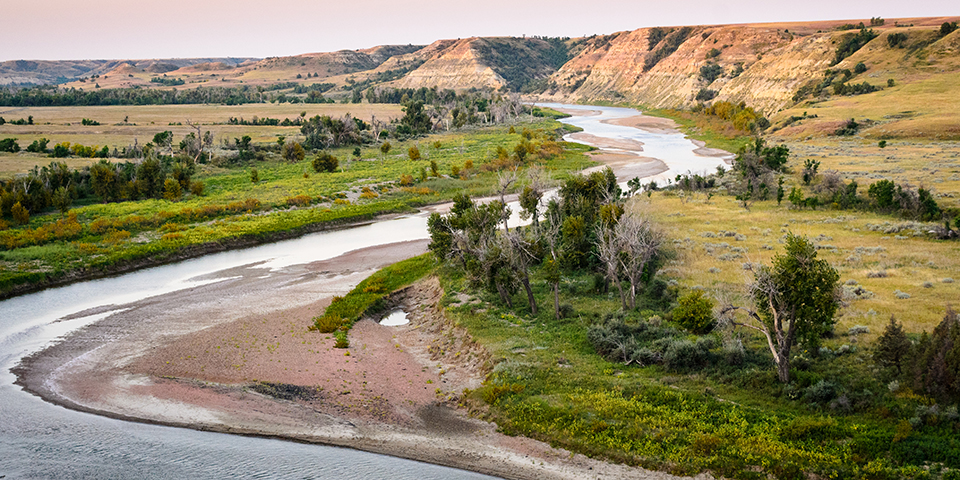 NORTH DAKOTA
From the Badlands to Grand Forks, the Peace Garden State has a few surprises up its sleeve. See where Teddy Roosevelt rode the range and celebrate Scandinavian culture. Follow trails through rugged countryside and play a few rounds on a golf course carved out of the Badlands.
Grand Cities
Bismarck, Fargo, Grand Forks, Jamestown and Dickinson are fascinating cities near the state's southern and eastern borders,  and they're all conveniently strung together along Interstates 94 and 29.
Fantastic Fargo and Bismarck
Bismarck and Fargo in particular are popular landing spots for tourists looking to explore the best the Roughrider State has to offer. In Bismarck, you'll find highlights like the Dakota Zoo, the State Capitol Building and the Superslide Amusement Park. In Fargo, check out the Red River Zoo, Roger Maris Museum and Bonanzaville USA.
Great Grand Forks
Home to the University of North Dakota, Grand Forks cultivates outstanding parks and gardens. Outdoor recreation isn't far from the downtown area. The Greenway consists of 2,200 acres lining the Red River and the Red Lake River as they flow through Grand Forks and East Grand Forks. This urban space offers recreational, cultural, historical and natural resource opportunities. You can hike, walk, run, roller blade, bike, bird, canoe, kayak, fish or golf, all in the heart of town. Now fully completed, the Greenway includes an all-season trail system.
Grand Forks Fun
Shop at big box stores in Grand Forks and unique downtown boutiques. Cheer on championship sports teams at Ralph Engelstad Arena or Grammy-winning entertainers at the Alerus Center. Check out a Picasso hanging in the North Dakota Museum of Art or say hello to Dali at the Empire Arts Center Gallery. Check out racing action at the exciting River City Speedway. See stock car races and NLRA action. Kids will love Splasher's of the South Seas, an indoor waterpark that simulates a tropical environment.
Gorgeous Dam
The whole family will enjoy a day at Larimore Dam, just 30 miles west of Grand Forks. The area offers fishing, nature trails, bike paths, 144 campsites, a sandy swimming beach, basketball and volleyball courts, a baseball diamond, horseshoes, an adjacent nine-hole golf course and winter sledding. The arboretum contains more than 500 different trees in a lush 26-acre expanse that is amazingly rich in color.
Medora
Medora held a special place in the heart of future president Theodore Roosevelt. In the 1880s Teddy invested in ranch land here and fell in love with the Wild West. The town also captured the heart of the French Marquis de Mores and he named it in honor of his wife. Today, you can visit the western-inspired 26-room Chateau de Mores. Medora is also home to one of the most popular musicals in the country along with stunning views of the Badlands you'll never tire of.
Rip-Roarin' Entertainment
The Medora Musical is " the rootin'-tootinest, boot-scootinest show in all the Midwest," and a favorite state event. This outdoor performance offers a glimpse of life during the heyday of the Wild West. There's storytelling, singing, dancing, a special visit by a Teddy Roosevelt impersonator, and real horses to boot, with the awe-inspiring Badlands providing the show's epic backdrop. Kick the evening off with a Pitch-fork Steak Fondue dinner at the Tjaden Terrace.
---
Regional Recipe
Pork Sauerkraut
Sauerkraut is a North Dakota delicacy. They even celebrate Sauerkraut Day every year. Recipe adapted from Woodall's Favorite Recipes from America's Campgrounds.
Ingredients:
Pork loin or ribs
1 apple
Sauerkraut
Directions:
Cut the apple into slices. Place in pan. Simmer ingredients for 1-2 hours until meat is very tender. Serve.
---
Tantalizing Waterway
Scully Creek State Park along the Little Missouri River is North Dakota's only designated Scenic River. Grab a paddle to canoe or kayak along this 274-mile long tributary, or cast a line out for catfish and sauger. Bike, hike or saddle-up for 150-miles of adventure along the Maah Daah Hey Trail, some of the best single track in the world. Translated from the language of the Mandian Indians, Maah Daah Hey translates to "an area that will be around for a long time."
Teddy's Favorite Place
Theodore Roosevelt said the Badlands were "the romance of my life." It's here he fell in love with all things Western. Medora is the gateway to the 700,000-acre Theodore Roosevelt National Park, where you can hike through the wilderness to the Petrified Forest or visit Wind Canyon, a perfect sunset-viewing spot. Coal Vein Trail offers a trip through small gorges, along rugged butte edges and through aromatic juniper trees. Pay a visit to Roosevelt's Maltese Cross Cabin, the cozy log house where he stayed during his time in the Badlands. Ready to hit the greens? Bully Pulpit Golf Course, winding through the Badlands, is ranked as one of America's 100 greatest public courses.
Cowboy Culture
Mosey over to the North Dakota Cowboy Hall of Fame to explore the history and heritage of cowboys, Native Americans, rodeos, ranching life and cattle drives; it's an up-close experience with Cowboy Culture. Learn about Hall of Fame honorees and the parts they played in settling and taming the rugged prairie.
Minot
Some of North Dakota's early settlers were immigrants from Scandinavia. To learn more, visit the Scandinavian Heritage Park in Minot. You'll feel whisked away to Nordic lands while gazing at the immense Gol Stave Church.
Minot Knows How to Party
Each fall, Minot hosts the Norsk Høstfest festival, where you can explore a Viking village, sample Nordic foods and celebrate all things Scandinavian. The festival includes top entertainers as well as exquisite Scandinavian crafts and cultural activities. Enjoy delicacies found only in the Scandinavian culture, from veal in dill to crispy waffles with cloudberries. Skol!
For More Information
North Dakota Tourism Division
800-435-5663,
Visit Grand Forks
800-866-4566
Medora Convention & Visitors Bureau
701-623-4830
Visit Minot
701-857-8206