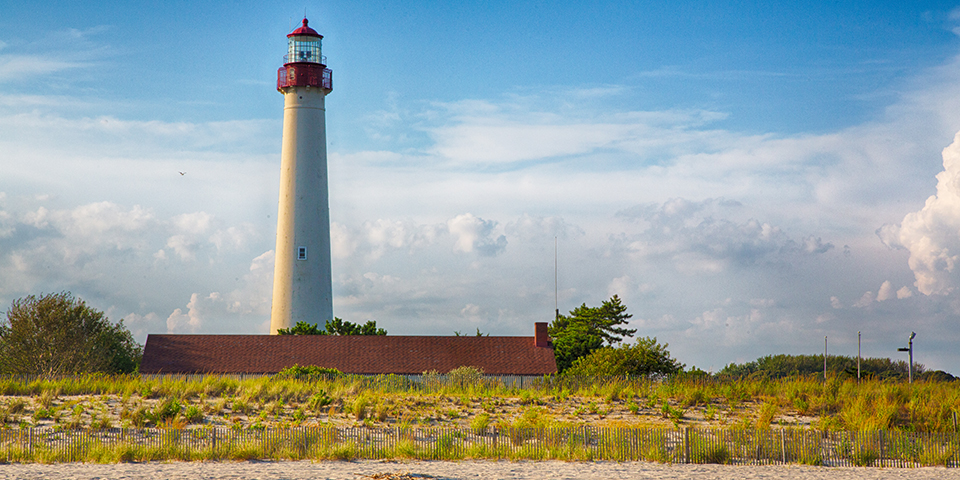 NEW JERSEY
From high rolling on the Atlantic City boardwalk to beachcombing on Cape May, there's always more on the shore. Take a trip that includes bird-watching and lighthouse climbing.
Atlantic City
Build your own Boardwalk Empire on a visit to the Atlantic Seaboard's most storied playground. These three fabulous stops will show you what makes Atlantic City the capital of East Coast fun.
The Boardwalk
Atlantic City's neon-lit, 4-mile long boardwalk, despite notorious financial woes, is the city's beating heart. Built in 1870, Atlantic City's iconic esplanade attained kudos as the world's first boardwalk where, back in the day, the rich would parade their wealth and status. The now-ubiquitous term, "boardwalk," is named for businessman Alexander Boardman. In response to disgruntled hoteliers, frustrated by guests returning from the beach with sand on their shoes, Boardman came up with the idea of placing an 8-foot-wide stretch of planks that would lead from the town to the beach.
Gaming Galore
With the slots and wheels of the city's swirly carpeted gambling halls nudging up against bars and psychic storefronts, there is little evidence these days of the Prohibition-era glamour evoked in the HBO TV series, "Boardwalk Empire." Still, it's never hard to score a primo spot on the beach. In recent years, property developers have invested billions of dollars into revitalizing the boardwalk, as seedy knots of dilapidated buildings have been replaced by big, brash and bold architectural statements.
Vegas Counterpart
You might even hear the moniker, "East Coast Vegas" being bandied around, a nickname that the city has coveted for decades. When it comes to razzmatazz, the Hard Rock Hotel & Casino — formerly the Trump Taj Mahal — entertains guests with slots, table games and sports betting.  The beach bar serves customers on a patio overlooking the Atlantic ocean. A comedy club and arena host world-famous performers.
Steel Summer
For more classic Americana, the Steel Pier amusement park, directly opposite the Taj Mahal casino, delivers wholesome family fun in the form of a Ferris wheel, go-karts, candy stands, bumper cars and all manner of fried, battered and sugar-laced fairground treats. Stretching 1,000 feet into the ocean, this is New Jersey's oldest theme park and remains a popular attraction.
---
Regional Recipe
Crabmeat Soup
Blue crabs are abundant all along the New Jersey coast. Recipe adapted from Woodall's Campsite Cookbook.
Ingredients:
1 10½-ounce can condensed cream of celery soup
½ cup milk
½ cup water
½ cup cooked diced crabmeat
¼ cup shredded cheese
sliced stuffed olives
Directions:
Combine soup with milk and water. Add crabmeat and cheese. Heat until cheese melts; stir occasionally. Garnish with olives. Serves 2 to 3.
---
Ocean Life Center
The historic Gardner's Basin scenic waterfront, at the heart of the Absecon Bay, draws locals and visitors to its craft shops, diverse dining venues, scenic views and on-the-water recreation, including fishing, boating and dolphin watching tours. One of the waterfront's top attractions, at the top end of New Hampshire Avenue, is the world-class Atlantic City Aquarium, which features shipwreck artifacts, touch tanks and plenty of interactive aquatic-themed fun for the kids.
Cape May County
Rows of Victorian houses stand in front of a sandy beach in a neighborhood that seems preserved in amber. The area of Cape May County stretches for 20 miles offshore between the Atlantic Ocean and Delaware Bay at the southern tip of New Jersey, with roots of colonial settlement going back to 1620.
Architectural Gems
Cape May locals are passionate about their town's heritage. Here, visitors will find more than 600 stunning Victorian-era gingerbread buildings, which can be toured by carriage, trolley or bike. Many of the homes were owned by the nation's 19th-century blue bloods, and preservationists lovingly maintain the structures.
Superlative Sands
Two miles south of town, a pristine ribbon of white sand tantalizes beachcombers. Cape May Point State Park, is a place where whales can be spotted migrating off the coast from May to December. The park's diverse ecosystems, including wetlands that draw myriad bird species, can be accessed along three miles of hiking trails.
Follow the Cape May Trail
Ready for some beautiful Jersey hiking? The 1.6-mile novice loop trail meanders through idyllic woodlands carpeted with wildflowers, picturesque beaches and fertile marshlands.
Beach Fun
Family fun and solitude can be found in Cape May's calm waters and on the wide, sandy beaches. Popular with locals, Sunset Beach at Cape May Point boasts swimming coves and curious views of the SS Atlantus, one of 12 concrete ships built during World War I. The Atlantus ran aground in 1926.
Delightful Dolphins
See fun aquatic mammals. Dolphin-watching cruises are popular during summer in the Delaware Bay Estuary, a sanctuary for myriad marine life species.
Liberty State Park
Less than a mile across the water from New York's Ellis Island on the New Jersey Mainland, Liberty State Park gives visitors a pleasant getaway from the hustle and bustle of urban life. Visitors can stroll on the green expanses or visit the Liberty Science Center, which hosts an array of fun and interactive exhibits for visitors of all ages. The park also is home to the Empty Sky 9/11 Memorial, commemorating the fateful 2001 attack of the World Trade Center in Manhattan across the harbor.
For More Information
Visit New Jersey
609-599-6540
Cape May Chamber of Commerce
609-884-5508
Casino Reinvestment Development Authority
609-348-7100
Visit Liberty State Park