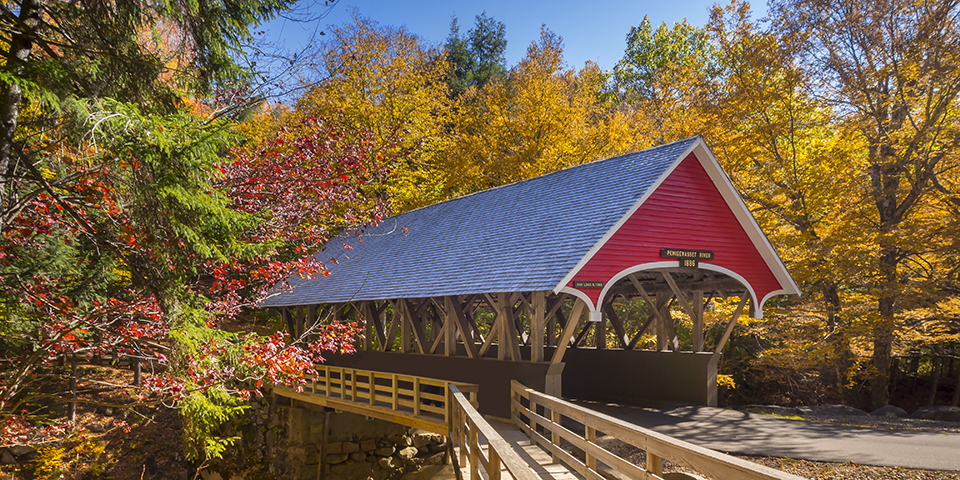 NEW HAMPSHIRE
With a nickname like "Granite State" and motto of "Live Free or Die," New Hampshire comes off as a pretty tough place. But in truth, this New England getaway is home to welcoming locals with an easygoing attitude. Find it all in these three destinations.
Franconia Notch
There's no reason to stay inside when you're in Franconia, New Hampshire. This charming town rests on the edge of Franconia Notch State Park, a veritable smorgasbord of rugged outdoor adventure.
Fine State Park
Franconia Notch State Park lies in the heart of White Mountain National Forest and is essentially a mountain pass crossed by Interstate 93, which winds between the Kinsman and Franconia mountain ranges. The Notch is immortalized in literary history, thanks to Nathaniel Hawthorne and Daniel Webster, who described the Great Stone Face belonging to the Old Man of the Mountain. Learn more about this legend at the Old Man of The Mountain Historic Site, where the famed geologic "profile" once gazed out over the landscape. Though the rock face itself collapsed several years ago, visitors can enjoy a recreated version of the Old Man at Profile Plaza and tour the museum and gift shop. If you're up for a vigorous walk that leads to stunning views, head to the Flume Gorge Visitor's Center. Explore the rising granite walls that envelope cascading water and are home to abundant ferns, mosses and flowers.
A Hot Relic
Pop into the Besaw Iron Furnace Interpretive Center and learn about New Hampshire's last standing blast furnace. The octagonal stone stack is the last portion of a 200-year-old iron smelter and was built of local granite. See the park from great heights on an aerial tramway ride at Cannon Mountain. As the site of the nation's first aerial passenger tramway, the Cannon Mountain feature is an eight-minute trip through the sky to the 4,200-foot-high summit. From the tram station, take a walking trail to an observation tower and views of New Hampshire's neighbors — New York, Vermont, Maine and Canada.
Franconia Winter Fun
Winter in Franconia means skiing, and the area boasts 55 trails and slopes for skiers of all skill levels. Between runs, pop over to the New England Ski Museum, which features exhibits that trace the history of skiing over thousands of years. Included are Olympian Bode Miller's medals. Wind down from a busy day or spend a leisurely afternoon at Echo Lake Beach. The 39-acre lake sits against the slopes of Cannon Mountain and is a great spot for boating as well as canoeing, kayaking and paddle boating. The lake's spring-fed waters are stocked with trout, making for a great fly-fishing experience.
Hampton Beach
Mild weather and calming ocean breezes characterize Hampton Beach, New Hampshire. Situated on the southern edge of the state, less than an hour north of Boston, the seaside hamlet once bore the name Atlantic City of New England.
---
Regional Recipe
Mulled Cider
New Hampshire residents take pride in their apple cider. Add a few flavorful ingredients to this local specialty to kick it up a notch. Adapted from Woodall's Campsite Cookbook.
Ingredients:
12 cups apple cider
1½ tsp whole cloves
1½ tsp whole allspice
6 sticks cinnamon
1½ cup brown sugar
1 bottle applejack
Directions:
In large saucepan, combine cider with spices tied in cheesecloth bag.
Add brown sugar. Bring to boil, stirring to dissolve sugar.
Simmer for about 10 minutes; add applejack and simmer for 2-3 more minutes. Remove spices.
Serve hot.
---
Sand and Swimming
Hampton Beach State Park is a pristine mashup of sand and sea that's perfect for swimming, sunbathing, fishing and camping. Families are the focus of many attractions in Hampton Beach; the Hampton Beach Playground has entertained little ones since the 1920s, and it is also home to the annual Children's Festival, where kids and kids at heart enjoy magic shows and a giant costume parade.
Seafood for All
Hampton Beach loves a good party, and the Hampton Beach Seafood Festival draws crowds to taste the finest fare that area restaurants have to offer. Other summer attractions here include free concerts at Seashell Stage, the Beach Master Sand Sculpting Competition, and several talent shows. Fireworks are a weekly occurrence in the summer, too.
White Mountains
Every year, more than six million visitors set foot in the White Mountains region, making it one of the most visited areas in the country. It's easy to see why. Crammed with snow-capped peaks, verdant valleys and over a thousand miles of hiking trails, this spectacular slice of New Hampshire was made for every outdoor explorer. Traversing the famed Appalachian Trail, riding the world's first cog railway, skiing down powder mountains and conquering the highest point in the northeast are just some of the bucket list activities you can tick off here.
The Granite State's Greatest Gem
Crowning the region is the White Mountains National Forest, encompassing 800,000 acres of lush greenery, sparkling streams and rugged ranges. In the heart of it all is the charming town of Lincoln. Located 65 miles north of Concord on Interstate 93, Lincoln is a popular gateway to this national forest and ideal jumping-off point for your outdoor excursions.
Hospitable Mountain Towns
Most people make Lincoln their base camp for exploring the White Mountains, but this charismatic town is just as worthy of your time as the dramatic landscapes that surround it. A great local hangout is Gordi's Fish & Steak House. Owned and operated by two former Olympic athletes, this restaurant welcomes skiers.
Soaring Above the Mountains
Take a ride on the Cannon Mountain Aerial Tramway to see soaring peaks from a birds-eye view. If you drive 30 minutes east, you'll wind up at the Mount Washington Cog Railway, the world's first mountain-climbing cog railway. Hop on to reach the summit of Mount Washington, the highest peak in the northeast U.S. At the top, enjoy views that stretch all the way to Canada and the Atlantic Ocean.
New England's Best Fall Colors
Visiting in the fall? Take a scenic drive to see a hypnotizing array of red, orange and yellow leaves waving in the breeze along country roads and mountain highways. Keep your eyes open for the famous covered bridges, too. Swing by the historic Albany Covered Bridge to snap a photo of its vibrant red roof or stroll along the pedestrian-only Sentinel Pine Covered Bridge for views of the Flume Gorge.
For More Information
Visit New Hampshire
603-271-2665
Franconia Notch
603-823-5661
Hampton Beach
603-926-4541
White Mountains New Hampshire
800-346-3687