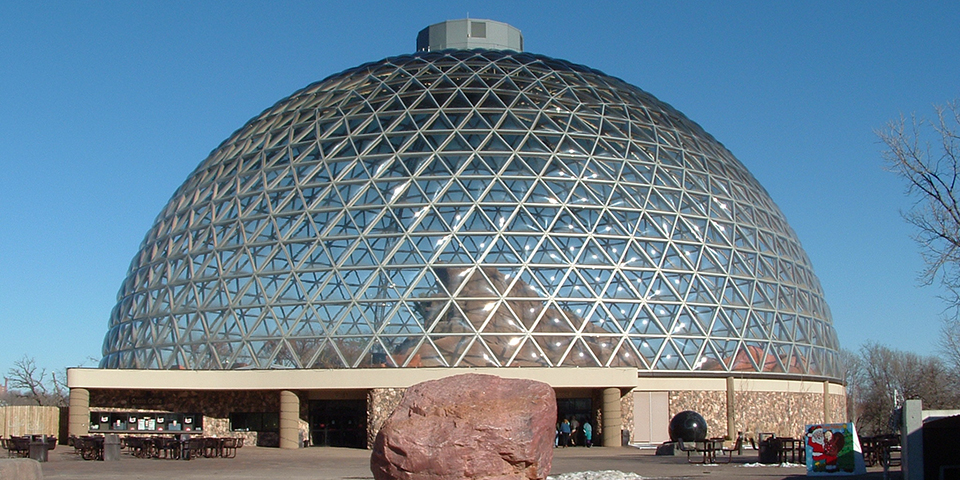 NEBRASKA
The Cornhusker State will surprise you. Beyond the sprawling fields, visitors will find historical and natural treasures — from epic rail yards to outlaw hangouts — that will capture your imagination. Take your time as you roll down Nebraska highways.
North Platte
Rail buffs from far and wide flock to North Platte to watch the action in the Union Pacific Bailey Yard, the largest railroad classification yard on Earth. Spanning 2,850 acres (equivalent to 2,800 football fields), this complex manages more than 150 trains and 10,000 rail cars every day. About 3,000 rail cars are sorted in "hump yards" and then depart to different destinations. You can see all of this taking place from the eight-story-tall Golden Spike Tower.
Cool Cody Museum
For more railroad fun, head to the Cody Park Railroad Museum. You'll find plenty of historic artifacts here including the Challenge 3900 series steam locomotive, the only one accessible to the public, and the largest 6900 series diesel locomotive ever built.
Ogallala
The Wild West lives on in Ogallala, a town that proudly celebrates its roots as a vital frontier community. See where many early Ogallala gunslingers found their final resting places at Boot Hill (not to be confused of the cemetery of the same name in Deadwood, South Dakota). Although the "residents" have since been relocated, historical markers tell the tale of many an outlaw drawn to Ogallala by the booming cattle trade of the late 1900s.
Omaha
When you arrive in Omaha, Nebraska, you can rest assured that there's lots of fun to be had. Omaha is a cosmopolitan city with a small-town feel that boasts unique attractions and ample opportunity for good old-fashioned family fun.
Durham Museum
Omaha transformed its former Union Station into a hands-on history lesson that rivals larger institutions. The Durham Museum features passenger trains from the 1940s and 1950s, vintage automobiles and historical exhibits that tell the story of Omaha's residents, from Native American peoples to adventurous pioneers to the blue-collar workers of the Industrial Age.
Zoo Under a Dome
Even the cold Nebraska winters can't chill the habitats at Omaha's Henry Doorly Zoo and Aquarium. The geodesic dome is home to the largest indoor desert in the world and supports plants and animals from three distinct environments. In the nocturnal exhibit, visitors can see animals that thrive at night.
---
Regional Recipe
Corny Chowder
This corn chowder recipe is creamy and comforting. Recipe adapted from Woodall's Campsite Cookbook.
Ingredients:
1 2-oz package à la king sauce mix
3 cups milk
1 12-ounce can whole kernel corn (or fresh yellow corn)
2 tbsp minced onion
1 spring fresh thyme
Hint of honey
Directions:
In large pan, empty contents of sauce mix package; stir in milk. Add corn, onion, thyme and honey. Heat to boiling over medium heat, stirring constantly. Serves 4-5.
---
For More Information
Nebraska Tourism Commission
877-NEBRASKA
North Platte/Lincoln County Visitor's Bureau
800-955-4528
Visit Ogallala
800-658-4390
Visit Omaha
866-937-662