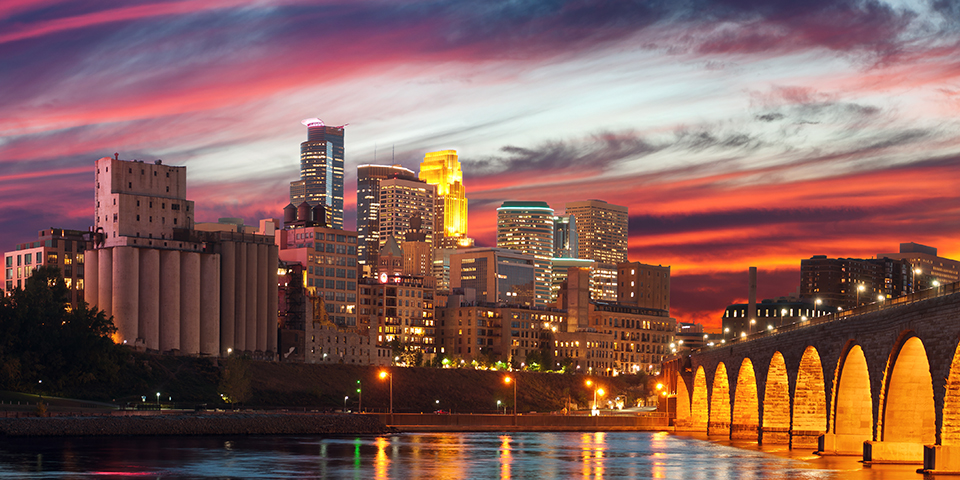 MINNESOTA
Minnesota's forests, lakes and river boast endless possibilities for recreation lovers. But travelers are advised to make time for some of the state's excellent cities.
Hinckley
Hinckley is a town with history; from the Fire Museum and abandoned sandstone quarry to a reconstructed 18th-century trading post, there's so much to see. Water lovers have two rivers to "shoot the rapids" on; for hikers, there are miles of trails to explore or you can cast out a line and fish.
A Wall of Fire
It started with a spark more than 125 years ago, and the town of Hinckley, along with a quarter-of-a-million acres, burned to the ground. Today the community remembers the hundreds who died in 1894 and honors those who fought a wall of fire four miles across. The Fire Museum houses artifacts and exhibits paying tribute to one of the largest wildfires in history. The Hinckley Fire Monument marks the graves of those who perished.
Shoot the Rapids
The St. Croix River, a National Scenic Riverway, is a great place to paddle among lush forestlands while fishing for smallmouth bass, muskies and trout, or shoot step-rapids along a rocky shelf. Grindstone Lake is an angler's paradise stocked with lake trout, bullhead, bass, crappie and perch. Kettle River, designated a State Wild and Scenic River, and located at Banning State Park, is one of the most outstanding whitewater rafting rivers in the Midwest. Raft through Mother's Delight, Blueberry Slide and the Dragon's Tooth. Feeling invincible? Tackle the infamous Hell's Gate Canyon, boulder-bed rapids where you'll come out feeling like you've been through…well, you know. The otherworldly rocks on the banks are perfect for photo opportunities.
Explore Nature
Banning State Park is a natural paradise. Hit the trails and discover the Log Creek Arches, rock shelters, gorges and ruins of an abandoned sandstone quarry that still stand as a testament to the late 1890s. A winter trip to Robinson Quarry Ice Cave provides a chance to scale up ice-covered quarry walls. Lace up those hiking boots and head out for a 70-mile trek on Willard Munger State Trail, the fifth-longest continually paved trail in the country.
Step Back in Time
Get an in-depth look at 18th-century life at the Snake River Fur Post, where settlers traded hides for axes, kettles, blankets and tools. Costumed guides escort you to the Ojibwe encampment where birch bark wigwams and canoes reside. Wander 1.5 miles of nature trails through woodlands, wetlands and prairies.
---
Regional Recipe
Antelope Stew
Antelope is abundant in Minnesota. Recipe adapted from Woodall's Favorite Recipes from America's Campgrounds.
Ingredients:
Antelope, cut in 1" chunks
3 or 4 potatoes
Several carrots
1 onion
1 can cream of tomato soup
1 can cream of celery soup
1 can cream of mushroom soup
salt & pepper to taste
1 bay leaf
Directions:
Stew antelope until tender. Cut up potatoes and carrots in small pieces. Add chopped onion and stewed meat. Salt and pepper to taste. Add soups, diluted with ⅓ can of water. Add bay leaf. Cook in crockpot or
slow oven at 250 degrees for
5 hours.
---
Minneapolis
Minneapolis began life as a humble fur-trading center on the banks of the Mississippi River in the 17th century. Fast-forward to the 21st century, and the downtown's gleaming skyscrapers show just how far the city has come. Fortunately, locals have gone to great lengths to preserve the past while keeping an eye on the future of this Midwest metropolis.
Water, Water Everywhere
Although Minnesota is known as the Land of 10,000 Lakes, residents of Minneapolis are content with the handful of lakes located in town. Lake Harriet is a great place to go sailing, kayaking or fishing just a few short miles from downtown. The band shell on the north shore of the lake hosts numerous live music events during the summer. Lake Calhoun, the city's largest lake, offers a fishing pier and a boat dock as well as sandy beaches for soaking up the sun and cooling off in the water. Lake of the Isles lets small, four-legged visitors run free at an off-leash dog park.
Fireworks Over the Lake
If you're visiting on July 4, unfold a picnic blanket in the Riverfront area on the Mississippi and watch one of the largest fireworks displays in the country. An even bigger pyrotechnics show erupts over the river during Minneapolis Aquatennial each summer.
Walker Art Center
The Walker Art Center is a 17-acre campus and encompasses 20th-century masterpieces by Edward Hopper, Yves Klein, Chuck Close and more. The Walker's crown jewel, the renowned Minneapolis Sculpture Garden — the largest urban outdoor sculpture garden in the nation — displays more than 40 sculptures, including Claes Oldenburg's "Spoonbridge and Cherry." This is a 29-foot-high sculpture of a cherry perched on the tip of a gargantuan spoon that arches over a pond.
Lake Superior Shores
Several state parks celebrate the stunning beauty of Minnesota's North Shore along Lake Superior. Visit the state parks at Gooseberry Falls to stand in awe of the cascading waterfalls and rivers, or head to Split Rock Lighthouse for the iconic site of the grand beacon perched on a rocky bluff overlooking this inland sea. Built in 1910, this beacon is one of Minnesota's most photographed sites.
Cool Cascades
You'll find even more high waterfalls as you traverse the shore. The 120-foot High Falls at Grand Portage State Park are located on the Pigeon River, part of the international boundary with Canada. The highest falls entirely within Minnesota are the 70-foot High Falls of the Baptism River, part of Tettegouche State Park. The falls can be accessed via a 3-mile trail departing from the visitor center.
Raging Rivers
Along the southwest half of the North Shore, rivers churn with whitewater during spring run-off and heavy rains. They can carry up to four times as much water as those with headwaters. From the Manitou River northeast, the rivers have lakes feeding into them, providing a more stable flow. You'll find great rafting here.
For More Information
Explore Minnesota Tourism
888-868-7476
Hinckley Convention and Visitors Bureau
800-952-4282
Meet Minneapolis
888-676-6757
Minnesota North Shore Visitor