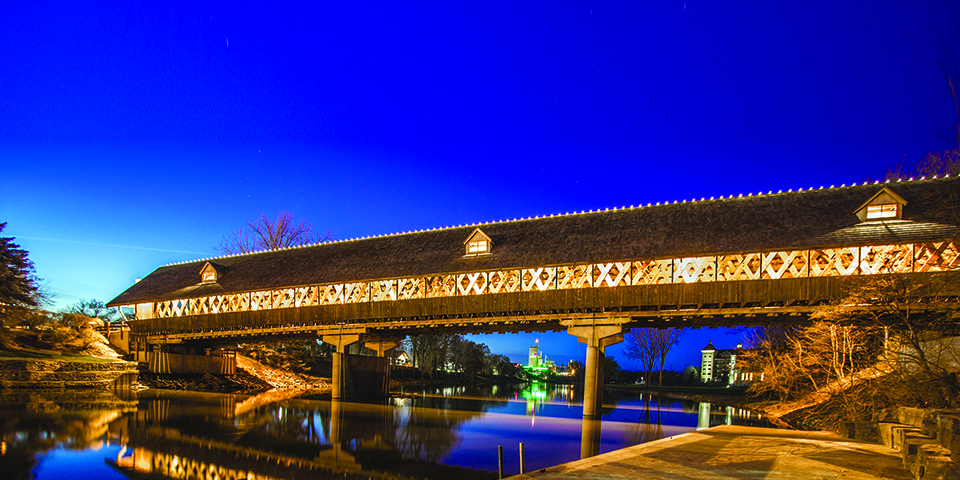 MICHIGAN
A store devoted to Christmas, an automobile-free island and a cherry-growing powerhouse make these Michigan destinations truly special. Explore three spots that lovingly preserve the past.
Frankenmuth
Frankenmuth, known as Michigan's Little Bavaria, has German architecture, polka music and the largest Christmas store in the world. Procure one-of-a-kind treasures for everyone on your gift list at River Place Shops. Contemplate the splendor of those stained-glass windows at the Gothic St. Lorenz Lutheran Church before indulging in a world-famous fried chicken dinner — considered town-wide comfort food.
Tis the Season All Year Long
Year-round, folks travel from far and wide to visit Bonner's Christmas Wonderland, the world's largest Christmas store. The holiday spirit starts in the parking lot, where huge ornaments, a jolly Santa and life-size crèche create great photo-ops. Inside the 2.2-acre building are more than 350 decorated trees and more than 500 nativities.
Mackinaw City
Although it's one of Michigan's most-visited cities, Mackinaw City is a tiny place, with just over 800 full-time residents. However, during the warm summer months, the local population swells with visitors.
---
Regional Recipe
Cherry Pie
Make sure that you use "pie cherries," also known as sour cherries, to bake a delicious cherry pie. Recipe adapted from Woodall's Campsite Cookbook.
Ingredients:
4 cup cherries, washed, pitted
1¼ cup sugar
4 tbsp cornstarch
½ tsp cinnamon
¼ tsp almond extract
2 tbsp lemon juice
2 tbsp melted butter
1 pkg (2 crusts) pie crust mix
Directions:
Combine cherries with sugar, cornstarch,
cinnamon, almond extract, lemon juice and
melted butter. Prepare pie crust according to package directions. Line pie pan with crust: fill with cherry mixture. Cover cherry mixture with top crust; make a few small slits in crust. Bake at 350 degrees for 45 minutes.
---
Launching Point
Mackinaw is a major jumping-off point for other destinations in the Mackinac Straits area, including popular Mackinac Island, where cars are prohibited and visitors can ride in horse-drawn carriages. Mackinaw City sits at the northern tip of Michigan's Lower Peninsula and is linked to the Upper Peninsula by Mackinac Bridge. The "Mighty Mac," is the world's fifth-longest suspension bridge between cable anchorages, with a span of 26,372 feet (nearly five miles).
Traverse City
Traverse City's modern-day claim to fame dates all the way back to its infancy when, in 1852, a local missionary named Peter Dougherty decided to throw agricultural caution to the wind and plant himself a cherry orchard. He selected the sandy soils of Old Mission Peninsula for his future masterpiece and planted the first of his seedlings.
Cherry Town
More than 160 years and 3.8 million cherry trees later, Traverse City is the undisputed (and self-appointed) "Cherry Capital of the World." More than 70 percent of world's tart cherries are now grown in Michigan, with most of that supply coming from the Traverse Bay area. It would seem that Peter Dougherty was on to something.
For More Information
Travel Michigan
888-784-7328
Frankenmuth
800-386-8696
Mackinaw City
800-666-0160
Traverse City Convention & Visitors Bureau
800-872-8377