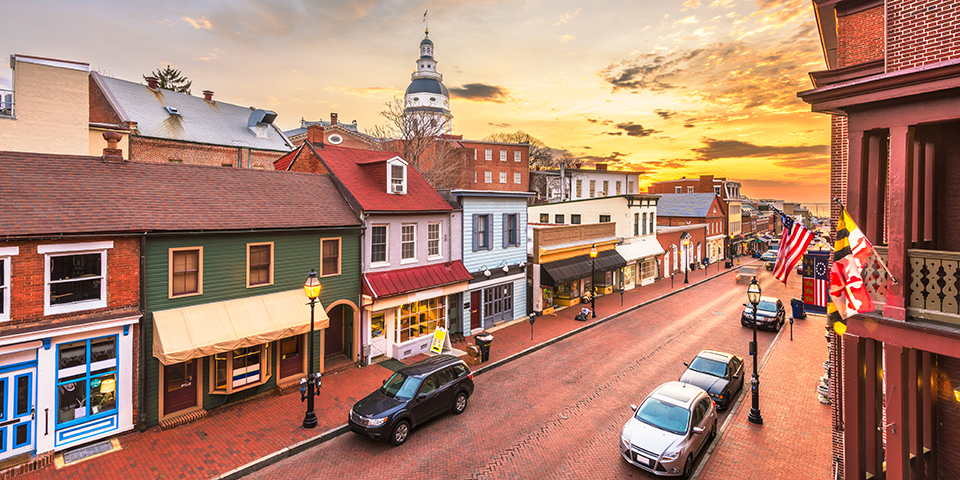 MARYLAND
Y

ou can never accuse Maryland cities of being boring. Relive some of the most turbulent chapters in American history in Baltimore; watch cadets transform into officers at the U.S. Naval Academy in Annapolis; and get a front-row seat to D.C. happenings at College Park.
Annapolis
From its start as a Puritan settlement in the 1600s, Annapolis has played a starring role in American history. A walk in Annapolis is a walk back in time. Buildings from the Colonial Period and Revolutionary Era line the cobblestone streets of this picturesque town on the Chesapeake Bay.
A Waterfront Town
The Severn River meets the Chesapeake Bay in Annapolis. With colorful buildings overlooking the waterfront, the historic downtown district is a picture-perfect place to stroll. The Annapolis City Dock offers restaurants and shops, as well as many places to relax and watch the watercraft glide across the bay.
In the Navy
A visit to the waterfront is not complete without a stop at the U.S. Naval Academy. This institution dates back to 1845 and is still a functioning military service academy. Visitors will find sites from a time when the grounds served as a fort, as well as a number of buildings utilized by today's cadets.
---
Regional Recipe
Maryland Crab Cakes
Maryland is known for its crabs, and this tantalizing recipe brings out that crabby flavor. Recipe adapted from Woodall's Favorite Recipes from America's Campgrounds.
Ingredients:
1 lb crabmeat
1 tsp Old Bay seasoning
¼ tsp salt
1 tbsp mayonnaise
1 tsp Worcestershire sauce
1 tbsp chopped parsley
1 egg beaten
¾ panko bread crumbs or saltine crackers
Directions:
Mix egg, mayonnaise, Worcestershire sauce and salt. Stir together crabmeat, parsley and bread crumbs, and gently fold in the mayonnaise mixture. Form into small patties and fry over medium-high heat, about 4-5 minutes per side.
---
Baltimore
Baltimore is about as welcoming an urban environment as you're likely to find anywhere in the country. From blue crabs to "Natty Boh," locals love their city's quirky staples and are quick to share the secrets of their hometown with visitors. Walk the cobblestone streets of Fell's Point.
Historic Harbor
Most first-timers will head straight to the Inner Harbor and for good reason: From there, it's just a quick water taxi to historic Fort McHenry National Monument. After American soldiers repelled a British naval attack during the War of 1812, the tattered flag hanging above the fort inspired Francis Scot Key to pen the "Star-Spangled Banner."
College Park
Just a short distance from Washington, D.C., the town of College Park is an ideal base of operation for visitors planning day trips into the nation's capital.
Aviation Heritage
College Park has deep roots in the development of American aviation. The Wright Brothers established an airfield here in 1909 to conduct flight tests and later to train army pilots. Today, the College Park Aviation Museum sits on the grounds of the airfield, the world's oldest continually operating airport.
For More Information
Maryland Tourism
800-543-1036
Visit Annapolis
888-302-2852
College Park
www.collegeparkmd.gov
Visit Baltimore
877-225-8466