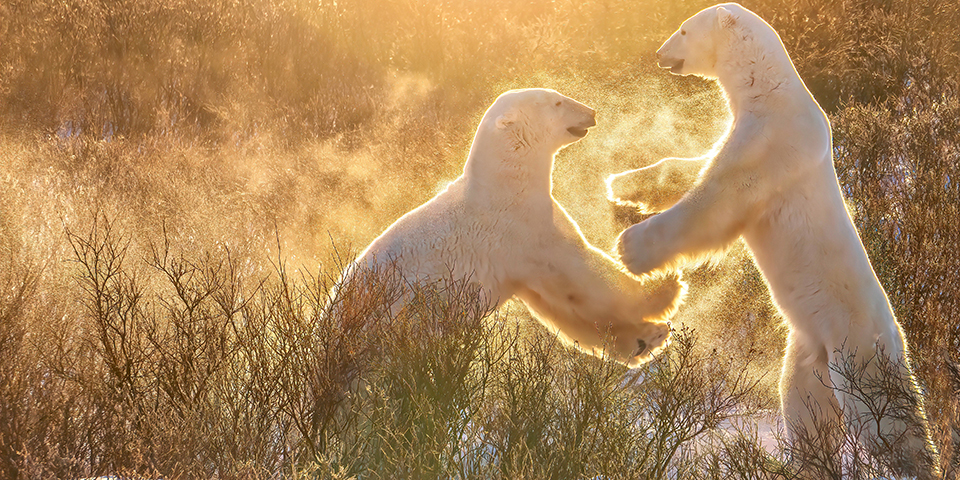 MANITOBA
Canada's Keystone Province doesn't fool around when it comes to fun. See polar bears in the north, watch bison along the Yellowhead Highway and walk the footsteps of French fur traders in the capital city. See where history was made at the meeting of the Red and Assiniboine Rivers.
Grand Beach
The words "beach" and "prairie" don't always go together, but in Manitoba's Grand Beach, the two concepts live side-by-side quite nicely. Located just one hour north of Winnipeg on Highway 59, the area has enjoyed the status as one of the favorite destinations of the Keystone Province. Sitting on the northern edge of the small town of Grand Marais, Grand Beach boasts almost two miles broad, sandy beaches on the gentle shores of Lake Winnipeg.
Fun Boardwalk
A boardwalk at the west end of the beach offers food and shopping. Bring a basket and pick the ample Saskatoon, chokecherry and blueberries that grow around the beach.
Riding Mountain National Park
Drive approximately 60 miles north and you'll wind up in Riding Mountain National Park. A wealth of wildlife species inhabit its lush boreal forests, grasslands marshes, and wetlands. Many visitors report spotting everything from lynx and moose to black bears and owls.
---
Regional Recipe
Manitoba Garlic Potatoes
Taste flavors grown only in rich Manitoba soil. Recipe by Jim Scott, provincial director, Manitoba & North West Ontario.
Ingredients:
2-3 lbs potatoes, cubed
1 tbsp margarine
1 cup milk
4-6 cloves garlic, minced
1 ½ tsp salt
Pepper
½ cup Parmesan cheese
Directions:
Preheat oven to 400 degrees. (We use our convection/toaster oven in the trailer). Toss potatoes, margarine, milk, garlic, salt and pepper together in a bowl. Place in greased 9" x 13" pan. Bake 25 minutes. Stir. Sprinkle with Parmesan cheese. Bake another 30 minutes. Serves 4-6.
---
Big Bison
If you'd like to come face-to-face with a herd of 30 massive bison, head to nearby Wasagaming, located at the park's south gate, for a Canadian safari you won't forget. The provincial parks of Rivers, Spruce Wood, Turtle Mountain and William Lake can also be easily accessed from Brandon.
Winnipeg
At the junction of the Red and Assiniboine Rivers, the eighth-largest city in Canada pulses with a unique blend of European and First Nation cultures. Over the centuries, Winnipeg evolved from a major trading center to a vital hub for recreation and industry. Visitors can enjoy its urban pleasures or use it as a springboard for trips to the parks around the city. Winnipeg's history is highlighted by the Forks National Historic Site, where the Red and Assiniboine Rivers meet.
Bridge to Adventure
Nearby, the Esplanade Riel Pedestrian Bridge takes visitors to St. Boniface, known as Winnipeg's French Quarter. Founded in 1818 by French fur traders, St. Boniface is the largest French-speaking community west of the Great Lakes. Lovers of big mammals should visit the northern town of Churchill in the fall, when polar bears pass through town during their migration.
For More Information
Travel Manitoba
800-665-0040,
Grand Beach Tourism
Riding Mountain National Park
www.pc.gc.ca/en/pn-np/mb/riding
Tourism Winnipeg
855-PEG-CITY