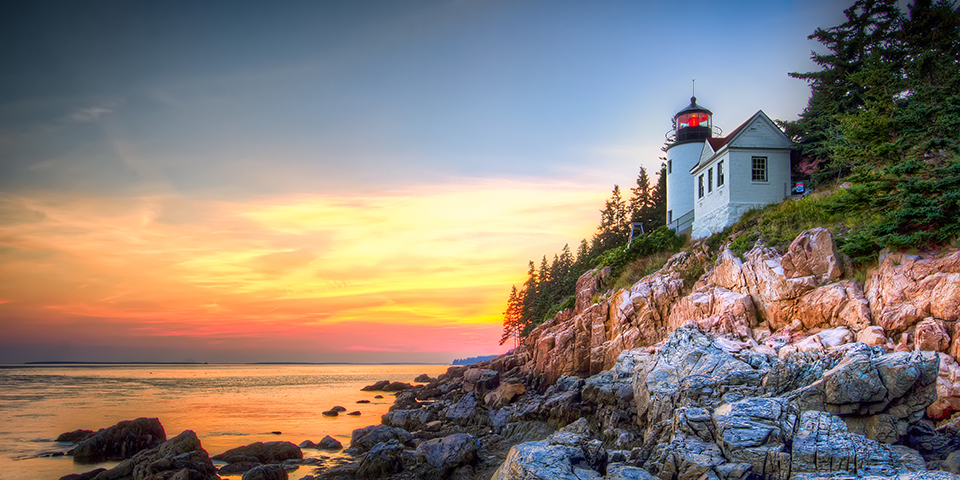 MAINE
Behind the Pine Tree State's rugged image lies a warm hospitality that makes this place special. You'll feel at home as you explore the rugged coastlines and deep inland forests of a majestic northeast state. Don't be a "chowdah head": Dive right into adventure.
Bar Harbor and Acadia National Park
Welcome to Bar Harbor, a seaside community of unparalleled beauty where you'll discover everything from stunning coastlines and sweeping ocean cliffs to delicious Maine lobster, fresh off the boat. Breath in that salty sea air while savoring exceptional sunrises, timeless afternoons and cozy fogged-in evenings. Here, life is the way it should be.
The Maine Treasure
Acadia National Park encompasses 48,000 acres with 120-miles of hiking trails, 16 stone bridges, a profusion of scenic old carriage roads and abundant wildlife. Traverse the historic Park Loop Road on a 30-mile enchanted journey through pristine forests and along rugged shorelines. Cadillac Mountain, the highest point in the eastern U.S., is known for spectacular sunrises and sunsets. Explore the austere beauty of Mount Desert Island along the Ocean Trail and thrill to the heart-pumping roar of Thunder Hole. 
An Ocean Wonderland
Cast out into the Atlantic for black sea bass, mackerel, tuna, and shark. Cold-water anglers can hook landlocked salmon, lake trout and white perch. Clear warm-water ponds are home to brown trout, smallmouth bass and sunfish. 
---
Regional Recipe
Quick Blueberry Muffins
Maine's blueberries are famous for their sweet flavor. Create muffin magic. Adapted from Woodall's Campsite Cookbook.
Ingredients:
2 cups biscuit mix
¼ cup sugar
½ tsp cinnamon
1 egg
1 cup sour cream
1 cup fresh blueberries
Sugar for sprinkling
Directions:
Lightly grease muffin cups. In mixing bowl, combine biscuit mix, sugar and cinnamon. In another bowl, blend egg with cream and stir into dry mixture. Beat with fork until well blended. Gently fold in blueberries. Spoon batter into muffin cups, sprinkle each with sugar. Bake at 350 degrees for 20 minutes.
---
Bangor
Standing over 30 feet tall, the imposing figure of Paul Bunyan rises above the streets of Bangor, massive ax swung over his shoulder. Erected in 1959, the fiberglass-over-metal-frame statue is a nod to the city's role in the lumber industry.
Port of Plenty
Located near the North Maine Woods and the Penobscot River on Interstate 95, Bangor was a major port for shipping Maine's hardwoods out to the world through the late 1800s. Grand mansions from this era can be found tucked in cozy neighborhoods.
Portland
Perched on the edge of Casco Bay is the city of Portland, Maine, built by a sturdy community that built its economy on the sea.
By the Bay
Casco Bay is a year-round port for cruise ships thanks to its deep water. Nature trails on Long Island beckon hikers and birdwatchers, and Great Diamond Island is home to the parade grounds of old Fort McKinley.
For More Information
Maine Office of Tourism
888-624-6345
Bar Harbor & Acadia National Park
207-288-5103
Greater Bangor CVB
800-91-MOOSE
Visit Portland
207-772-4994