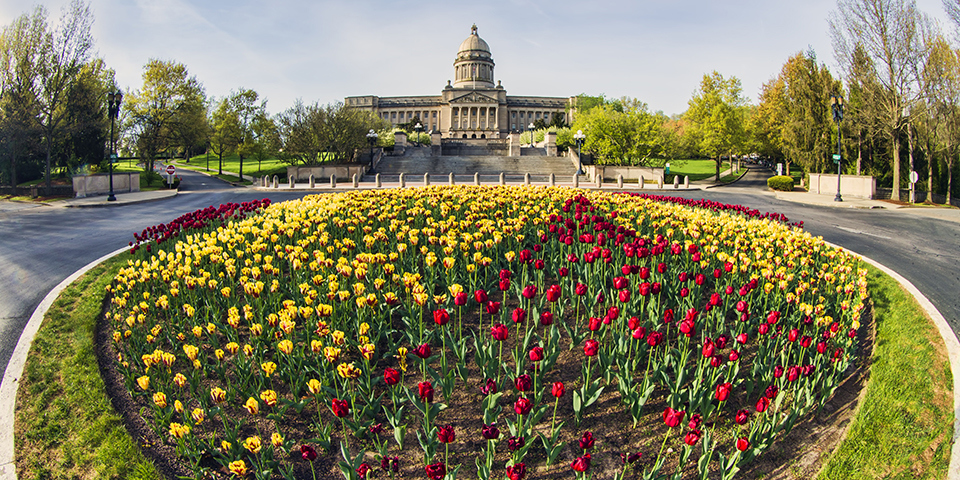 KENTUCKY
Go deep under the surface of Kentucky in three spots that might make you see the Bluegrass State in a different way. Walk in the footsteps of Daniel Boone and see the world's most amazing collection of Corvettes.
Cave Country
Cave Country is home to Mammoth Cave National Park, one of the longest cave systems on the globe. This underground wilderness stretches for more than 360 miles under Kentucky's southern mountains. It is also one of the oldest tourist attractions in the U.S., offering cave tours since 1816. Tours are only available in the spring and summer months. For the safety of all guests and the preservation of delicate cave structures, some areas are banned from cave tours.
Above Ground
There are plenty of fun things to do above ground. Take a hike or horse ride along the 70 miles of backcountry trails or explore 31 miles of shoreline along the Green and Nolin rivers. With 52,800 surface acres, the park offers plenty of other interesting things to see and do aside from exploring the caves.
Dino Delights
One of the must-see attractions that will have your kids squealing with delight is the Dinosaur World amusement park. The park showcases over 150 life-size dinosaurs to terrify and amaze the kids. It also includes a fossil dig and a boneyard. The young ones can become paleontologists for the day and make discoveries of their own, some of which they can take home. For kids with a little more adventure in their heart and for parents who are not too squeamish about accompanying them, there is Mammoth Cave Adventures, a rip-roaring, adrenaline-fueled adventure that will keep all the family happy. At this adventure playground, you can let the professional and well-trained workers take you on a tour of the grounds, flying high and fast on ziplines and walking shakily over sky bridges.
Ride Cave Country
Life is a little more relaxed at Jesse James Riding Stables—within the Kentucky Action Park—but it's still an adventure. Here you can ride a tame and trained horse over an area that Jesse James and his gang of outlaws once roamed. The stables can be enjoyed by all age groups, and there are also a number of other activities nearby, including bumper cars and bumper boats, an alpine slide and a mini-golf course. Away from the Kentucky Action Park you can experience the wilder side of the Wild West at Guntown Mountain.
Draw Your Weapons
Guntown Mountain is a historical and educational site created in the style of a typical town in the Old West. There are authentic can-can dancers, gun battles, saloons and even a sky lift, although the last one is a little less authentic than the others. Guntown Mountain is not the only place to grab a slice of the old country, and the Cave City area has an incredibly rich and diverse history, which is exhibited in a number of museums. Begin your museum tour with a trip to the Crystal Onyx Cave, where you can see some natural and awe-inspiring onyx formations alongside an old Indian burial ground. After you've seen all that nature can create, take a trip to Riverview at Hobson Grove, a beautiful 19th-century home located near the Barren River. This stunning Victorian-style house sits on the Civil War discovery trial and gives visitors an elegant insight into life in 19th century Kentucky.
From Caves to Corvettes
Cave City is also home to the National Corvette Museum, showcasing the history of this proud and powerful American sports car. Staying with the topic of transportation, the Historic Railpark Museum will keep rail enthusiasts and history buffs happy, as visitors are invited to step back in time and step inside some fine historic locomotives.
---
Regional Recipe
Bourbon Caramel Sauce
Use this top Kentucky export to add a bold new flavor to caramel. Recipe by Kate Dunbar.
Ingredients:
2 cups granulated sugar
1 cup heavy cream
4 tbsp softened, unsalted butter
1½ tsp sea salt
2 tbsp bourbon (try Maker's Mark or Basil Hayden's)
2 tsp vanilla
½ cup water
Directions:
In saucepan combine granulated sugar and water. Cook without stirring for 10 minutes until the sugar has turned a deep amber color. While the sugar and water are cooking, warm the heavy cream and butter in a small saucepan until the butter has melted. Carefully and slowly whisk in the warmed heavy cream and butter into the sugar mixture. Cook an additional 2 minutes, continue to whisk. Turn the heat off, whisk in the bourbon and vanilla, and then add the sea salt. Stir and carefully pour into a heatproof container and allow to cool for a bit.
---
Whitley County/Cumberland Falls
When Daniel Boone blazed his lonesome westward trail over the mighty Appalachians and across the scenic Cumberland Gap in the latter half of the 18th century, he reported a landscape full of thick, dense and incredibly diverse forests. Towering oaks, cedars, pines and sycamores thrived side by side, choking out the sun with canopies as thick and lush as an Amazonian rainforest.
Forest Primeval
The county itself is draped across the Cumberland Mountains and houses a large swath of Daniel Boone National Forest, where the last remnants of Kentucky's prehistoric and incredibly diverse forests still proudly stand. Because of its mostly wild and all-natural terrain, the county is a popular spot for adventure-seekers, backcountry campers and wildlife photographers.
Cool Cliffs
The Pottsville Escarpment—a craggy line of sandstone cliffs and valleys that form the region's transition from rocky mountains to rolling foothills — carves its way through the county, producing a landscape that's positively packed with dramatic natural features like tumbling waterfalls and massive stone arches. An endless supply of well-marked and well-maintained hiking trails snake their way through the forest, and myriad streams and rivers make it easy to explore the forest's 2 million acres by kayak or canoe.
Cumberland Falls
The undisputed star of the show in Whitley County is, without a doubt, Cumberland Falls. Set within Daniel Boone National Forest itself, Cumberland Falls State Resort Park is home to what locals affectionately refer to as "Niagara of the South." With a wide rock shelf more than 250 million years old, the Cumberland River tumbles over a horseshoe-shaped drop and plummets 65 feet into a large open river basin. At its seasonal peak (when the river is in "flood" status), the width of the falls stretch to upwards of 300 feet, but even at the river's lowest point the falls span a 125-foot half-circle.
Cumberland on Foot
Once you're done ogling the state's most scenic natural attraction and exploring the region's incredible prehistoric history, the park offers lots of opportunities for hiking, camping and fishing. More than 17 miles of marked trails wind their way around the falls area, and more than 50 campsites with full electrical hookups are available for use, while anglers can cast their lures into the Cumberland River, hoping to snag some hefty bass, catfish, panfish and roughfish.
Frankfort
Frankfort is a small (but culturally and historically rich) city that rests on four sides of the Kentucky River. Along its western route from Lexington, this snake-shaped body of water crosses through Frankfort's town center, creating four distinct sections of town. As the fifth-smallest state capital in the country, Frankfort may not be associated with the glitz and glamor of large metropolitan areas (the closest airport is near Lexington), but instead, it contains a dense variety of attractions, both man-made and natural, that reflect the Southern hospitality that the region is known for. Visitors are welcomed with a wide variety of historical sites, homegrown museums, restaurants that feature authentic Southern cooking and, of course, the great outdoors, all of which continue to attract recreational enthusiasts and history buffs to what locals call a "true river city."
Storm Fort Hill
Kentucky's capital city has a rich historical background that has been preserved for 21st-century enjoyment. While exploring the shops and restaurants located in the downtown Frankfort Capital Plaza, newcomers should take notice of the Capital Plaza Office Tower. This is not just the tallest building in the city, but it serves as the entrance to a literal battlefield—a trail that has remained virtually unchanged since the 1800s leads visitors from Capital Plaza to Fort Hill. Known as the "capital city battlefield" due to the site's significance during the Civil War, Fort Hill has since been turned into a historic park.
For More Information
Kentucky Department of Tourism
800-225-8747
Whitley County Tourism
606-549-0530
Cave Country
370-782-0800
Frankfort/Franklin County Tourist and Convention Commission
800-960-7200