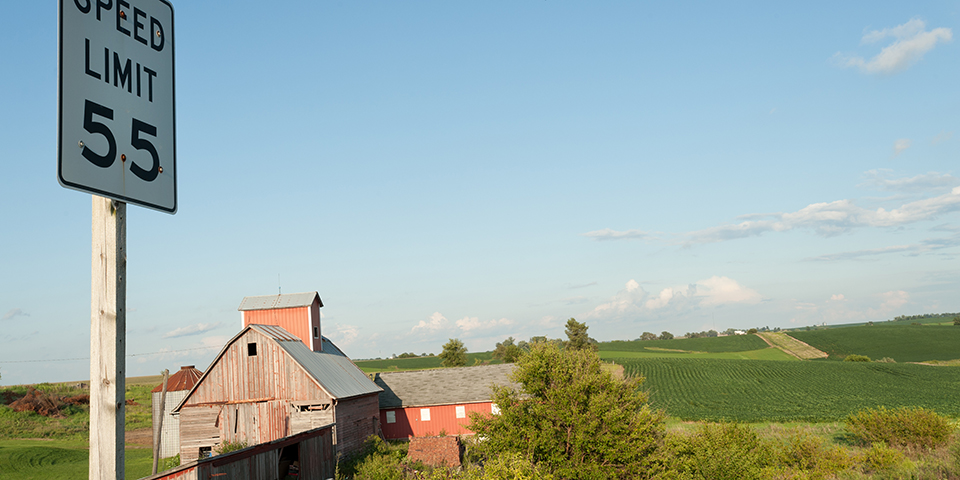 IOWA
Iowa's towns make the most out of their Midwest location. The annual state fair in Des Moines has gained iconic status as the ultimate agricultural showcase, while the community of Amana Colonies is a window into the past. Check out the communities along the Mississippi River.
Amana Colonies
In east-central Iowa, the historic Amana Colonies provide captivating insights into the traditions and crafts of 19th-century communal society. Opening their doors to visitors and history buffs, the hamlets form a compelling tapestry of over 500 historical buildings, including brick homes, a schoolhouse, trade shops and a mill, giving way to an Arcadian landscape of gently rolling hills, tranquil lakes and deep forests.
Amana Roots
The Amana Colonies, known communally as the Amana Society, were settled beginning in 1855 as a series of villages by the Community of True Inspiration. The Inspirationists were German Pietists who existed throughout several provinces of Germany and Northern Switzerland. In the 1840s, migrants to America began to form a communal society, allowing all members to afford the arduous journey. In 1855, the whole group settled in Iowa.
Living History
Today, the area's history is honored in Amana's museums and trade shops. Managed by the Amana Heritage Society, the Noé House, built in 1864, houses a series of exhibits that chart the origins and evolution of the founding German sect. Evocative structures and living history exhibits include an 1870 schoolhouse, wine-making and gardening displays, a communal-era kitchen, a cooper shop, a blacksmith shop and a working general store.
Milling Around
The Amana Woolen Mill is the Amana Colonies' oldest business and has been producing textiles and helping to fulfill the Amana's mission for economic self-sufficiency since 1857. At the Ruedy Kitchen — the Colonies' only remaining communal kitchen — guides provide demonstrations and relate historical events. The kitchen's large brick hearth and dry sink with wooden tubs evocatively recreate the last communal dinner of 1932.
Communal Crafts
Since the mid-19th century, Amana artisans have gained worldwide acclaim for their furniture, decorative objects, clocks and textiles, all beautifully made according to traditional techniques that date back to 17th-century Germany. At the Amana Furniture and Clock Shop, you can watch these experts ply their trades in the viewing gallery and peruse handcrafted timepieces, including intricate Gelnhausen grandfather clocks.
---
Regional Recipe
Homemade Corn Dogs
This classic American snack is a staple at the Iowa State Fair, but you can make this wholesome dog anywhere. Recipe by the Good Sam Team.
Ingredients:
1 pack (8-10) all beef hot dogs
¾ cup cornmeal
1 cup flour
2 tbsp sugar
1 tsp salt
1 tsp baking powder
1 tsp nutmeg
1 cup buttermilk
2 eggs
2 tbsp melted butter
1 quart vegetable oil
Directions:
Dry the hot dogs with a paper towel, lightly coat with flour. Skewer hot dogs on wooden (popsicle or bamboo) sticks. In a large bowl, stir together flour, cornmeal, sugar, baking powder, salt and nutmeg. Whisk in eggs, buttermilk and melted butter. Let rest at room temperature for 20 minutes. Heat a pot of oil to 350 degrees. Dip hot dogs in cornmeal mixture until thoroughly coated. Place dogs in oil for 3-4 minutes, 1–2 hot dogs at a time. Rotate the dogs with tongs to cook evenly. Serve with ketchup and/or mustard.
---
Rocking Rocker
A fabled roadside attraction, Iowa's Largest Rocking Chair takes center stage in the West Amana Broom and Basket Shop. Visitors can climb onto the seat of the 11-foot-tall, 650-pound monster and feel the gentle sway. Shoppers can purchase smaller versions of the big chair. Also in the area, the Amana Meat Shop & Smokehouse preserves traditional Germanic methods of curing ham, bacon and sausage, while Opa's Tractor Museum displays an assortment of agricultural tools, machines and memorabilia.
Ode to Germany
The Amana Colonies' German heritage finds expression with fun-filled festivals and events held throughout the year. Maypole dancers are the stars of Maifest, while locals don their finest lederhosen and dirndls for dancing at Iowa's Oktoberfest. At the lighthearted Wurst Festival in June, attendees partake in lashings of sausages, beer, wine, music, games, contests and tongue-in-cheek seminars at Wurst University.
Des Moines
In central Iowa, the state's capital city of Des Moines welcomes visitors with a plethora of attractions. As you drive across town, you might catch a glimpse of a golden dome glittering in the sun from Iowa's gold-capped Capitol building. Downtown's Pappajohn Sculpture Park is an interesting place to explore, with its massive artworks displayed against a backdrop of the city's skyline. Hit the Downtown Farmers Market to sample some amazing cuisine and take home locally grown produce. In the evening, take a stroll along the Principal Riverwalk, a pedestrian pathway that winds its way through landscaped public spaces as it connects many of the city's walking and biking trails. A historical trip through Iowa wouldn't be complete without visiting Living History Farms just outside of Des Moines. This 500-acre estate is an interactive museum with working Indian and pioneer farms and re-enactments of prairie life. Head back into Des Moines for a visit to the Capitol building, the epicenter of state politics and first stop on many presidential campaigns. The guided tours are excellent and, if you're brave enough, you'll have the chance to climb the narrow, winding steps to the top of the building's dome.
Okoboji
The Okoboji region of northwest Iowa is home to a chain of beautiful, glacier-carved lakes. Known as the Iowa Great Lakes, these waterways offer 12,000 acres of natural fun. Find a quiet cove and toss in a line. You'll likely snag some walleye, bass or crappie. A number of state parks can be found in the region, offering beaches, boating, hiking trails and an abundance of recreational opportunities. The Iowa Great Lakes Trail network winds its way around the stunning blue waterways and through grassy prairies, allowing you to experience Iowa's great outdoors on foot or on wheels. Several resort communities dot the region, hearkening back to earlier days of small mom-and-pop stores and friendly diners serving Midwestern blue-plate specials.
For More Information
Iowa Tourism Office
800-345-4692
Amana Colonies Visitors Center
319-622-7622
Catch Des Moines
800-451-2625
Vacation Okoboji
800-270-2574