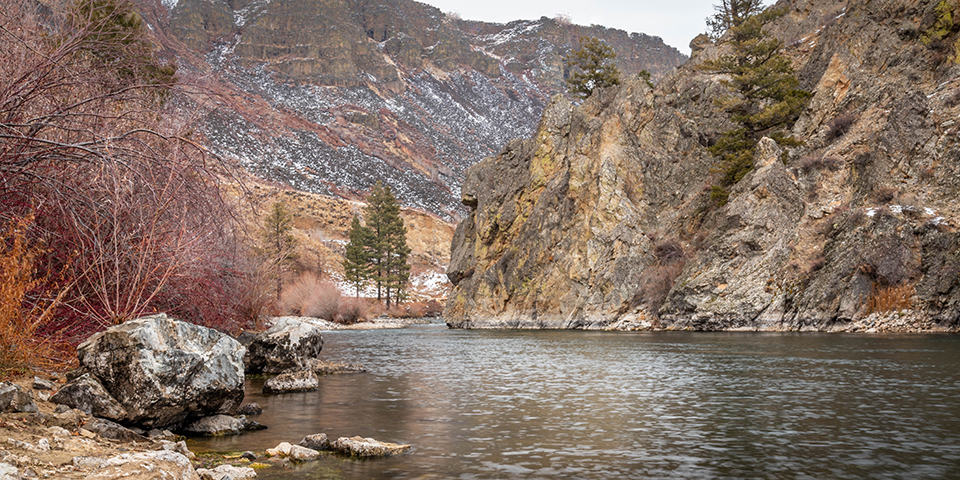 IDAHO
Sawtooth Mountains. Hells Canyon. Craters of the Moon. Idaho wins the prize for coolest place names. Fortunately, all of these destinations live up to the hype. See for yourself on your next trip to the Gem State.
Boise
Boise ranks as the most significant city between Salt Lake City, Utah, and Portland, Oregon, but you wouldn't know it when exploring the town's outskirts. Take a stroll on the Ridge to Rivers trailhead, and in a few minutes of walking through the scenic foothills, you'll forget that you're a stone's throw from a major city. The Boise River, likewise, offers a similar experience of total escape. Although the waterway runs through the town, a canoe ride or kayak cruise down the tree-lined river will carry you far from big-city cares.
Boise Bottles and Glasses
Boise has made a name for itself in the craft brewing industry, with companies like 10 Barrel Brewing Company and Bier Thirty Bottle and Bistro opening their taps. Take a Brews Cruise for a tour of local breweries.
Post Falls
Post Falls, Idaho, is a scenic slip of land that sits on a stretch of the Spokane River. Post Falls is a lumber town, having grown from a solitary lumber mill constructed by a German immigrant in 1871. These days, because of its abundance of natural beauty, its idyllic location and the general calm that flows through the community as silently and majestically as the Spokane River itself, Post Falls is rapidly becoming a tourist hotspot.
Twin Falls
The town of Twin Falls first showed up on the radar for adrenaline junkies in 1974, when daredevil Evel Knievel attempted to launch himself over the Snake River on a rocket-powered motorcycle. Though his plans fell short, this feat is still memorialized at the site of the jump. Today's thrill-seekers come to the area for the wide range of outdoor activities found in the Twin Falls region.
Terrific Twin Falls
Twin Falls is located near Idaho's southern border and is the ninth largest city in the state. Named for a matching pair of waterfalls on the Snake River, the town was once a stopping point on the Oregon Trail in the late 1800s. Though the original twins of the falls are now a single stream due to a dam built upriver, a number of impressive waterfalls are found in the area. At 213 feet high, the striking Shoshone Falls, just northeast of town, are taller than Niagara Falls.
---
Regional Recipe
Spudnuts
Use Idaho's famous crop for a delicious snack. Recipe by Cathie Mickelsen, Idaho Good Sam State Director.
Ingredients:
1 lb russet potatoes, peeled, quartered
2 packages (¼ oz each) active dried yeast
1 ½ cups warm milk (115°)
½ cup canola oil
4 cups confectioners' sugar
1 tsp vanilla extract
2 eggs
⅓ cup water
1 tsp salt
½ cup sugar
7 ½ cups all-purpose flour
Addl. oil for deep-fat frying
Directions:
Place potatoes in a large saucepan and cover with water. Bring to a boil. Reduce heat; cover and cook for 15-20 minutes or until tender. Drain, reserving ½ cup cooking liquid; cool to 110°-115°. Discard remaining cooking liquid. Mash potatoes without milk or butter. In a large bowl, dissolve yeast in reserved cooking liquid. Add the mashed potatoes, milk, oil, sugar, eggs and salt. Add enough flour to form a soft dough. Place in a greased bowl, turning once to grease top. • Cover and let rise in a warm place until doubled, about 1 hour. Punch dough down; let rise again until doubled, about 20 minutes. Roll out on a floured surface to ½-inch thickness. Cut with a floured 3-inch donut cutter. • In an electric skillet or deep-fat fryer, heat oil to 375°. Fry doughnuts, a few at a time, until golden brown. • For glaze, in a large bowl, combine the confectioners' sugar, water and vanilla until smooth. Dip warm doughnuts in glaze. Cool on wire racks. • Makes 4 dozen.
---
For More Information
Idaho Division of Tourism Development
800-VISITID
Boise
800-635-5240
Post Falls Chamber of Commerce
800-292-2553
Visit South Idaho (Twin Falls)
208-732-5569