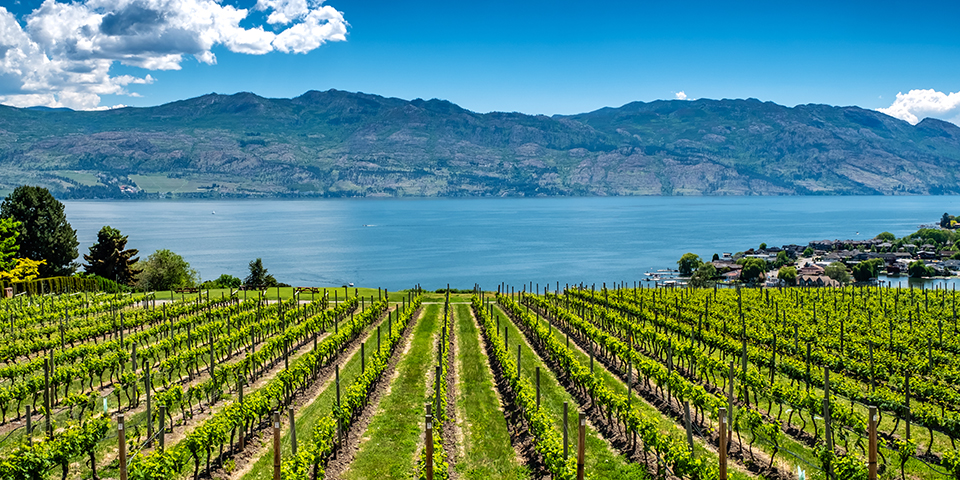 BRITISH COLUMBIA
The mix of destinations below cater to travelers who like to experience the big city one day, then escape to the country the next. Take a cosmopolitan tour of Vancouver, then get away to wine country in a lush valley.
Okanagan Valley
Okanagan Valley offers visitors some of the finest scenic drives in the country, along with an abundance of activities and attractions along the way. Located in the southern central region of the province, the rugged valley — which is highlighted by Okanagan Lake in the middle — contains the only desert in Canada. Here, many wineries and fruit farms can be found scattered throughout the countryside. Many of these wineries have traditional tasting rooms and unique restaurants on-site that serve a variety of delicious fare. So whether it's a casual lunch or an evening of fine dining, the Okanagan region wineries from Osoyoos to Kelowna and further north will not disappoint.
Okanagan Freshness
Roadside fruit stands abound, offering that "just-picked" freshness. The cherry season is in full swing by the end of June and runs through the summer. Some RVers travel here and set up to can some of the local fruit. The entire family gets involved in the process right at their campsite.
RVing Okanagan Valley
Wine isn't the only liquid attraction. If you enjoy boating, this is the place to go. Whether you bring your own or rent one, the scenic lakes offer breathtaking sights. Prefer to be even closer to the water? Ride the Penticton River for a 4-mile float on a flotation device. It's free if you have your own flotation item or you can rent one for a low fee.
Ice Cream Treat
Driving north on Highway 97 from Oliver to Penticton and onwards to Kelowna offers beautiful scenery as you wind your way along the mountainsides above Lake Skaha and Lake Okanagan. On your travels, don't miss stopping at Tickleberry's in Okanagan Falls for delicious ice cream treats. To the south catch the Osoyoos Desert Model Railroad. It may be the biggest model rail you have ever seen.
---
Regional Recipe
Prince Rupert Halibut
Barbecued halibut "Prince Rupert-style" is a good way to prepare Canada's favorite fish. Recipe adapted from Woodall's Campsite Cookbook.
Ingredients:
3 small halibut steaks
Salt and pepper
Paprika
2 tbsp melted butter
2 tbsp lemon juice
2 tsp salad oil dressing
Directions:
Season steaks with salt, pepper and paprika. Blend butter, oil and lemon juice and brush steaks with mixture. Lightly oil the cooking grill and place the fish on grill about 4 inches above cooking coals. Cook for about 10 minutes, turning and basting frequently. Serves 3.
---
Vancouver Area
Situated in the temperate rainforest of the Pacific Northwest, Vancouver, the third-largest city in Canada, is a vibrant, international city offering beautiful scenery, world-class restaurants, great shopping, excellent museums and ample outdoor activities. Whether you're a fan of art and culture or prefer to spend your time surrounded by the great outdoors, this British Columbia big city won't disappoint.
Vancouver Variety
It's hard to run out of things to do in Vancouver. A short drive north of downtown Vancouver, Stanley Park is a must-visit, with miles of trails for hiking and mountain biking along with areas for swimming and paddleboarding, an aquarium, a water park and all sorts of restaurants. On rainy days, head to the Vancouver Art Gallery, which houses some 10,000 pieces of art, or take the kids to Science World to learn about the natural world or check out a science film at the on-site OMNIMAX theater.
Get it Strait
If you want to get out on the water, Vancouver is the place to do it, with coastline along the Georgia Strait, English Bay and Burrard Inlet, not to mention a wealth of rivers and lakes in the surrounding area. Opportunities for water sports abound here. Kayakers head to False Creek, English Bay or the Indian Arm fjord, while those looking for something a bit more thrilling can head to one of the many area rivers, such as the Squamish or the Elaho, for a whitewater rafting adventure. Whale watching is also a big deal here, and it's one of the best parts of the world to see humpback whales and orcas, especially from late spring to early fall.
Hills and Valleys
Vancouver is decidedly outdoorsy, with all sorts of areas in and around the city to get out and stretch your legs, whether you're new to hiking or an experienced outdoor enthusiast. Lynn Valley Park, about 10 miles north of the city center, features a variety of trails, including Baden Powell Trail, which leads out to a waterfall. The park is also home to the Lynn Canyon Suspension Bridge, which hangs 16 feet above the canyon. Other popular hikes include the Grouse Grind, a steep, two-mile ascent up Grouse Mountain. For another thrilling walk, drive five miles north of town and traverse the 459-foot-long Capilano Suspension Bridge, which hangs 230 feet above the Capilano River.
International City
Vancouver does a stellar job of merging cosmopolitan big-city vibes with the serenity of nature. Like most of the Pacific Northwest, it's friendly and laid-back, with a casual atmosphere and a genuinely friendly population. People from all over the world call Vancouver home, as reflected by its eclectic culinary scene. While it certainly has a big-city feel, Vancouver is surrounded by natural beauty, with trees galore and pristine waterways creating a gorgeous backdrop for the city's modern architecture and skyscrapers. Though visitors to the region might be tempted to head straight to the magnificent forests that surround Vancouver, it's worth sticking around town for a bit to explore the beautiful Victorian architecture of Gastown or visit charming Granville Island.
Jazzing it Up
Vancouver offers a wide array of major events throughout the year. At the forefront of the city's event calendar is the 10-day-long Vancouver Jazz Festival (considered among the best on Earth), which features upwards of 400 concerts a year. Other popular music events include the multi-genre Folk Music Festival and the Vancouver Opera Festival. Dine Out Vancouver Festival gives visitors and locals alike the chance to explore the city's culinary offerings, while the Vancouver International Wine Festival brings hundreds of wines from around the world to the city. Summer visitors won't want to miss the dazzling Celebration of Light, one of the most popular fireworks competitions in the world.
BC Back Pages
Vancouver has been inhabited by indigenous people since ancient times, and the Spanish were the first Europeans to arrive here in the 16th and 17th centuries. In the centuries that followed, trappers and explorers from Europe continued to descend on the area, including Captain George Vancouver of the British Royal Navy, who gave the city its name. For an escape into a green, lush environment, take a stroll through the beautiful Butchart Gardens. In this 55-acre space, visitors will discover 900 beautifully tended bedding plant varieties and 26 greenhouses. Discover gardens dedicated to plants from across the globe.
Vancouver Island
All cares and worries drift away in the ocean-carved region of Vancouver Island. Spanning 285 miles from the rocky bluffs of Cape Scott to the colonial capital of Victoria, this tranquil corner of British Columbia takes you away from the hustle and bustle of the big cities and plops you right at nature's doorstep. From Tofino's temperate rainforests and windswept beaches to Salt Spring Island's spas and bucolic countryside, you'll find so many destinations to rest and recharge in.
Surf's Up
Grab a board and learn how to ride waves in Tofino, the surfing capital of Canada. The town boasts 21 miles of surfable beach and an easygoing vibe to go with it. Take a stroll downtown to find hip breweries, food trucks, independent boutiques and a handful of galleries. Tofino is also nestled in the heart of the Clayoquot Sound, a UNESCO Biosphere Reserve packed to the brim with ancient trees. Follow the Meares Island Big Tree Trail to meet the Hanging Garden, a 2,000-year-old tree with a 60-foot diameter. Winter is an excellent time to visit if you'd like to watch powerful storms ravage the land and sea from the comfort of your hotel room.
Coastal Connections
With 2,000 miles of coastline and almost 10,000 lakes, the marine activities here go from mild to mind-blowingly fast. Go on a whale-watching tour in Victoria, Campbell River or Port Hardy to come face to face with pods of orcas and humpback whales. Hop in a kayak and paddle to deserted beaches and coastal rainforests in Barkley Sound, Clayoquot Sound and the Discovery Islands. The fishing here is also out of this world. Hire a charter and hook colossal salmon and halibut from secret fishing holes in Port Renfrew, Nootka Sound and Esperanza Inlet. You can also enjoy fly-fishing on the Cowichan River and go crabbing in Sooke Harbour.
Epic Trails
Outdoor adventures come in all sizes, thanks to Vancouver Island's diverse landscapes. Hit the 47-mile West Coast Trail in Pacific Rim National Park for dramatic views of the rugged west coast, or traverse Ucluelet's Wild Pacific Trail to explore old-growth forests and a historic lighthouse. Waterfalls, peculiar rock formations and hidden grottos are all easily accessible via the 29-mile Juan de Fuca Marine Trail.
Gulf Island Hospitality
The relaxation you crave can be found in every corner of the Southern Gulf Islands. Set in the Salish Sea off the shores of southeastern Vancouver Island, this region encompasses over 300 islands, with the five largest supporting local populations. The biggest is Salt Spring Island, inhabited by artisan producers who are all eager to show you their organic vineyards, microbreweries and farmers markets.
For More Information
Destination British Columbia
800-435-5622
Metro Vancouver Convention and Visitors Bureau
604-682-2222
Vancouver Island